Impressions of Works-in-Process: American Dance Festival's Showcase - Mark Dendy, Claire Porter & Sara Juli, Jody Kuehner
Featuring: Mark Dendy Projects, Claire Porter & Sara Juli, and Jody Kuehner- Cherdonna
Presented by: Dixon Place, January 5th-7th, 2017
Photo above: London Brison in Mark Dendy Project's Elvis Everywhere (excerpt)
---
Since 1934, the American Dance Festival has been a staple in the modern dance world: preserving our heritage while supporting artistic innovation. The festival provides choreographers the opportunity to produce new works, many of which are specifically commissioned. Naturally, ADF is an important part of APAP, NYC's annual January gathering of performing arts professionals. 
This year's ADF showcase features three works-in-progress that will premiere as part of the six-week summer festival in Durham, North Carolina. The performance takes place in Dixon Place's quirky, versatile space in Lower Manhattan, and features the work of Jody Kuehner, Claire Porter & Sara Juli, and Mark Dendy. Forwarding a goal of building wider audiences for modern dance, ADF's evening is eccentric but accessible. 
Jody Kuehner, who will make her ADF debut this year, performs the solo one, great, bright, brittle alltogetherness (excerpt) as her alter ego, Cherdonna Shinatra. Shinatra enters the stage with a straight-legged gallop, like a peacock trying to fly by flapping its gangly legs. She is clad in a poufy mini-dress printed with colorful images of donuts, and a platinum-blonde beehive wig the size of a bowling bowl wobbles atop her head.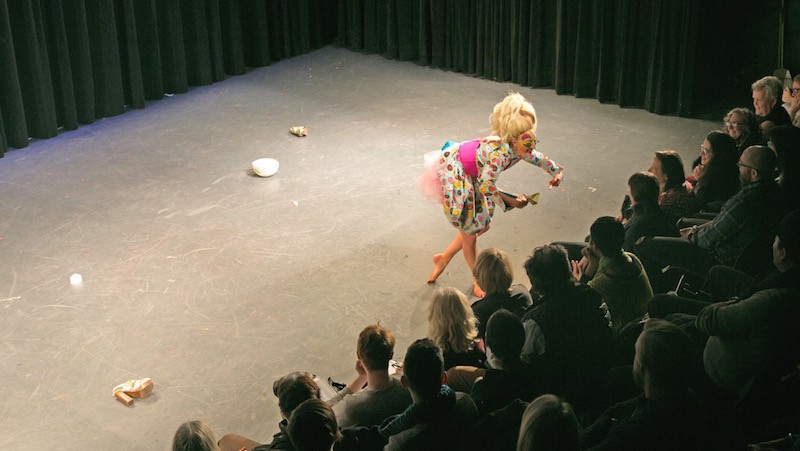 Cherdonna Shinatra in one, great, bright, brittle alltogetherness (excerpt); Photo: Stephen Donovan
Shinatra describes how to make a strawberry cream pie, but hilarity ensues as her focus becomes easily derailed. Props emerge: a big red cookbook and a metal bowl eventually become a stool and a chamber pot. Shinatra uses two wooden spoons to tease us. She lifts her skirt, prompts a gentleman in the front row to spank her bare bum, and then motions for him to turn around so she can do the same.
Shinatra's movement, though often eclipsed by the theatrics, is stunning and noteworthy. Long, muscular limbs greet the floor with ease as she melts to the ground, her skirt flying up around her ears. She turns to give the audience a coy look, as if gauging her effect on us.
Shinatra is dramatic and volatile — a humorous quip can quickly unravel into wails of despair. Her performance is as exaggerated and over-the-top as her eye-make-up, which glistens in sideways moons above her eyes. This must be a personality she has been cultivating for years. 
In November 2017, Seattle audiences will have a chance to see how these snippets are woven together. For us, this excerpt is a kooky insight into Kuehner's creative process.
In 2015, ADF first paired Claire Porter a choreographer and Laban Movement Analysis teacher from New Jersey, and Sara Juli, a Maine-based solo artist, to create Short Stories. The duo comes together again to present The Lectern, an evening-length commission, which will premiere on June 20th at ADF.
The Lectern plays out like a Saturday Night Live skit. Two women in graduation gowns scramble around the stage and deliver frantic speeches. They speak simultaneously, parodying neurotic elders giving advice to young graduates, like in the opening of The Graduate where Dustin Hoffman is hounded with advice from his parent's friends.
The piece maintains it's comedic high throughout, as the women enact etiquette lessons and lecture us on proper manners. Porter and Juli are a hilarious, dynamic pair.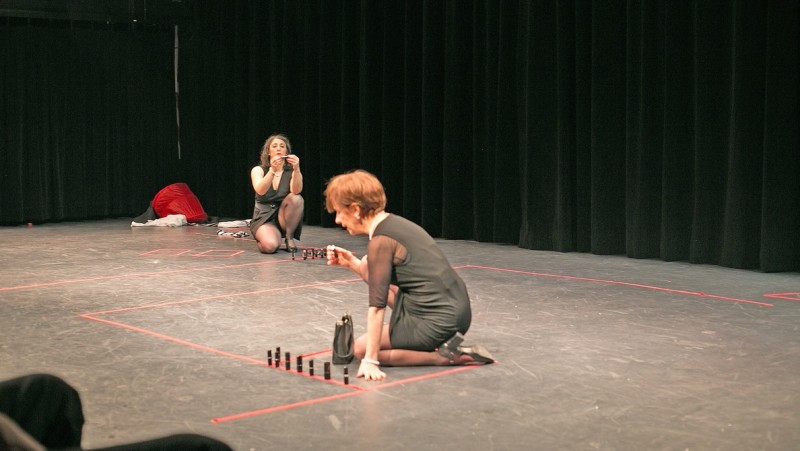 Claire Porter and Sara Juli in The Lectern (excerpt); Photo: Stephen Donovan
Closing out the evening is an excerpt from Elvis Everywhere, Mark Dendy's brilliant exploration of Elvis Presley's time in the army. Elvis Everywhere, an ADF commission, will premiere at ADF on July 12th. The premise is articulated by a quote from John Oliver, displayed across a large screen in the beginning: 
"I think the best analogy for where we are right now is that America is Elvis Presley — the most beautiful, talented, rebellious nation in the history of Earth. And now, you're in your Vegas years. You've squeezed yourself into a white jumpsuit, you're wheezing your way through "Love Me Tender" and you might be about to pass away bloated on the toilet. But you're still the King."
In the opening, video projections of a young Presley are the backdrop for more conventional dance sequences — a sweet duet between a young girl and her army boyfriend (perhaps a young Elvis), and a funky group number in which Frankie Lee Peterson enraptures us with his silky, rhythmic movement.
The most poignant part occurs when Dendy takes the stage as Donald Rumsfeld. Costumed in an army uniform with an oxygen mask obscuring his face, he gesticulates to a C-SPAN clip of Rumsfeld describing the time he met Elvis Presley in Las Vegas. He says, "Elvis Presley… a lot of his music really wasn't my thing." Dendy's depiction of Rumsfeld is laughingly effeminate; he flutters his fingers and shifts nervously. We giggle when his hands describe the shape of the women in the Vegas dressing rooms.
Darkness resides beneath the humor. Like Oliver, Dendy suggests that America is in fact Elvis Presley during the Vegas years, when a sad, untimely demise awaits.
While Dendy may have dreary predictions for the future, the outlook for modern dance--where work can be both provocative and entertaining--seems bright.
We must head down to Durham this summer to see these up-and-comings! 
---
The Dance Enthusiast Creating Conversations/ See More Conversation in The Day in the Life section
Share your #AudienceReview of a recent show you've seen for a chance to win a $75 giftcard to Trader Joe's.