Related Features
Contribute
Your support helps us cover dance in New York City and beyond! Donate now.
Impressions of A Place in France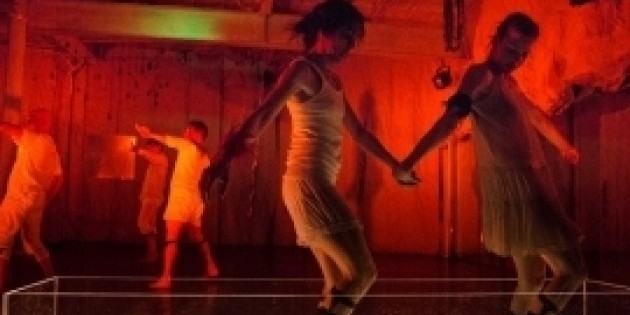 Impressions of A Place in France
Bill Young and Colleen Thomas
100 Grand, New York, NY
Sunday, May 19, 2013; 8:30pm
Performers: Michael Ingle, Denisa Musilova, Anthony Phillips, Pedro Osorio, Colleen Thomas, Darrin Wright with musician John McGrew
Light and Visual Design: Rebecca MK Makus
Video: Peter Richards
---

Trina Mannino for The Dance Enthusiast
Photo Yichun Wu

"There's a place in France where the woman wear no pants," sings performer Anthony Phillips at the start of Bill Young's and Colleen Thomas' A Place in France. This elicits laughs from the audience and Phillips continues to comically croon both folk and pop songs throughout the work.

After a two year performance hiatus, it's a relief to see this company returning with a new evening-length piece; it satiates a hunger for good dance theater. The collaborators and performers researched and explored material for two years, and the lengthy process paid off. At first glance, the work overwhelms; there are projections, harnesses hanging from the ceiling and a long fish tank that the dancers splash and lay in throughout the work. Balloons burst. However, the props are assembled and integrated with such care that the various components strengthen the piece. A Place in France wouldn't make sense without them.

The artists travel back in time. Two men in long underwear swing from the harnesses, and a video feed captures their movement several seconds after they perform live. Musician and vocalist, John McGrew, also performs in the space with the dancers - his lyrics often touch on memory, "It started long ago,they don't want to let it go".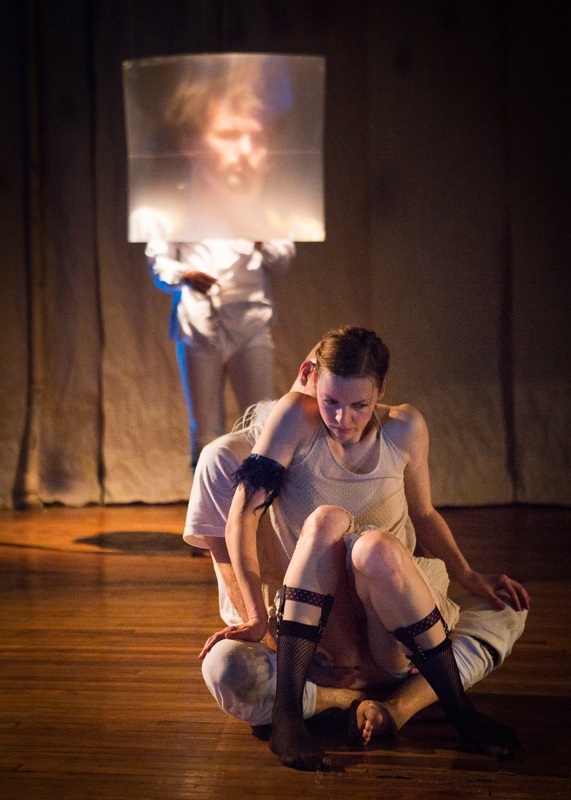 Photo Yichun Wu

The performance space, 100 Grand on Grand Street in Soho, also serves as Young's rehearsal studio and a tenant's apartment. Its columns, studio mirrors and lived-in feel are acknowledged. Many choreographers would cover a mirror to avoid distracting their viewers during performance, not here. Though they don't linger very long, the artists look at their reflections square in the eyes between stripes of colorful tape. Clear tarps hang from the ceiling like curtains, and while the dancers move behind them, a stunning composition appears. We're reminded of an old-fashioned sepia photograph. The space is vivid.

Toward the end of the evening, the cast revisits their explorations of the past by dancing short snippets from previous sections. They rewind in a cinematic fashion repeating the most poignant and humorous moments. Phillips performs his rendition of "Need You Now" (The Lady Antbellum hit), Colleen Thomas and Denisa Musilova slosh in the fish tank once more, and the sound of popped balloons recurs. The performers replace their long underwear and boxer shorts with sumptuous vintage dresses, vests and trousers. Though not explicit, this act of dressing feels like they're taking us to the beginning of their story. It parallels McGrew's lyrics, "Let's go back to the beginning of the dream," and we actually do want to return to beginning to see it again.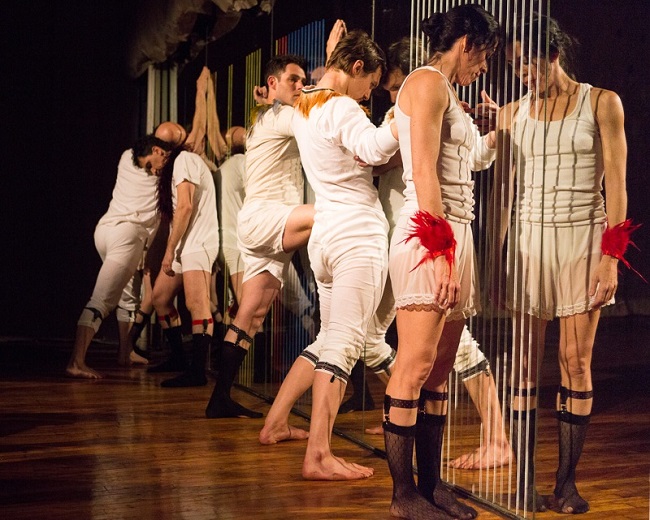 Photo Yichun Wu