Impressions of: Ballet Preljocaj's "And Then, One Thousand Years of Peace" at BAM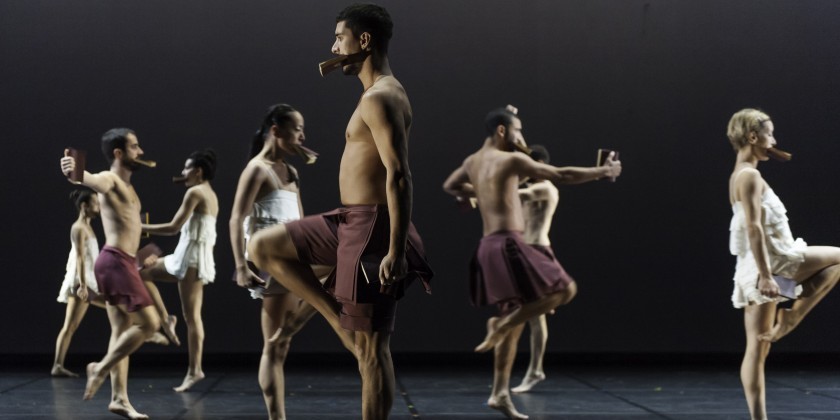 The Company Journeys to the World's End
Saturday, November 9, 2013
Choreography: Angelin Preljocaj
Music: Laurent Garnier
Set Design: Subodh Gupta
Costume Design: Igor Chapurin
Lighting Design: Cécile Giovansili-Vissière
Performed by: Yacnoy Abre Alfonso, Sergi Amoros Aparicio, Marius Delcourt, Sergio Diaz, Gaëlle Chappaz, Natacha Grimaud, Solène Hérault, Jean-Charles Jousni, Émilie Lalande, Joakim Lorca, Céline Marié, Aude Miyagi, Wilma Puentes Linares, Gaël Rougegrez, Fran Sanchez, Nagisa Shirai, Anna Tatarova, Julien Thibault, Cecilia Torres Morillo, Yurie Tsugawa, Yang Wang.
---

If the world ends, I hope it is the way Angelin Preljocaj sees it. His new work, And Then, One Thousand Years of Peace, a reflection on the biblical story of the Apocalypse, was a fascinating hour and forty minutes of dance.

Taking its audience on a journey through humanity's triumphs and tribulations, And Then, One Thousand Years of Peace recently had its New York premiere at the Brooklyn Academy of Music. In the program notes, Preljocaj explained his composition was not a literal retelling of the New Testament story, but instead a meditation on the word apocalypse, which means "unveiling." The choreographer aimed to highlight human rituals, beliefs, and patterns that he asserted "may be present in our world, but hidden from our eyes."'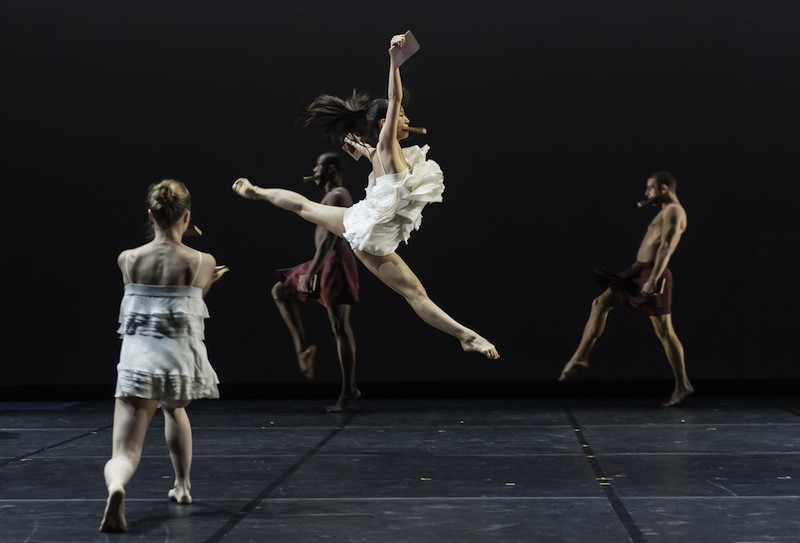 Ballet Preljocaj. Photo Credit: Jack Vartoogian.
 
Preljocaj left no centimeter of stage space unused in this multi-dimensional production. Indian visual artist Subodh Gupta's innovative stagecraft — which included moveable walls, portable sinks, and chains that fell from the sky — possessed a breathtaking character all its own. Russian designer Igor Chapurin's range of outlandish space-age and minimalist costuming added texture and polish to the already detailed display.

Vigorously paced, the piece began with three lines of female dancers clad in nude undergarments, moving through a cannon of leg extensions. Men in tan suits then covered these women completely in clear plastic bags. As Laurant Garnier's techno soundscape decelerated, the couples took turns wrapping each other in the plastic. These images brought up ideas of commercialism, portraying the human body as a sealed, packaged commodity.

Preljocaj offered no linear narrative; instead, he presented a progression of scenes – small worlds full of conflict and romances. He featured balletic phrases with a unique sense of grounding. The pliés were deeper, the tendus were placed on a tilt, and the arabesques lunged forward toward the earth. Repetitions in the choreographic motifs linked the work together as it explored biblical imagery, human sexuality, and societal rebellion.
Yurie Tsugawa. Photo Credit: Jack Vartoogian.

Conceived during the France-Russia year of 2010, the piece was a collaboration of Ballet Preljocaj and the Bolshoi, and it alluded to both countries' history of war and revolution. In one striking scene, the dancers, clad in Soviet era work shorts, militaristically bounced, dove, and slid over classroom chairs. This vignette connected to the idea of apocalypse to revolution, as both envision the dawning of new world order. A related image returned later: A group of men ran up the side of a moveable wall and jumped over in a scenario reminiscent of the fall of Berlin Wall.

And Then, One Thousand Years of Peace featured a stirring conclusion. The dancers, wrapped in the flags of various nations, stood in front of a row of sinks. They immersed the flags, shook the water onto the stage, and then laid their fabric out flat. Continuing this process through at least twenty flags, the dancers baptized themselves, washing away the traces of nationalism. Finally, with the entire cast of twenty-one dancers lined up in three rows, two live lambs, bleating loudly, scurried out onto the stage. The appearance of the livestock offered a whimsical, innovative and optimistic message to end the apocalyptic journey-- a message of rebirth.
 
Ballet Preljocaj. Photo Credit: Jack Vartoogian.