Related Features
Advertise With Us
Make an impression — place an ad on The Dance Enthusiast and receive thousands of eyes on your work every week. Learn more. 
Contribute
Your support helps us cover dance in New York City and beyond! Donate now.
Impressions of: CollabFest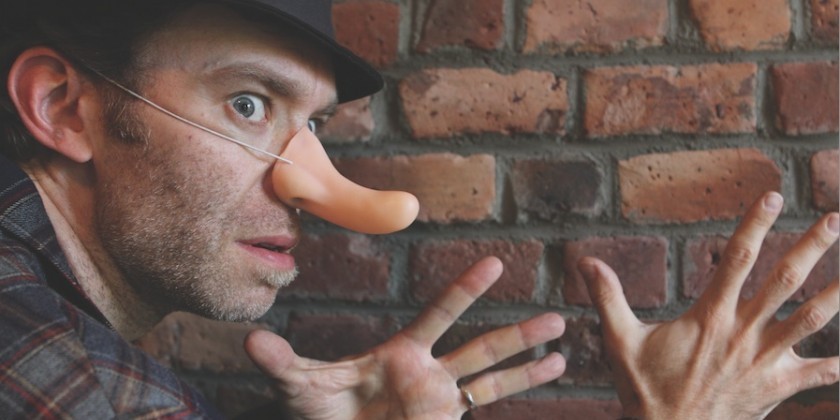 Presented by: Triskelion Arts
September 19th, 2013
Featuring Collaborations from: Amanda Hameline + James Danner , Robert Ross Parker, Lisa Parra, The People Movers, The Moving Architects, Trina Mannino, Regina Nejman & Company
Theo Boguszewski is @theoBoguszewski on Twitter
---
Collabfest presented by Triskelion Arts, showcased the countless possibilities of collaboration. Featuring alliances among many disparate disciplines — from poetry to pastry making — the common threads were exploration, cooperation and the question, "How can multiple mediums conspire to make a single idea all the more rich?"
Amanda Hameline and James Danner's work, centering around a chocolate cake, saw one of the more unique partnerships of the evening. A collaboration with pastry chef Claudia Rosselini called Ache, this piece investigated themes of temptation and self-control. It delved into the idea that much work goes into creating something that will disappear — or get eaten — in minutes.
Parallels to the process of dance-making were apparent. The hours of rehearsal that culminate into a transient moment of performance would remind any chef of the rigors associated with preparing a meal that instantly gets devoured.
The ending of this piece seemed inevitable. Two girls, icing and cake crumbs smeared across their faces, crowded under a table, messily consuming their confectionary masterpiece.
Amanda Hameline's and James Danner's Ache.
A dance film directed by Trina Mannino (fellow reporter at The Dance Enthusiast) and edited by Jess Potter, We're Here Now was a standout. The film offered a non-narrative exploration into the souls of Beat Generation women. These females, portrayed by dancers Edith Freyer, Lulu Soni and Nadia Tykulsker, embodied qualities of warmth and vulnerability even as we saw them struggle to assume the roles of defiant radicals.
This intimate,dreamlike film, set in the white living room of a Brooklyn brownstone, clearly distinguished between " inside" and "outside" space. At times, we experienced a sensation: a blur of fast movement, billowing curtains, or shafts of sunlight. Then the focus became extraordinarily specific.  We noticed the most exquisite movements of a finger or Tykuslker's gentle placing of hands on a wall – as if caressing a lover.
HackPolitik (excerpt), one of the more formal dance pieces of the evening, revealed  a partnership with composer Peter Van Zandt Lane. The collaboration was not what commanded attention; instead, a stunning solo by Shay Bares captured us. His dance, an interplay of oppositions, found pure, unbounded physicality meeting intricate, balletic delicacy. Bares fulfilled these contrasts expertly.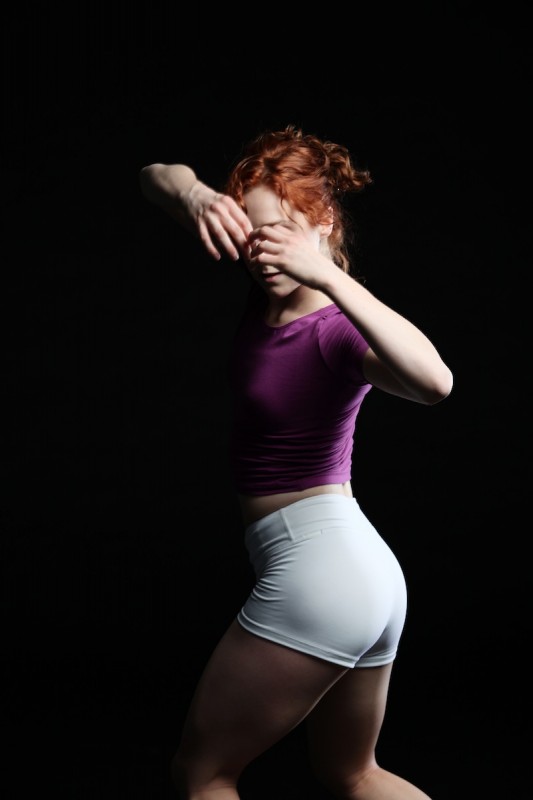 Kate Ladenheim of The People Movers, choreographer HackPolitik
The evening closed with an excerpt from Regina Nejman's new work ...and this is the story thus far. The piece, a collaboration with musician Britt Reagan, toyed with ideas of memory and storytelling. As with many dance/music collaborations, the musician sat on the sidelines, removed from the dancers. However, in a surprising and touching tableau, several of the dancers embraced, including Reagan in an intimate moment. The groups hugged for an uncomfortable length of time, but eventually a dancer started to pluck the musician's guitar, playfully changing positions and wrapping herself around him to reach different notes. What an incredible physical manifestation — dance and music literally engulfing one another.