Impressions of DD Dorvillier's "Diary of an Image"
The final component of Danspace Project's Platform 2014
Part of PLATFORM 2014: Diary of an Image by DD Dorvillier
May 21-June 14, 2014
Danspace Project
---
For her new work Diary of an Image, DD Dorvillier has made her presence apparent inside St. Mark's Church. Upon entering, the viewer is greeted by colorful, geometric flags hanging from the rafters. At one end of the space sits a grand piano, and standing on the stage are three life-sized, two-dimensional human silhouettes made of mirrors. The pastel colored cushions on the floor, for seating, are reminiscent of a children's classroom.
Diary of an Image was presented as the final component of Danspace Project's Platform 2014. In the preceding weeks, Dorvillier reimagined some of her older works and presented solo performances by artists who have been influential to her. In fact, each one of the flags, designed by Olivier Vadrot, represent a past Dorvillier work. The mirrored silhouettes (also by Vadrot) are representations of Jennifer Lacey, Sarah Michelson, and Jennifer Monson, a few of the artists that Dorvillier hails as influences.
In paying scenic tribute to her past, Dorvillier appears to be making an attempt to position this new dance either alongside or in opposition to her history.  The precise intent remains unclear. Perhaps the figures are simply meant to be reminders of what happened on the Danspace stage during the weeks before. Diary of an Image as a whole flaps its wings but never quite leaves the ground.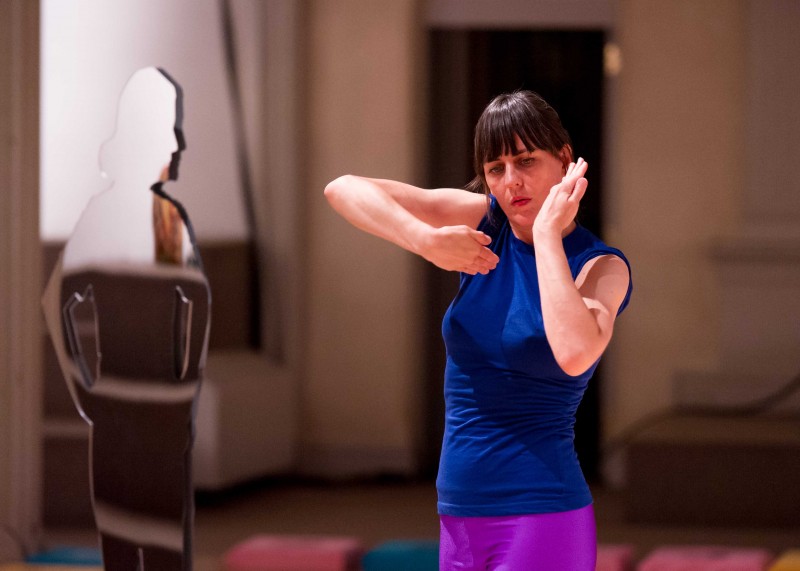 Photo: Ian Douglas
The piece begins when Zeena Parkins, Dorvillier's longtime musical collaborator, walks onstage and sits down at the piano. It seems like a trick – Parkins never touches the keys and sits very still, yet she creates sound with the piano. She does this using electronic devices called ebows, placed inside the piano and controlled with a remote. Eventually, she stands up and walks away.
An audio-only section follows: first, the sounds of Morse Code spoken by Dorvillier, and then a fragmented conversation that chews up and spits out the phrase "From 1962 to 1967, I worked with walking and standing." The wordplay issues from speakers stationed at three points around the room; it seems to come from all sides.
Dorvillier then enters with a welcome burst of energy, performing a bouncing dance of precise footwork, reminiscent of folk dancing. In this study of endurance and precision Dorvillier's heels almost never touch the ground. She hops and jumps along, quickly covering wide swaths of the stage. The idea stales as it continues on and on, but is briefly reinvigorated when Dorvillier removes her shoes, altering the tone of her rhythmic footfalls.
Photo: Ian Douglas
Dorvillier calls this section a "Morse Code Opera," and here is one moment where that intent is clear. A similar but slightly different jig is later performed by Katerina Andreou, who infuses the dance with equally striking focus and exactitude.
The second significant movement pattern that appears in Diary of an Image is that of quickly snaking arms. When performed by both Dorvillier and Andreou, the gesture is mesmerizing. Initiation shifts from wrist, to shoulder, to fingers, to elbow at lightning speed so that the arms, moving every which way, present a mind of their own. This maneuver becomes less captivating as it repeats.
Ultimately, Diary of an Image leaves much to be desired. Dorvillier, Andreou, and Parkins are all powerful presences on stage, but the dance, a wonderful idea that evades precise expression, is stuck inside of itself.
Follow Garnet Henderson on Twitter @GarnetHenderson