Impressions of Fall for Dance 2013 Delacorte Theater - Central Park; City Center Theater – Wednesday, September 25, 2013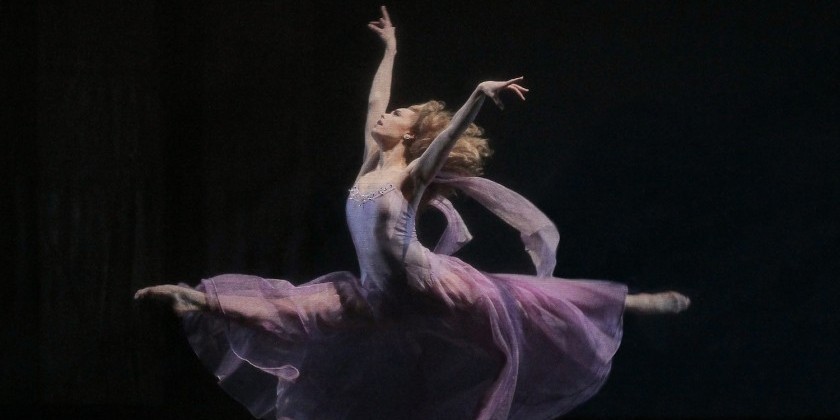 Two Shows: Delacorte Theater at Central Park Monday, September 16th and City Center Theater – Wednesday, September 25th
A Moveable Feast
The Fall for Dance Festival is ten years old. To commemorate this special season, City Center's president, Arlene Shuler, teamed up with the Public Theater and produced a program at the Delacorte Theater in Central Park.  Fall for Dance has provided a low-cost option to experience a wide array of dance styles since its inception. Being part of this year's line-up of the Public Theater's Shakespeare in the Park series gave audiences a chance to take in a whole smorgasbord of varying dance morsels at absolutely no cost.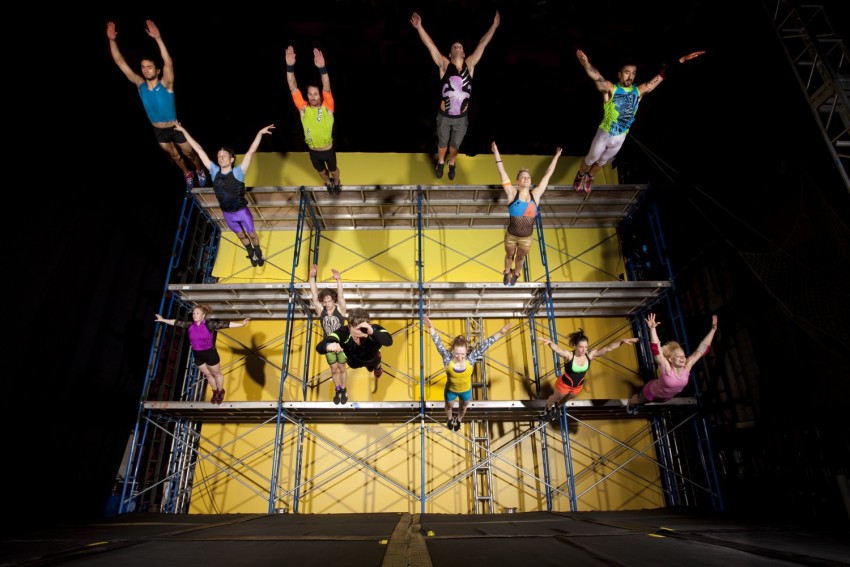 Streb Extreme Action in Human Fountain.
Since my ticket request to this free performance went into the press agent's spam email, I had to invest what every New Yorker had to put in: TIME to stand in line. Earning my seat was part of the experience for which I was richly rewarded. Unusually cold for mid-September, the conditions for dancers were less than ideal, but the backdrop of Belvedere Castle and its duck pond with shrubbery lit by Clifton Taylor made for a magnificent setting.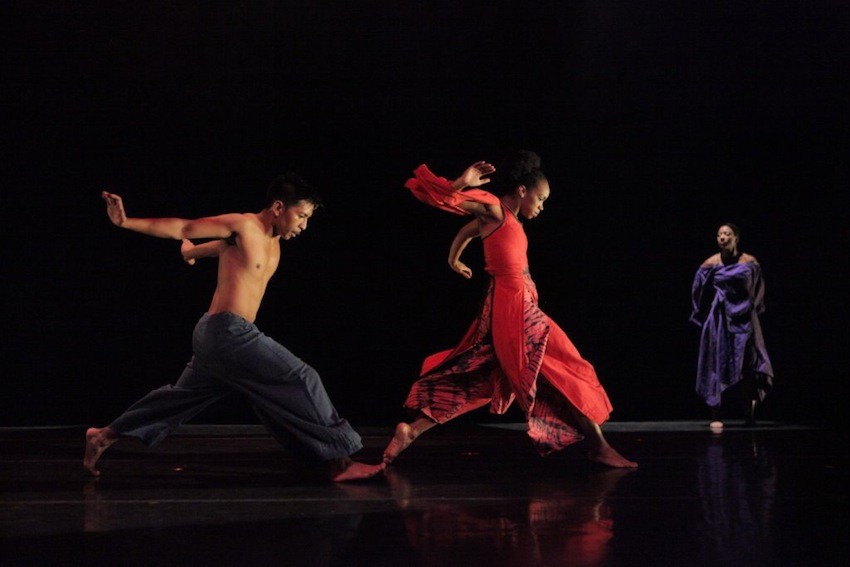 Ronald K. Brown/Evidence in Upside Down.
Elizabeth Streb's athletes opened the program with Human Fountain (2011) hurling themselves from scaffolding onto a huge assembled mat. They repeatedly crawled back up on the scaffold and continued to hit that mat in different configurations with their fronts and backs. Ronald K. Brown/Evidence presented Upside Down from 1998 to live music by Fela Kuti and Oumou Sangare. The music inspired both dancers and audience and the sense of community was palpable.
Intermissions at the festival are just as delicious as the rest of the offerings since one is bound to run into friends and fellow dance enthusiasts. Audience members, who have never been to a performance, exclaim how turned on they are by either the dancing or the bodies or both.
New York City Ballet sent Ulysses Dove's Red Angels (1994) and served exciting pointe work. The piece, with its daring off-center split-second shifts, as well as dancers, clad in tight red outfits, made for a tasty dish. Then, Paul Taylor's chestnut Esplanade (1975) to excerpts from two Bach Concerti closed the program. Arguably Taylor's best work, the company joyfully displayed the Taylor catalog of steps. The fun of Esplanade is the frequent backward locomotion, be it running, sliding or falling.
No matter which work was liked best, the audience certainly agreed upon the beauty of the moon and the ever-changing cloud formations, which kept me entertained between the pieces and beautified my walk home.
The glory of nature and New York City with its rich dance offerings - made available to everyone - was deeply satisfying. Informed that dance at the Delacorte was part of regular programming in the 1970's to mid 80's, I do hope to see dance return to Central Park each and every year.
---
The feast continued back at the festival's home at City Center the following week.
Esencia De Tango by the company of Gabriel Missé and Analía Centurión gave a soupçon of Argentina and young choreographer Justin Peck contributed an amuse-bouche with the premiere of his short pas de deux The Bright Motion, a Fall for Dance commission that featured New York City Ballet's Sara Mearns and Dutch National Ballet's Casey Herd. DanceBrazil offered yet another taste of South America with its combative Capoeira moves in this year's Fé Do Sertão  by the company's artistic director Jelon Vieira.
 Gabriel Missé and Analía Centurión in Esencia De Tango.
It was England's Richard Alston Dance Company that cooked up the pièce de résistance. The New York Premiere of The Devil in the Detail (2006) to music by Scott Joplin featured a gem of a duet for the company's Pierre Tappon (on loan from Rambert) and Nathan Goodman. While the phenomenal Goodman mostly followed the melodic line of Stoptime Rag,Tappon created harmony and counterpoint.
Occasional bursts of unison came as a surprise and the playful nature of this duet was pure delight. Goodman's quicksilver weight shifts and sudden direction changes initiated from his supple spine, as well as his sense of lightness and gravitas surely transformed many an audience member into a dance gourmet and repeat customer. The ensemble of ten dancers looked strong and seemed to enjoy themselves frolicking to the rest of the featured Joplin tunes, played live by Jason Ridgeway.
Variety is the spice of life and Fall for Dance presents yummy dance programming for carnivores and vegetarians alike.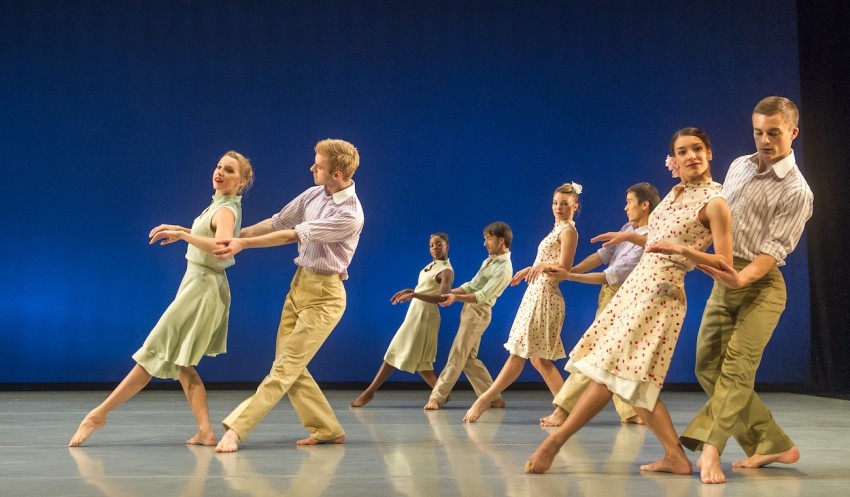 Richard Alston Dance Company in Devil in the Detail.