Related Features
Contribute
Your support helps us cover dance in New York City and beyond! Donate now.
Impressions of: Hofesh Shechter Company's "Sun" at BAM
Next Wave 2013 -In Sheep's Clothing
Choreography and Music by Hofesh Shechter
Costume design by Christina Cunningham
Lighting Design by Lee Curran
Set design by Merle Hensel
November 14th-16th 2013 at Brooklyn Academy of Music
---
With tongue placed firmly in cheek, Hofesh Shechter premieres his new work Sun to US audiences at the Brooklyn Academy of Music. One would not typically characterize the Israeli choreographer's work as "frothy,"  but amid the flouncy, white costumes and radiant lighting, the potency of  ideas don't quite register. A tide of the choreographer's trademark ensemble work continually washes out political commentary, choreographic genre "mash-ups" and experimentation with narrative.
All fourteen performers are onstage for most of Sun, either dancing in unison or advancing an appealing visual metaphor that involves large wood cutouts of sheep. The performers move the cutouts across stage, sometimes as a flock; sometimes in cute, Busby Berkeley-like arrangements; and sometimes as prey being stalked by the cutout of a wolf. This thread continues as the work introduces ever more powerful "predators" up the food chain: a hunter with a bow and arrow; a hunter with a gun; a man with a briefcase; a faceless kid in a hoodie.
When does the hunter become the hunted?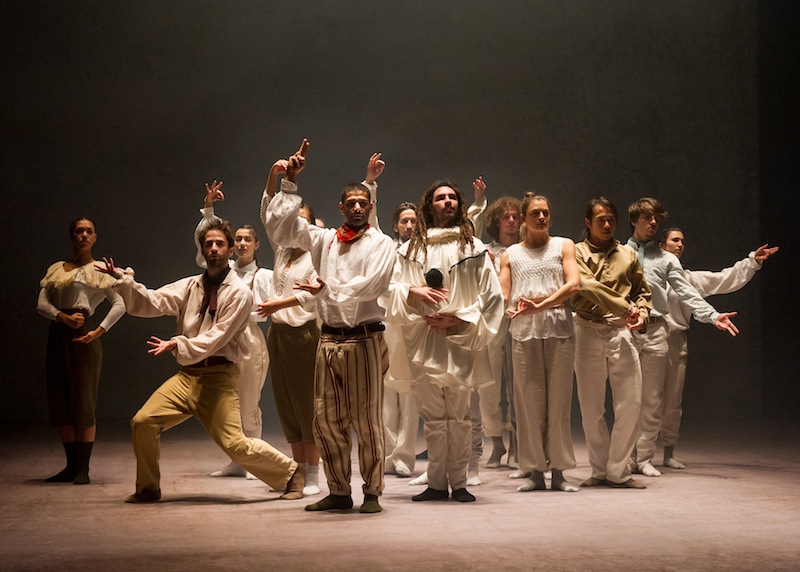 Hofesh Shechter Company. Photo Credit: Ian Douglas.
 
On the other end of the spectrum, the dramatic interpretations of violent shootings are quite literal and executed with the deep sense of emotional commitment that we've come to expect from this group of dancers (most of this company performed with Shechter last year at BAM). These sporadic moments of blunt commentary almost hold this conceptually chaotic world together. With the exception of  a couple quiet moments of respite: a silent, unison ensemble phrase filled with delicate gesticulations and a dark, shadowy trio mostly comprised of minute skeletal collapses, Sun is LOUD. 
Though we are presented with conceptual, visceral, and definitely aural experiences of attack, Shechter's latest work pulls its percussive punches. Instead of shedding light on its subject matter, Sun's glare makes it hard to see.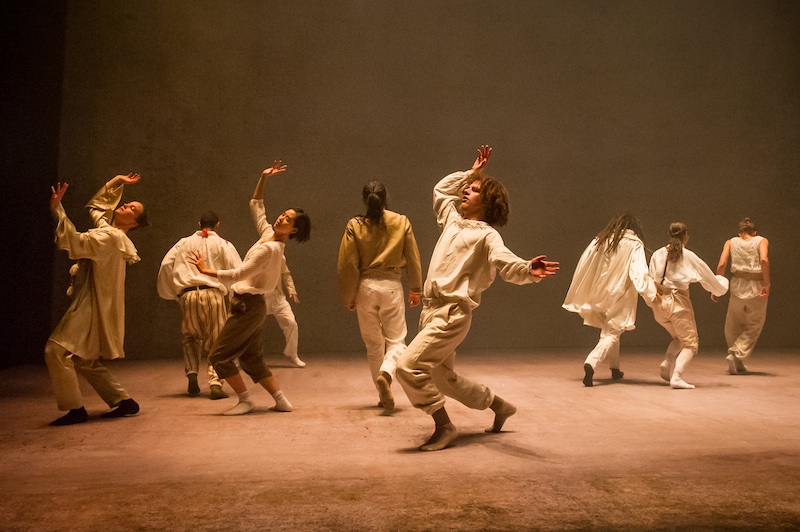 Hofesh Shechter Company. Photo Credit: Ian Douglas.
 
There are  false starts and stops and a "maestro" type character whose gestural flourishes "frame" certain sequences with a danced version of "air quotes." Towards the end of the evening, this figure screams to the audience in horror, " The wolf is behind you! " "The wolf is fucking behind you!"
But where?  Where?!
Follow Cory Nakasue on Twitter @CorySpine