Impressions of: Leimay's "Becoming Corpus"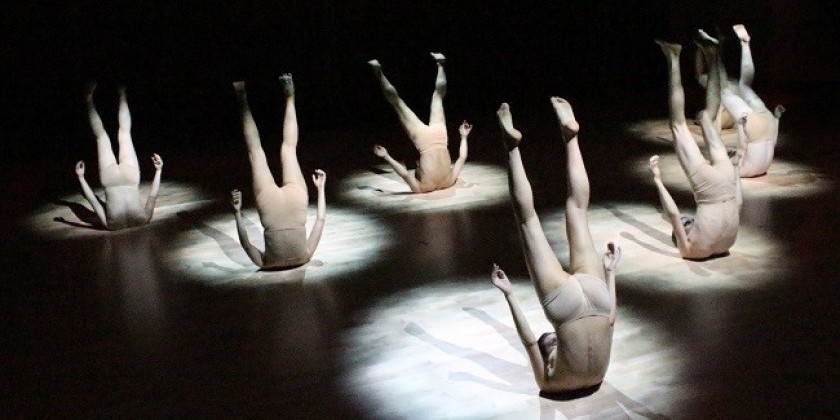 Disrupting a Prevailing Calm
Leimay at Fishman Space at Brooklyn Academy of Music
September 12, 2013
Dancers: Andrea Jones, Andrew Braddock, Savina Theodorou, Liz McAuliffe, Eija Ranta, Denisa Musilova, Masanori Asahara, Tommy Schell
Sound composition: Roland Toledo, Christopher Loar
Performance Direction, Visual Design and Concept: Ximena Garnica & Shige Moriya
---
Deirdre Towers for The Dance Enthusiast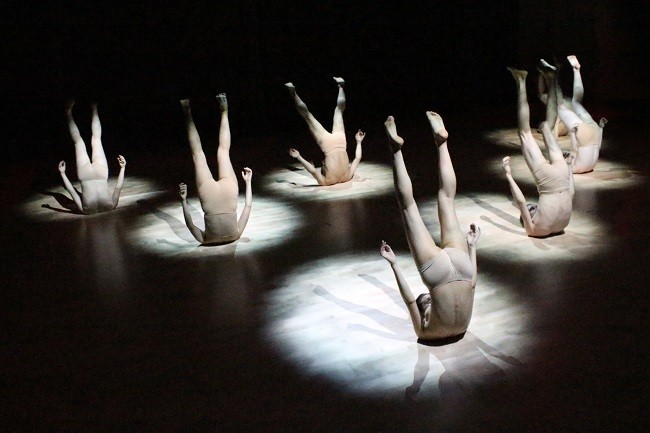 Leimay in BECOMING CORPUS. Photo by Harry Hanson.
Meditation, while an ancient practice, began to catch on in the United States in the1960s', just as dancers were developing the art of Butoh in Japan, and American artists, such as Alwin Nikolais and Elaine Summers, experimented with multi-media. Ximena Garnica, a Colombian born choreographer, and Shige Moriya, a Japanese born video artist combine elements of all three in works that challenge the audience to be fully present, to accept and expect the unexpected.
BECOMING CORPUS
feels stretched taut, with each image held approximately five to ten minutes. The Fishman Space, packed for this performance, was transformed into a communal seance. The emotional progression of this 75 minute work completes a circle, as the dancers offer a silent invitation to sequentially surrender, invert, reveal, confront, convulse, and center.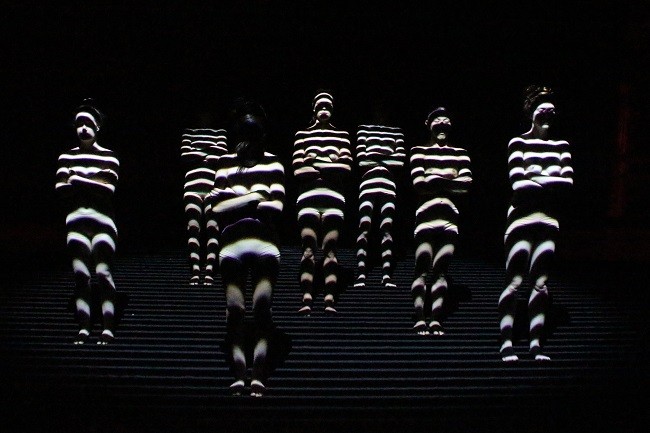 Leimay in BECOMING CORPUS. Photo by Harry Hanson.
At the top, Moriya casts prison stripes on seven topless dancers staring, motionless, out at the audience, while one dancer upstage imperceptibly advances towards the wings, exiting just as the piece completes. At the close, Moriya's projections on the back wall, where six dancers, now dressed, stood quietly in a row, were liberating. Sensual and playful, these final visuals celebrated the finale with black and white fireworks that brought to mind the Spanish painter Miro.
Garnica and Moriya, known as Leimay, a Japanese term symbolizing the moment of change, have been collaborating since 2000. As the projections and dancers' collective shape changed in
BECOMING CORPUS
, we could appreciate Leimay's stated goal - "Form in constant transformation. Vibrating, self-generating, auto-luminescent." Three quarters of the dance was performed in unison, though all tremors and ticks performed with individual discretion, until four or five dancers each had a solo towards the close.
Compared to the charming vulnerability of the late Kazuo Ohno or the outrageous grotesqueries of Tatsumi Hijitaka, the movement and aesthetic of
BECOMING CORPUS
is mild, with the brief solo seizures disrupting a prevailing calm.
Leimay in BECOMING CORPUS. Photo by Harry Hanson.
BECOMING CORPUS was performed at the close of a 14 month professional development program led by Brooklyn Academy of Music, the DeVos Institute of Arts Management (DVIAM) at the Kennedy Center. Leimay was one of six organizations chosen to take part in this initiative, along with Brighton Ballet Theater, Dušan Týnek Dance Theatre, Gallim Dance, LAVA, and Tiffany Mills Company. Supported by Brooklyn Community Foundation and The New York Community Trust, BAM and DVIAM strive to help arts organizations expand their skill base, increase their institutional capacity, and through sessions on marketing, fundraising, etc, build necessary foundations for their long-term success.