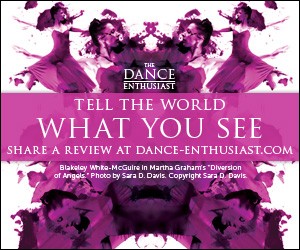 Related Features
Impressions of: NYC10 Dance Initiative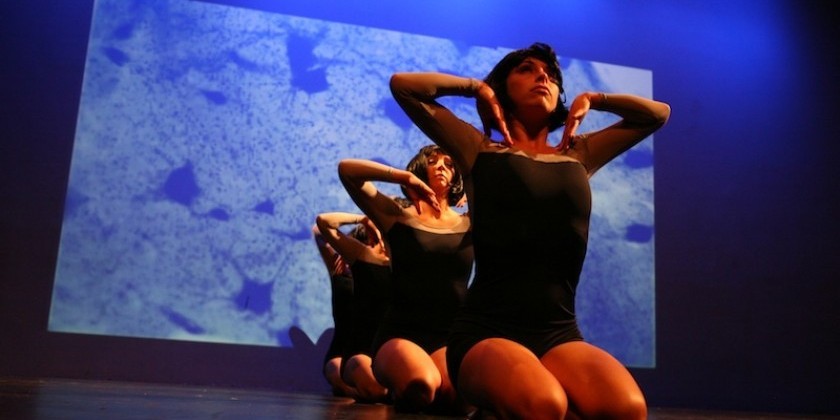 Presented by: Dixon Place Theater
October 23rd, 2013
Featuring the work of: Movement of The People Dance Company, Robert Mark Dance, Mersiha Mesihovic/Circuitdebris, Anjuli K. Bhattacharyya, Neville Dance Theatre, Yamini Saripalli and Lakshmi Babu, Emotions Physical Theatre, Community Dance Project NYC, Boston Community Dance Project, NYC Dance Arts Dance Company.
---
NYC10 Dance Initiative, born in 2012, is a platform for emerging choreographers to showcase work and receive audience feedback. These shows take place six times a year, and each one provides the opportunity for ten choreographers to present their work. The only requirement is that each piece last less than ten minutes. 
Given the amount of "emerging choreographer showcases" on the NYC dance horizon, I approach these festivals with a bit of skepticism. It's all too often I have found myself trapped in an uncomfortable seat for two or more hours, just to see the one piece I came for.  Fortunately, NYC10 manages to avert many of the typical pitfalls of the festival circuit — their shows feature fully developed pieces with swift transitions and a variety of themes. My limited attention span is grateful. Oh, and we can drink inside the theater — in fact, it is encouraged! (Another leg up on the average dance festival.)
Because NYC10 aims to encourage audience involvement, we are asked to provide feedback for artists in the form of cards inside our programs on which we circle a letter "E, G, or F" (excellent, good, fair) to evaluate each choreographer. Wait a second... is this a contest or a review process? As I imagine being the recipient of this letter grade, I flashback to my dread of elementary school report cards. Perhaps the producers could re-examine the format?  That being said, my notecard rewarded an "E" to the majority of choreographers, a testament to the excellent overall quality of the evening.
Movement of the People Dance Company's 30 Going on HAG. Photo by Peter Yesley.
In Movement of the People Dance Company's 30 Going on HAG, Joya Powell explores feminine norms and the glorification of marriage. The dance features four wedding-dress clad women with arms bound by the sleeves of their outfits. In one striking moment, the women — gagged by bridal veils, which earlier they flaunted — confront the audience with terror.
A particularly chilling piece, Mersiha Mesihovic/ CircuitDebris's Dissonance examines a search for beauty in a world of darkness and hatred. In scenes reminiscent of Jose Saramago's novel Blindness, the dancers, unable to conquer a mysterious outside force, turn against each other, violently throwing themselves at one another. The juxtaposition of dry, staccato movement against Goran Bregovic's driving passionate gypsy-like music is especially dynamic.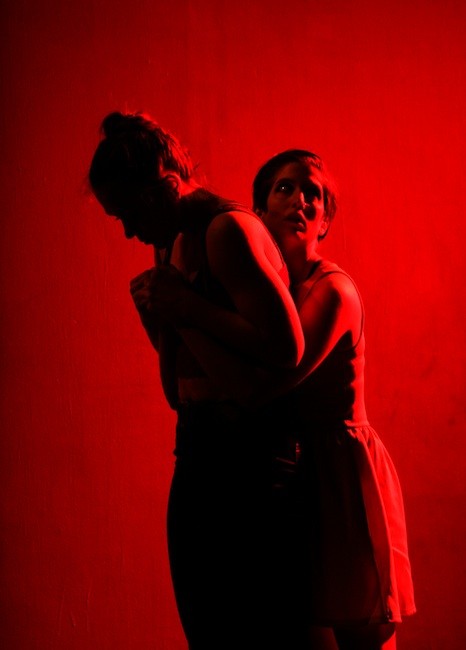 Mersiha Mesihovic/ CircuitDebris's Dissonance. Photo by Peter Yesley.
Venuganaloluni/Krishna the Divine and Tillana offers a delightful contrast to the more standard "dance festival" fare. In this classical Indian dance choreographed and performed by Yamini Saripalli and Lakshmi Babu, wrists twirl, feet stomp, hips sway, but never once do the women depart from their grounded, bent-leg stance. The animation and complex articulation of the dancers' heavily pierced faces mesmerizes. Within each beautiful face lies a world of expression.

Venuganaloluni/Krishna the Divine and Tillan. Photo by Peter Yesley.
Four identical, tan, long-limbed goddesses dart, leap, and rhythmically roll their shoulders to embody the quick-fire movement of the nervous system in Neville Dance Theater's Nerve choreographed by Brenda Neville. This dance is the second section of a four-part journey through the human body. What better inspiration for movement than the inner workings of the human body itself?
Roots, a lively and exuberant work choreographed by Roshelle Wilder on NYC Dance Arts Company closes the evening. To finish with any other piece would have been unimaginable; the bold energy and gusto of the performers overshadows any lack of technique. The company, increasing steadily in numbers until there are nearly 20 performers on stage, features a unique array of colors, shapes and sizes of artists (right down to the young man with "YOLO" tattooed on his inner arm) that is very refreshing. I genuinely feel compelled to jump out of my seat and join their joyous whirl.
Impressed by the professionalism and quality of work showcased by NYC10, I look forward to what the future of the festival holds!
Follow Theo Boguszewski on Twitter @TheoBoguszewski