Impressions of Neil Greenberg's "This"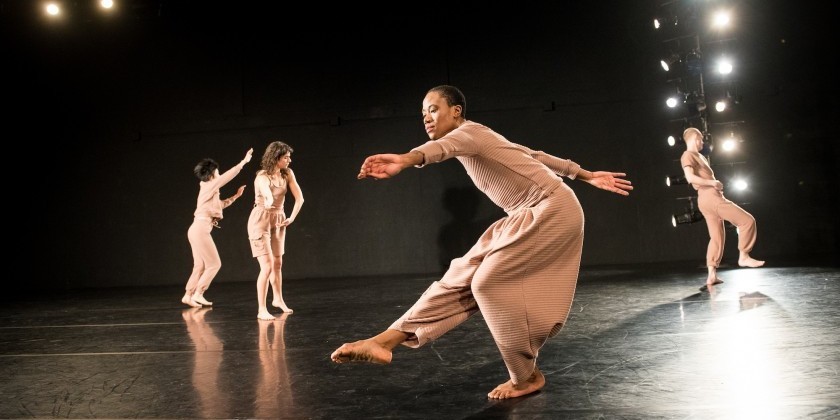 New York Live Arts
Choreography by Neil Greenberg
Music by Steve Roden
Lighting by Joe Levasseur
Costumes by James Kidd Studio
Performed by Molly Lieber, Mina Nishimura, Omagbitse Omagbemi, and Connor Voss
---
Columnist for The Scientific American Michael Shermer states, "Humans are pattern-seeking story-telling animals, and we are quite adept at telling stories about patterns, whether they exist or not." In other words, we are wired to find meaning, our brains helpless to understand the subtleties of statistical probability. Life isn't random; to us, it's packed with significance.
Neil Greenberg is having none of it. In This, which receives its premiere at New York Live Arts, the choreographer continues his exploration of meaning­, or, in his view, the non-essentiality of interpretation. The work unfolds in three sections, loosely demarcated by the colors of the dancers' pajama-like costumes: prison blue, sleek turquoise, ribbed beige.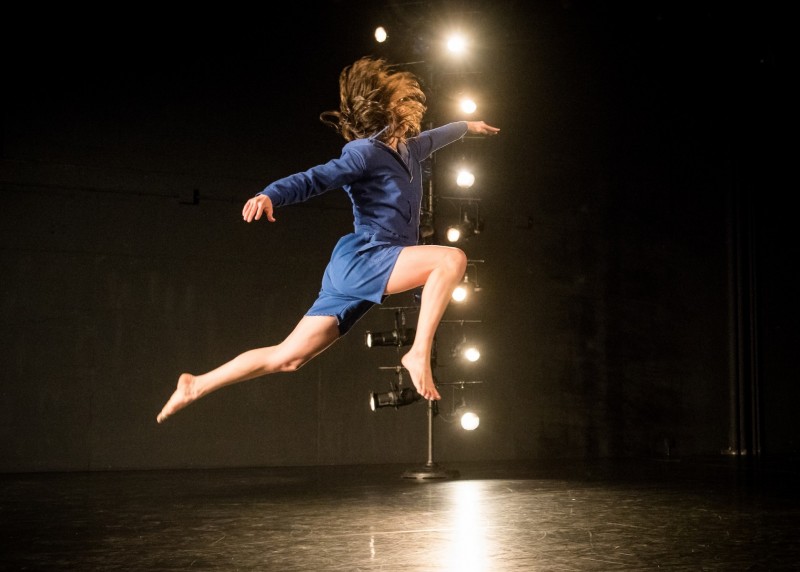 Neil Greenberg's This. Photo: Ian Douglas
There are only four (terrific) performers — Molly Lieber, Mina Nishimura, Omagbitse Omagbemi, and Connor Voss — but the stage, bare save two light banks, hums and bustles with activity. Greenberg bastes together tufts of movement derived from improvisation and then meticulously relearned via video. These quirky, witty phrases bound from prancing paces to twitchy gesticulations.  Arbitrarily, the quartet arrives and leaves the performing space, sometimes leaning against a wall to observe, but never judge, their cohorts. Nothing seems logical in This; everything shuffles with a sloppy serendipity.
In Greenberg's hands, the body isn't a vehicle to transmit splendor or finesse or explanation. Instead, it appears as a communicator of visceral whimsy, a jumble of random impulses and spasms to be indulged and celebrated. Following these internal rhythms, the dancers stomp like bow-legged cowboys and balance gracefully in profile, an uplifted leg hooked. In one luminous highlight, Nishimura slips through a solo textured with jagged lunges and frantic nodding, her physical structure a vector for caprice.
Neil Greenberg's This. Photo: Ian Douglas
Music, electronic squiggles by Steve Rogen, drops in from time to time. Often, the score is so unimportant that it barely registers, nothing more than a rippling sonic scrim. The dancers, their attention turned towards action not reaction, cruise through its faint bleeps and stutters.
This, which lasts for almost an hour (a solo by Greenberg was to open the program, but he pulled it after working in the theater), feels like a maze, all twists and turns with no discernible exits or entrances. At times, the urge to interpret events can become keen. In one reoccurring sequence, a dancer sheds a shirt, tucks it into her pants like a tail before waving it overhead like a flag as she gallops wildly. It could be a rallying cry, or, most likely, it is what it is: a dancer bolting in circles.
While in the beginning it all seems a bit haphazard, This is a treat to be relaxed into, pleasure lurking in its dry playfulness. The regality of the performers elevates the vagary into something sublime, and what could just be an event, seen but not felt, becomes an experience.