Related Features
Contribute
Your support helps us cover dance in New York City and beyond! Donate now.
Impressions of: One Night of DANCENOW at Joe's Pub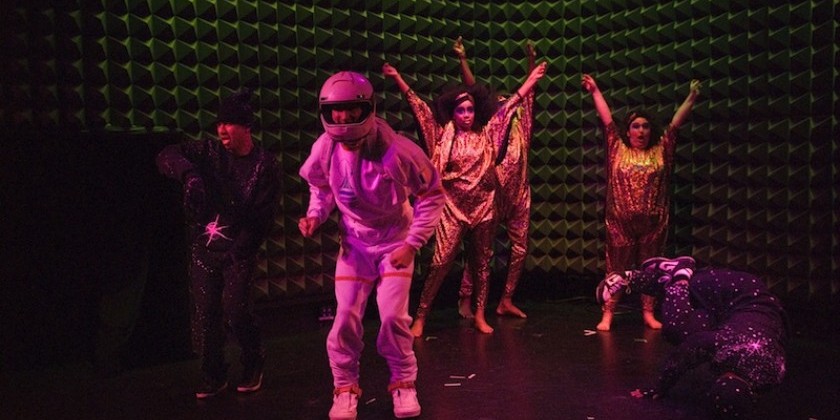 Choreographers Show Their Calling Cards
Thursday, October 10
Featuring works by TAKE Dance, danceTactics performance group, WKCollective/ Wanjiru Kamuyu, Tze Chun Dance Company, Sara Joel, Clare Cook Dance Theater, BIGMANARTS, b & company / dance, Deborah Lohse, Harlem Dance Club
---
Follow Erin Bomboy @erinbomboy on Twitter
Initiated in 2010, the DANCENOW Challenge at Joe's Pub invites artists to showcase a five-minute work that acts as their choreographic calling card. Presented over four nights, the audience votes on their favorites. The winning choreographers receive a one-week residency at Silo in Pennsylvannia, and the artist who best fulfills this challenge garners a trove of prizes including a $1,000 development fee and a 20-hour space grant at Gibney Dance Center.
The DANCENOW series, hosted by the dryly-witted Sydney Skybetter, is popular with audiences and artists alike. As show-goers quaff wine and munch on burgers, the diminutive, wedge-shaped stage plays host to a wide range of visions. Tonight, the events swing from the cheekily romantic Under My Skin by Clare Cook Dance Theater to danceTactics performance group's colorfully cryptic A Piece of Hamlets Machine.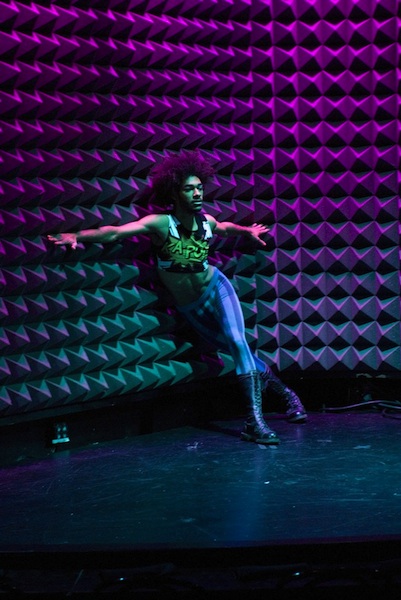 Challenge Winner Mark Dendy Dance and Theater Projects' Ritual Cyclical @ the Pub.
Five minutes seems an absurdly short period to present an artistic thesis; yet, many choreographers not only succeed, they construct a fully fleshed piece. TAKE Dance, a 2013 Joe's Pub Commissioned Artist, excerpts The Last News from SOMEWHERE FAMILIAR MELODIES. Brynt Beitman swipes and swabs the top of a desk before a luminous Kristen Arnold joins him. In one haunting moment, she, back turned, springs from the desk into his arms. Their tautly sensitive performances leaves us with goose bumps. In Lost, choreographer and performer Lawrence Goldhuber of BIGMANARTS casts himself as a poetic yet sad sack protagonist  — John Milton crossed with Bozo the Clown. Clad in a baggy suit stenciled with the words madness and divine, he quivers in place, strides around the perimeter, and obscures his head in the folds of his jacket. Goldhuber's animated face flickers through a range of emotions from despair to alarm, immersing us in his inspired discord.
October 11 Challenge Winner Rooster & Snowball's Prix Fixe @ the Pub.
Conventional concert dance, with its emphasis on coordinated movement phrases and development of physical themes, looks surprisingly at home on this pint-sized stage. Tze Chun Dance Company's Transmit commences with two females in flounced peach blouses and blue skirts rhythmically pulsating, faces stony and feet rooted to the floor.  Aided by lights that blink on and off, they cultivate these oscillations into level-changing actions before cycling back to their original pulsing. Threeism, by b & company / dance, features a trio of dancers circling their arms in an intriguingly Byzantine pattern. A study in movement evolution, these serpentine pathways develop into full-throttled, physically pliant actions.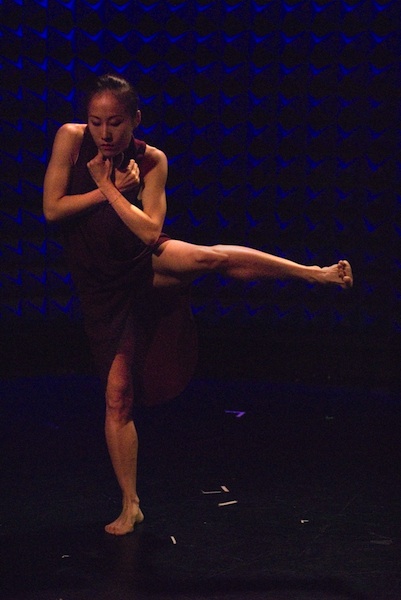 October 12 Challenge Winner Yin Yue's Shapeshifter @ the Pub.
Several pieces by female choreographers command our interest.  Attired in a floor length, wine-colored skirt, Wanjiru Kamuyu, in Sliver of a Thought, magnetically wriggles and crouches in a wide-legged stance; it is a demonstration of controlled chaos. Raven-haired choreographer and performer Sara Joel entrances with a circus-like solo, Bearing, in which she intrepidly contorts and balances against a metal bench. In crowd favorite Refract, Deborah Lohse, sporting a frock constructed of chandelier crystals, reflexively struts and vogues as a model-muse much to the frustration of the designer, Project Runway All Stars' Andraè Gonzalo. He trails after her, fruitlessly attempting to finish his shimmering creation.
October 10 Challenge Winner Harlem Dance Club's Etoiles. Photo by: Jennifer Jones.
Harlem Dance Club amuses with their disco-infused Etoiles. A threesome bedecked in glitter and gold groove energetically before three men, one wearing an astronaut suit, join in the entertainment with an array of break dancing moves. Bursting with campy fun, they secure the audience's vote for this evening's winner.
Be sure to tune in and see the challenge winners on October 19th for the DANCENOW Festival Encore at Joe's Pub. For more information, click HERE.