Related Features
Contribute
Your support helps us cover dance in New York City and beyond! Donate now.
Impressions of: Ronald K. Brown/Evidence, A Dance Company at BRIC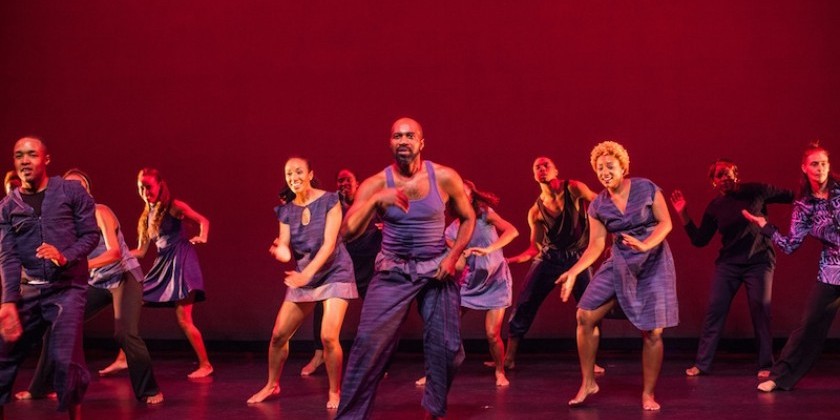 "On Earth Together" - A Feel Good Community
Friday, November 15
Choreography: Ronald K. Brown
---
The gorgeous new space housing BRIC Arts Media has been all the rage in Brooklyn and beyond. This month BRIC welcomed Ronald K. Brown/Evidence, A Dance Company and they came with a community like no other.
The evening opened with Gatekeepers. Commissioned by Philadanco in 1999, this work is inspired by Native American myth and African tradition and portrays  children and elders preparing the way between life and after-life. Dancers moved through Brown's signature spatial patterns filling the stage and guiding the viewer's eye. When they looked, we looked. When they posed, we paused.
Evidence is not primarily recognized for technical prowess, but these dancers balanced nuance and the effortlessness of Brown's style with dynamic performance. They took flight just as much as they dug into the ground, "soldiers walking toward heaven" as Brown described in the program notes. The dancers transitioned seamlessly between the sailing jumps and sustained turns of contemporary technique and the grounded rhythms and fluid torsos characteristic of movement of the African diaspora.
Ronald K. Brown/Evidence's Gatekeepers. Photo by David Andrako.
The namesake of the evening, On Earth Together is a work inspired by the music of Stevie Wonder which Brown has been developing since 2011. Since the beginning he has added sections: "Everybody at the Table" and "Don't You Worry About A Thang." It appeared, however, that he hasn't taken anything out, which made the work feel a bit long.
Opening with "For The City," Brown created a world that references New York City life — bodies constantly moving in any and every direction, occasionally catching each other's eyes and offering a brief greeting. The work played with characters in a scene that resembled a drug deal (sirens and all). In light of recent deliberations around Stop and Frisk, watching a dancer  being handcuffed and forced to the ground offered  painful poignance.
Ronald K. Brown/Evidence's On Earth Together. Photo by David Andrako.
As the work continued, we met the guest artists that were the talk of the town leading up to this performance. Brown welcomed some 30 guests (in two casts) ages 8 to 77 to join the BRIC performance of On Earth Together. These performers created a community within the work, representing what Brown defines as "the commitment to serve, honor, and support each other as individuals as well as collectively."
I often felt like a visitor looking in on this "Earth" because the dancers were so connected with each other that they did not often engage the audience. However, I appreciated that the dancers were there together, sustaining each other. In fact, it was the fun in the relationships of the performers that made this work enjoyable to watch.
According to Brown, "The mission of Evidence is to promote understanding of the human experience in the African Diaspora through dance and storytelling..." but there was no clear narrative arc after "For The City." While we assumed we were still in the world Brown created, the characters introduced in that earlier section did not remain definitive throughout the work and no additional characters could be discerned. Even the few costume changes- beautiful showcases of Omotayo Wunmi Olaiya's design work- appeared arbitrary.
While the evening may not have been the strongest representation of Brown's storytelling, there was no lack of love in this work. Even in the more somber moments, Evidence dancers and guests manifested a level of joy and connection that was a pleasure to witness. We were left in a feel good mood delivered in a manner that only Stevie Wonder and Ronald K. Brown could offer.
Ronald K. Brown/Evidence's On Earth Together. Photo by David Andrako.
Follow A. Nia Austin Edwards on Twitter @KwanzaaKid