Impressions of Soledad Barrio and Noche Flamenca at West Park Presbyterian Church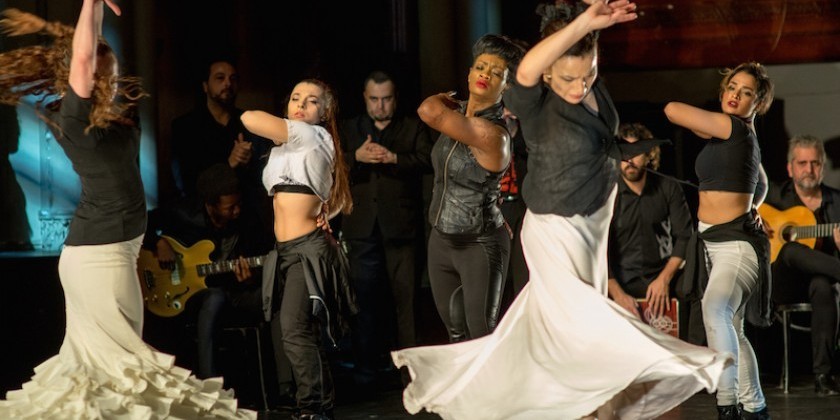 Artistic Direction and Production by Martin Santangelo
Performed by Soledad Barrio and Noche Flamenca
Music by Eugenio Iglesias, Salva de Maria, David Rodriguez, and Hamed Traore
Vocal Arrangements by Manuel Gago, Emilio Florido, Carmina Cortes
---
The strike of a toe. The smack of a heel. The clap of the hands. In flamenco, sound is as powerful as sight. When done well, this bodily score can grab us viewers' hearts, coaxing ours to beat in time with theirs.
Soledad Barrio and Noche Flamenca blow the rafters off of West Park Presbyterian Church during their two-week run of La Ronde and Creación. (A three-week run of Antigona fills out the rest of January.) Although the two pieces are stand-alone works, the intermission-less evening unspools seamlessly.
Soledad Barrio and Noche Flamenca in La Ronde; Photo Zarmik Moqtaderi
This may be due to the structure of both works. Although group numbers with clacking heels and whirling wrists transpire, the prominence is on solos and duets. Yet, for all the technical brio on display — and there's plenty of that — the presentation is democratic, supportive, devoted to sportsmanship rather than one-upmanship. The audience, chockablock with flamenco aficionados, approves, with shouts of olé and bravo.
The opener, La Ronde, features eleven performers, some of whom dance, some of whom make music, and some of whom do a little of everything. Inspired by Arthur Schnitzler's play of the same name, the work winks saucily and blinks wonderingly at the vagaries of modern romance. Like in a round dance (La Ronde is French for round and Spanish for I love her), center stage is passed around the company. Everyone basks in the limelight.
Marina Elana, regal and entrancing, flirts with guitarist Eugenio Iglesias before Hamed Traore casts a moody shadow as he strums a buzzy bass guitar. Sporting castanets, Jeanne d'Arc Casas cheekily spars with Emilio Florido, who drums two canes into the floor. Dancing in a shower of sweat, Juan Ogalla moves so fast he becomes a blur. The revered Barrio appears near the end to thrill with cyclonic spins and whizbang footwork.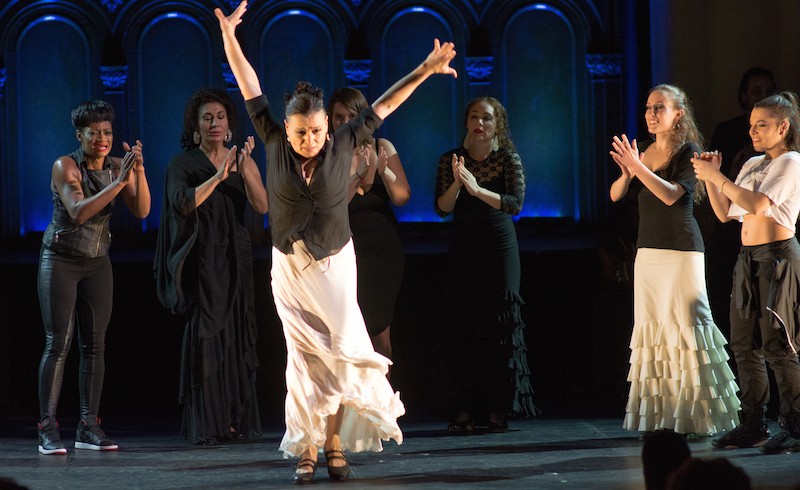 Creación; Photo: Zarmik Moqtaderi
The fire kindled in La Ronde burns in Creación, but it's cooled to a smolder with the addition of hip hop artist TweetBoogie and singer Lila Blue. Flamenco and hip hop prove to be natural playmates: rhythmical, earthy, prone to rapid-fire sequences that freeze. With rapport and respect, Barrio and TweetBoogie issue a salvo for female solidarity.
The evening is eighty minutes of passion and proficiency. It's also a loud and busy eighty minutes. Silence, then, becomes first the climax and then the reset button in the pieces. During this stillness — a few seconds here, a long moment there —the deepest communion occurs from stage to house. Sometimes, no sound is the most powerful one.  
---
The Dance Enthusiast Shares IMPRESSIONS/ our brand of review, and Creates Conversation.
Check out our other IMPRESSIONS here.
Share your #AudienceReview of this show or others for a chance to win a $75 giftcard to Trader Joe's
---
Read other pieces about Soledad Barrio and Noche Flamenca on The Dance Enthusiast: