Related Features
Contribute
Your support helps us cover dance in New York City and beyond! Donate now.
IMPRESSIONS: stefanie nelson DANCEGROUP in "Oddball Zebra" at Triskelion Arts
Once I Met an Oddball Zebra and her friends
Oddball Zebra
presented at Triskelion Arts, Williamsburg,Brooklyn
March 8-10th , 2013 at 8pm
Choreography: Stefanie Nelson ( in collaboration with the dancers)
Performers: Nicole von Arx, Katherine Federowicz, Gierre Godley,
Sarah Parker, Hunt Parr, Yin Yue, with a special appearance by Abby Bender
Animations: Jeremy Weichsel
Original Scores: Jonah Kreitner, Juan Pablo Mantilla, Sahand Rahbar
Set and Costume Designs: Stefanie Nelson + Lighting: Andrew Dickerson
---
Stefanie Nelson's Oddball Zebra is an eccentric work fixated on the denotations and connotations of stripes. Stripes--do they define, protect, guide or trap us? Must we be tightrope walkers balancing precariously on a narrow strip(e) of floor? Who is on the outside, and who is on the inside of the lines we create? Nelson is eager that we consider these questions and their implications; so, she throws them out at us in a surreal jumble of choreography.
Presented in many episodes, each with a different sound score, mood, and movement approach, this performance resembles a trip to a carnival funhouse. We meet theatrical misfits: jugglers, madmen (and women), a cackling clown, a magician, maybe some prisoners, maybe cat burglars, maybe murder victims and yes, there is at least one dancing superhero.
Stefanie Nelson DanceGroup in Oddball Zebra choreographed by Stefanie Nelson: Dancers Yin Yue and Katherine Federowicz;
Photo Stephen de las Heras
Charming film animations designed by Jeremy Weichsel call attention to the nature of stripes. A "zebra man" falls through black and white rods, which rapidly break, and then so does he. Weichsel's cartoon stripes become hefty enclosures, winding roads, then change to mushy paints squeezed out of toothpaste tubes. Whether rigid, or soft and swirly (like the designs on our fingerprints) stripes never disappear altogether.
In one section of her performance, Nelson takes on
The New York Times
quoting random text gathered from Alastair Macaulay's dance reviews. Here Nelson reminds us that words, too, draw lines. She presents cards labeled," boring, insincere, irrelevant and predictable." It is no secret that the contemporary dance community in New York City feels certain critics draw a line in the sand about what can be considered "relevant" art. That particular stripe leaves many feeling invisible.  
Stefanie Nelson DanceGroup in Oddball Zebra choreographed by Stefanie Nelson: Dancers Yin Yue (foreground) and Katherine Federowicz
(background) ;Photo Stephen de las Heras

At the start of Oddball Zebra we are introduced to a white-faced clown who merrily dances with and around the other characters on stage. She silently narrates, comments, and translates the stage world for those of us on the outside. By the end of the piece almost everyone in the stage world has transformed into a sad sack Punchinello -- white-faced, wearing stripes, and staring out blankly.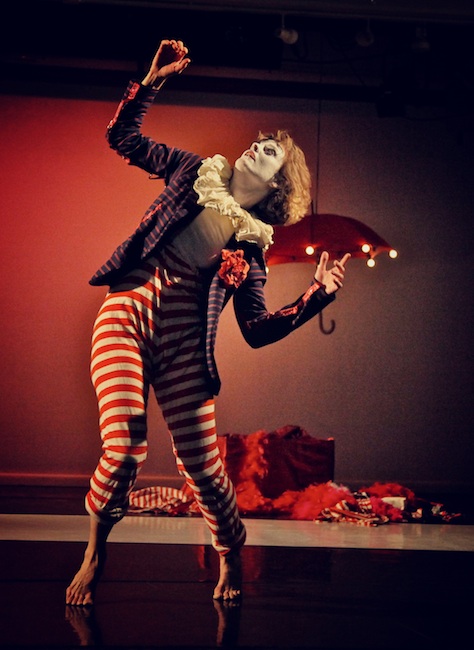 Stefanie Nelson DanceGroup in Oddball Zebra choreographed by Stefanie Nelson: Dancer Katherine Federowicz ;Photo Stephen de las Heras

Are striations our eventual doom?

The only character left with an unpainted face and stripe free clothes is one very frustrated, rabidly gesticulating magician, Hunt Parr. (Even his wizardry can't make stripes vanish.)

In her program notes, Nelson points out that there was a time in the Middle Ages when entertainers were required to wear an identifying stripe. Aren't all artists oddball zebras, outcasts who don't exactly fit in and prefer to draw outside the lines? One hopes that, unlike Parr's artist/magician, and the rest of the evening's cast, the other "oddballs" we may meet, will conjure more fulfilling spells - not letting the stripes and lines of life get the better of them.
---
The Dance Enthusiast Shares IMPRESSIONS/ our brand of review and Creates Conversation.
For more IMPRESSIONS, click here.
Share your #AudienceReview of performances for a chance to win a prize.