Related Features
Contribute
Your support helps us cover dance in New York City and beyond! Donate now.
IMPRESSIONS: John Kelly's Performance Memoir "Time No Line" at La MaMa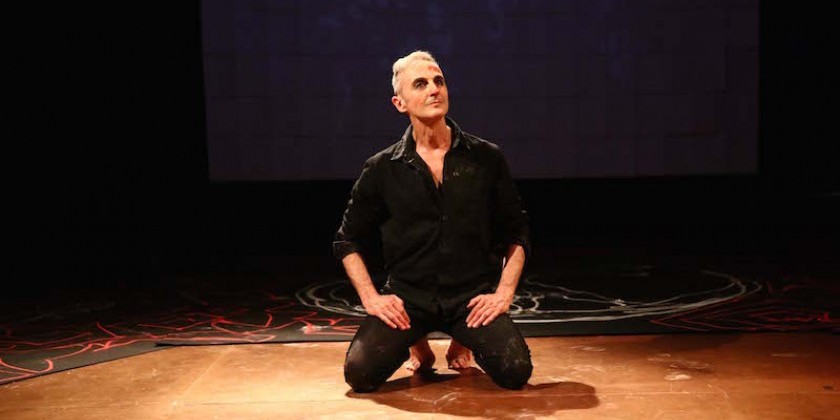 February 22-March 11, 2018
La Mama Experimental Theatre Club, Ellen Stewart Theatre
Direction, Texts, Video Design (center channel), Performance: John Kelly
Projection and Media Design; Video Design (side channels): CultureHub
Movement Dramaturge: Jon Kinzel
Music: Thomas Adès, Charles Aznavour, Hildur Guðnadóttir, George Frideric Handel, Jóhann Jóhannsson, Zoe Keating, Gina Leishman, Joni Mitchell, Henry Purcell
---
John Kelly's autobiographical Time No Line utilizes movement, song, drawings, projection, and 40 years of journal entries to trace his history within the 1980s East Village performance scene and the AIDS pandemic.
Kelly prepares the space by folding pieces of cloth to place on a bench against the wall. He matter-of-factly walks back and forth draping material on hooks, arranging shoes, and sliding a red rope across the floor. He occupies a wooden chair tucked underneath a desk that's adorned with a black notebook binder, tiny wooden figurine, and microphone. White block text scrolls on a large screen upstage center, detailing Kelly's artistic beginnings, "A young boy from Jersey comes to New York City to see the Cockettes in 1971 . . ."
Two projection screens hover in the back corners of the space where calendar years appear and fade. Kelly sits silently, flourishing his fingers in front of his face, until 1976 remains etched. He reads memories from the 1970s in the binder, fast forwards to 2017 with mention of the movie Arrival, and then rochiets back into the '70s. Our focus seamlessly vacillates between the past and the present.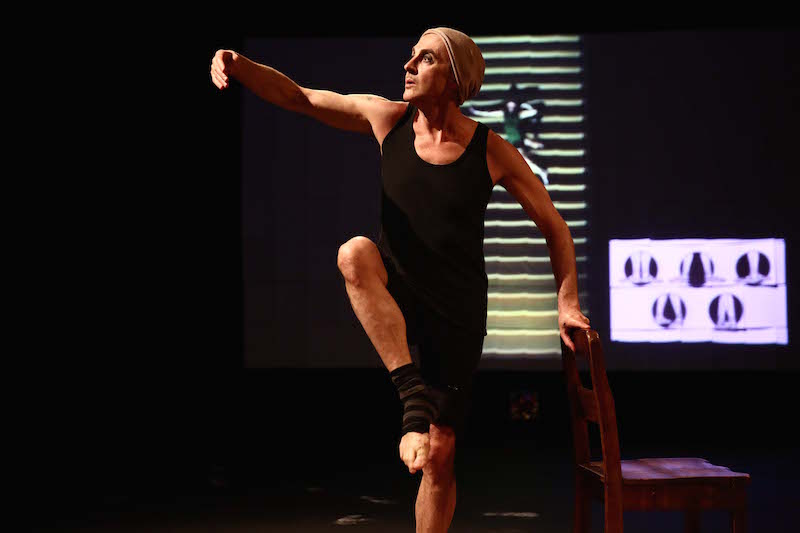 John Kelly's Time No Line; Photo: Paula Court
The piece segues from text to movement when a female ballet dancer in a tutu dances across the large screen. Kelly breaks his trance from a flickering light (as if watching TV) and enters the space leaving a trail of white footprints in his wake. It feels reminiscent of a Family Circus comic strip where the child's journey is traced for all to see.
Kelly pliés. Ballet's idealism melts into imperfection as his knees bend inward and almost touch. He confesses he started ballet at 17, and his body would not yield to ballet's expectations.
Repurposing the use of his body and mind, Kelly turns to visual arts. He extends his limbs to trace a rectangular outline in chalk. During another moment, he sketches a circle around a pool of light and connects the edges to reveal Leonardo da Vinci's The Vitruvian man.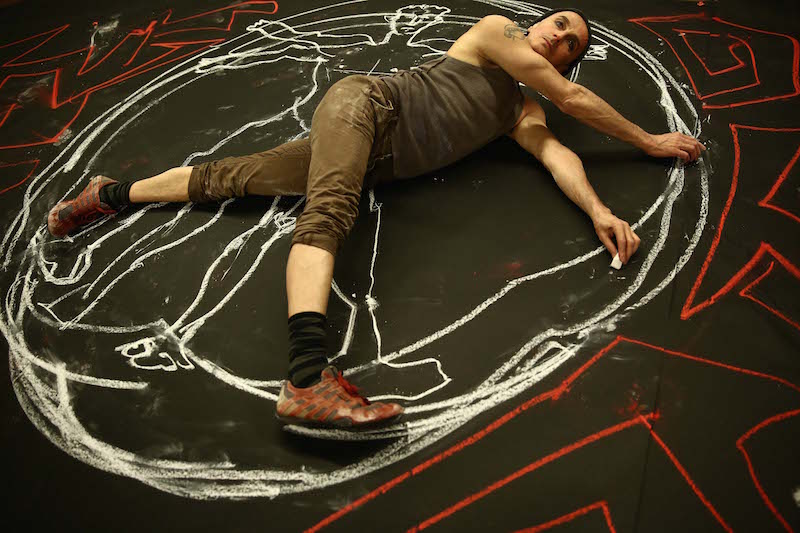 John Kelly's Time No Line; Photo: Paula Court
As he remembers losing friends to AIDS and his own HIV diagnosis, Kelly uses his body to create four outlines on the floor. He adds spirals of red chalk around the overlapping extremities to connect the corresponding forms. They become the blood pumping through the veins of the work.
Among the tribulations there is also joy. Kelly's drag persona Dagmar makes a wistful and romantic appearance. Later, he even sings a duet with a projection of his 1992 self.
Kelly ends by gingerly pulling the red rope behind him as if it is a symbolic talismen where blood memory and stories intersect. While this performative memoir finds collective histories through the individual, this history is framed within a white, male, queer lens of the '70s and '80s East Village. Nonetheless, sharing and remembering is important, which likely prompted Kelly to recently invite the young queer community to continue the conversation via Facebook. 
Related Events: John Kelly Sideways into the Shadows; Wednesday, February 28–Sunday, March 25, 2018 An Exhibition in Conjunction with Kelly's Performance Time No Line at La MaMa
---
The Dance Enthusiast Shares IMPRESSIONS/ our brand of review and Creates Conversation.
For more IMPRESSIONS, click here.
Share your #AudienceReview of performances for a chance to win a prize.