Related Features
Contribute
Your support helps us cover dance in New York City and beyond! Donate now.
Katy Pyle Makes Ballez: Re-imagining "The Firebird"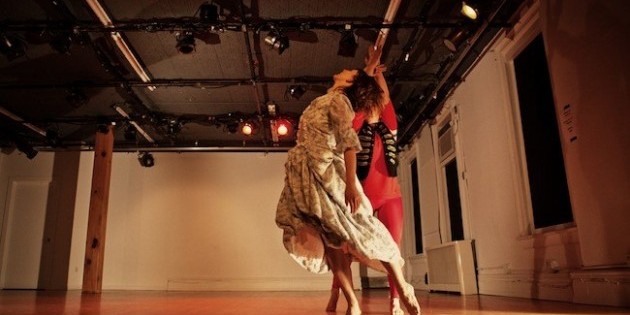 Impressions of Katy Pyle and the Ballez Company
The Firebird, A Ballez at Danspace Project
May 17, 2013
Director: Katy Pyle
Choreography: Katy Pyle with Jules Skloot, Cassie Mey, and the performers
Performers: Effie Bowen, Ariel "Speedwagon" Federow, Leah Hafezi, Sam Greenleaf Miller, Francis Rabkin, Mary Read, Lindsay Reuter, Lollo Romanski, Silky Shoemaker, Sacha Yanow, Nyx Zierhut
Music: The Firebird by Igor Stravinsky; Musicians: Queer Urban Orchestra, conducted by Nolan Dresden; Video: Hedia Maron; Costumes: Mikki Olson; Lighting Design: Carol Mullins
---
Katy Pyle re-imagines classical ballet and disputes its stereotypical notions of gender in
The Firebird, A Ballez
. Using Stravinsky's full score played live and with loving attention by the Queer Urban Orchestra, she transforms Saint Mark's Church into an enchanted wonderland, featuring a cast of fifteen queer and transgender performers.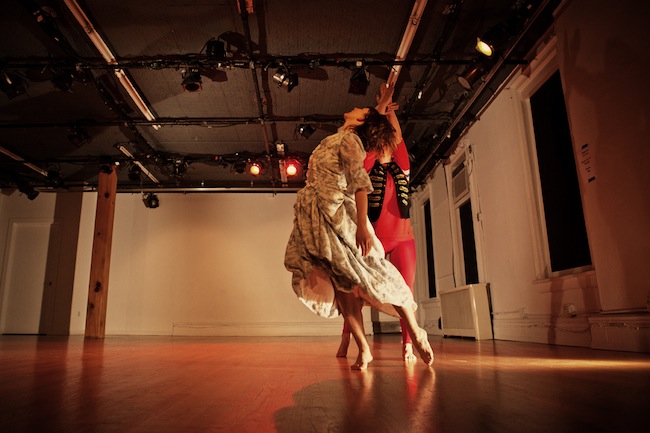 Katy Pyle (Princess) and Jules Skloot (Firebird) in Katy Pyle's The Firebird,A Ballez ; Photo © Christy Pessagno at Brooklyn Arts Exchange
Pyle — sporting lavender locks, a sparkly frock, and two bright circles of blush on her cheeks — is a Lesbian Princess on a journey of self-discovery. In a magical forest, depicted by Hedia Maron's delightful video, she chances upon a Tranimal, half boy/half animal. The Tranimal, a sloe-eyed Jules Skloot, and the Princess awkwardly pursue a romantic connection, exemplified when he detaches his red feather earring and scribbles his number on her hand. This burgeoning courtship ends on a sour note, but the Princess soon rediscovers the Tranimal, in his prince form, kept in a harem by a domineering Sorceress. The Princess's attempts to free her Tranimal fail and he perishes, only to be reborn in a blazing climax. Spunky narrator, Sacha Yanow, helps befuddled audience members follow along.  
While there's not a pointe shoe in sight, Pyle evinces a deep appreciation for classical ballet. In an opening solo, she executes springy
pas de chats
and a handful of snappy
fouett
és with textbook precision. The first appearance of the twelve princes suggests a hat tip to La Bayadère's "Kingdom of the Shades." Each prince steps onto a raised stair to perform a sequence of delicate port de bras before another appears behind him, replicating the sequence.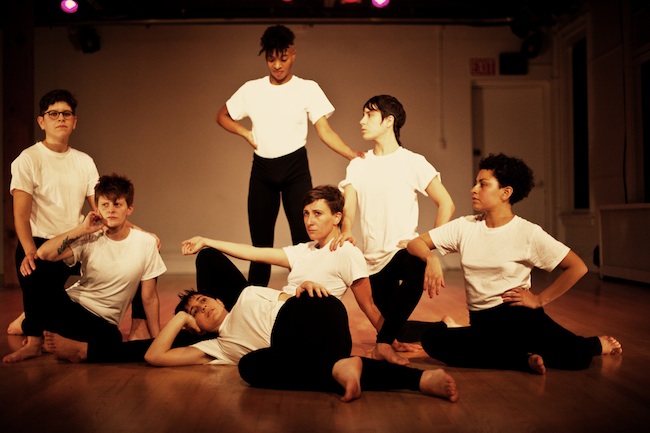 The Cast of Princes in Katy Pyle's The Firebird, A Ballez ; Photo © Christy Pessagno at Brooklyn Arts Exchange
The princes, in ballet's uniform for boys — white t-shirts and black leggings, exhibit a graceful virility. Unlike the virgins that populate traditional works, this "corps de ballet" freely experiments with sexual desire. In one scene, the twelve princes frolic with pieces of fruit. Tossing and sniffing each other's fruit, they form a line downstage and thrust the produce down their pants in a burlesque send up.
The Firebird, A Ballez is uneven in places. Carol Mullins' lighting design often overshadows Maron's video, and some of the staging obscures pivotal sequences. Most noticeably, the technique of the corps de ballet ranges wildly; several dancers have a firm grounding while others are novices. Childlike abandon replaces ordered exactitude — which may be the point. This variegated group attacks steps and strikes poses with an expansive innocence.
 
Pyle and her dancers perform jubilantly and affirm that ballet, historically rigid in its depictions of sexuality, can embrace queer culture
.