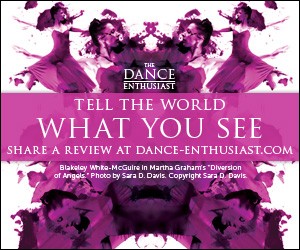 Related Features
IMPRESSIONS: Kayla Farrish/Decent Structure Arts at Triskelion Arts
Sharing Vulnerability In Process
Kayla Farrish/Decent Structures Arts
Film Night- Films, Photography, Text, and Dance Theater
Work by Kayla Farrish Alexander Diaz, and Hayley Ader
Triskelion Arts
November 1, 2022
---
In Kayla Farrish's three-evening series at Triskelion Arts, she offers audiences a glimpse into the vulnerability of process and collaboration over multiple mediums. Through a loosely-structured program, she openly grapples with a dilemma familiar to many choreographers –"What can it look like to make work with my friends, rather than waiting until a person or institution funds me?" She sources friends and long-time collaborators, sharing work that simultaneously has potential to evolve, yet already feels complete.
I attended Farrish's November 1st program, a multimedia evening including a live performance, an open gallery, a series of short films, and an informal friendly exchange between artists and audience.
The Lobby Walls of Trisk: Photo: Veronica Jiao
Upon entering Trisk's lobby, 4 x 6 photos collage the walls in various clumps. Each centers Farrish or her collaborators, Hayley Ader and Alexander Diaz. The photos themselves are serious in tone, and the subjects always seem aware of the photographer. In contrast, the collaged systems feel college-dorm-like, the comfort of familiar faces lining walls in one's home-away-from-home. The program notes give us three words to associate with the gallery: "recount, affirm, see1."  I feel let in on a very private moment of each of the artists.
In addition to the photos, the artists have also contributed a large album including more collages and a book of mixed-media writings overlaid on string. We notice cut-up Trader Joe's bags, printed paper, glitter glue, etc. This is the world of Kayla Farrish/Decent Structure Arts. The photos and text dictate: "You are here now, welcome to our world; see how we process."
Collage Photo: Veronica Jiao
In the courtyard adjacent, an open door reveals Farrish dancing in front of a projection of herself as unaware guests continue chatting in the lobby/gallery. Her red dress catches parts of the projection as Diaz appears in a black suit, dancing behind the outdoor bar. Underneath a perfect half-moon, the two recite text (first to themselves while making sweeping gestures, then morphed into Diaz singing Nat King Cole's L-O-V-E )while Farrish searches for Diaz between the courtyard and gallery, calling out "Marco?" The theme of the evening: love. It's a topic simple enough to follow as a throughline, but complex enough to build a two-hour evening of mixed-genre work on. Watching, I feel both like a voyeur and a participant: in such close proximity to the dancers, yet not part of their conversation.
Farrish silently opens the door to the theater with no gesture or sign for us to follow. An adventurous audience member walks in and finds a seat. We follow. The Triskelion Arts black box welcomes us, bookended by lines (upstage and downstage) of notebooks and books on love, awakening, and restorative justice. Farrish and Diaz duet to a soundscore of '30s era love ballads chopped together with structureless, humming electronic ticks.
Trisk's Black Box Theater with Lines of Notebooks and Books; Photo: Veronica Jiao
Having followed much of Farrish's work over the past few years, I've noticed she adores text and writing; words are core to who she is as a choreographer. As their duet, titled Voices, wraps up, Diaz and Farrish prompt each other with simple words and phrases set to their own internal metronomes. "Arm…swoop…under…wrong side…it's this side." Here, we witness more of the process vs. product-centered viewpoint that Farrish hopes for us to notice. With a slow fade to black, Farrish leaves the stage. Diaz continues flowing through the space like liquid, leaving the audience to wonder if it's over or not.
When the lights come back up, Farrish and Diaz excitedly address and prepare the audience for the upcoming short films. They repeatedly cite "sharing process," "vulnerability," and "what can this become?" Diaz adds that when Farrish told him about this opportunity at Trisk, his thoughts went to, "What can I share, and why am I scared to share it?" Again we revisit the theme of love, intrinsically felt through this community as we hold space, allow for messiness, and give the performers grace to share incomplete thoughts.
Screen Capture of @fulloutfarrish, Kayla Farrish's Instagram Page
I've observed grace and love to be at the forefront of thought in the NYC dance industry since returning from quarantine. It's impossible to write about dance today without addressing how the pandemic has and continues to affect the ways we share, create, and consume this art form. Our new considerations open portals for transforming our industry and its existing hierarchies. Farrish, a Black woman often making work centering her Black experience, opens these transformative portals even further when she speaks and facilitates dialogue about working in the post-shutdown landscape.
The evening continues with a series of short films by Diaz, some highly edited, others long raw shots with no camera movement. Ninety percent of the films are self-recorded videos of Diaz soloing, spliced together to give the audience an arc to follow. His self-archival style prompts me to think about how we, as People of the Global Majority, document ourselves when documents of our existence have been erased by so many factors, even before the age of media.
Kayla Farrish; Photo: Courtesy of Triskelion Arts
Diaz has the movement quality of an eel: flowing, curving, effortlessly moving through space and striking staccato accents when emphasis is needed. The last of his films presented, When 17 Button Downs Turn Into a Gown (2017), gives us an early 2010 home-video camera quality, coupled with Millennial nostalgia for pixelated, self-recorded lip-sync.  As the title directs, 17 button-down shirts form a gown tied and wrapped around Diaz as he lip syncs Whitney Houston's "I Believe in You and Me." He performs the entire song exuding confidence and freedom.
The program closes with excerpts from Farrish's most recent film Martyr's Fiction (2022). The film questions what it means to disrupt reality and dream. As dancers pass through a time-capsule -of -a-house, the director of photography, Kerime Konur, skillfully captures the spatial relationship of the dancers -- one moving through the kitchen, one down a hallway, and another reflected in the glass from behind the camera-- in the same frame. If the immersive, choose-your-own-adventure shows Sleep No More or Then She Fell were converted into film, Konur would be the person to do the camera work. It's not too bold to say that Farrish, a current cast member and the rehearsal director for Sleep No More, could have drawn subconscious influence for the spatial structure of her film from this show.
Title Credit of Kayla Farrish's Film; Capture from @fulloutfarrish on Instagram
Aesthetically and brilliantly similar to the live duet that opened the evening, Farrish incorporates early American jazz and heavy text in her film.  The physical vocabulary shifts to hard, punctuated movement, with liquid-flowing curves interjected occasionally. This is the first time we see both a large group of male-presenting bodies (with the exception of Farrish) and synchronized movement in the evening's program. A fake commercial, a darkly satirical advertisement warning Black men how to  avoid getting popped by the cops, interrupts and transitions to Farrish dancing solo in a huge, empty, white space.
Pausing the film with a chuckle and a sigh, Farrish brings us back to that soft-space of "works-in-progress." As we transport mentally back to Triskelion Arts, she navigates the introspective silence of the audience by speaking about the production company she hopes to develop, asking rhetorically, "What can we do right now?"
Kayla Farrish; Photo: Kerime Konur
In this dense evening, Farrish was able to transport us to different locations and eras, then back to our present, using text, film, costumes, sets, and sound design in a culturally relevant way. A powerful choreographer with a versatile and loyal band of collaborators in her corner; all of Farrish's work has left an imprint on my mind, even years later.
---
The Dance Enthusiast Shares IMPRESSIONS/our brand of review, and creates conversation.
For more IMPRESSIONS, click here.
Share your #AudienceReview of performances. Write one today!
---
The Dance Enthusiast - News, Reviews, Interviews and an Open Invitation for YOU to join the Dance Conversation.