IMPRESSIONS: Kyle Abraham's A.I.M at the Joyce Theater with Keerati Jinakunwiphat and Trisha Brown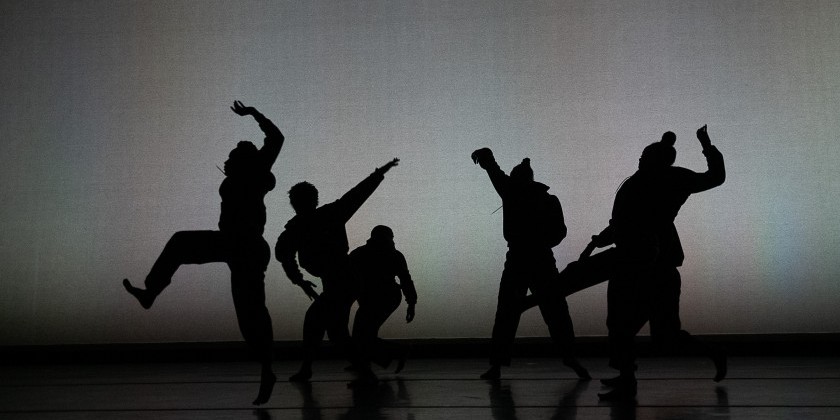 Artistic Director: Kyle Abraham
Choreography by: Kyle Abraham (in collaboration with A.I.M), Keerati Jinakunwiphat, Trisha Brown
Performers: Kyle Abraham, Tamisha Guy, Keerati Jinakunwiphat, Claude "CJ" Johnson, Javon Jones, Catherine Ellis Kirk, Marcella Lewis, Jae Neal, Donovan Reed, Jada Jenai Williams
---
A.I.M's latest program at the Joyce Theater showcases both premieres and recent works. It features not only artistic director Kyle Abraham's choreography, but also that of Trisha Brown and Keerati Jinakunwiphat. Ranging from introspective to sensual to playful, the spectrum of Abraham's artistic influences and interests are on display. The pieces are lovely, well-produced, and offer visual interest, yet the most effective ones provide a clear trajectory.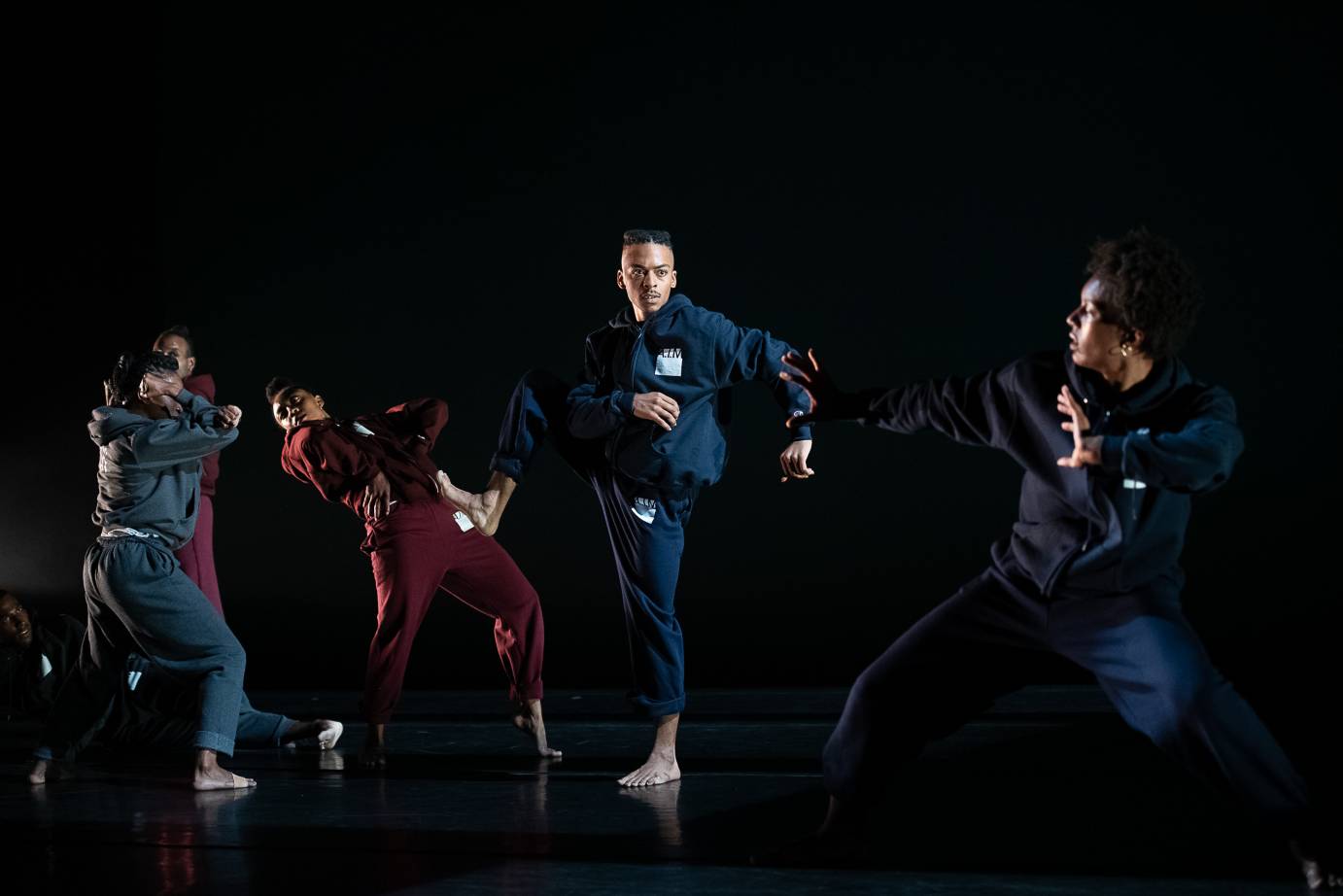 Tamisha Guy, Marcella Lewis, Javon Jones, and Catherine Ellis Kirk in Keerati Jinakunwiphat's Big Rings at the Joyce Theater; Photo by Christopher Duggan
Big Rings conveys the liveliness of the basketball court. Choreographed by company member Jinakunwiphat, it energizes with unbridled athleticism. Seven dancers in sweats and tank tops, their names printed on the back, stomp, clap, and throw their limbs, effortlessly moving in and out of the floor. To Quad City DJ's "Space Jam," Jae Neal gallops across the stage, amping up the crowd like a sports icon. The camaraderie of a sports team — and a dance company — has never looked so fun.
Abraham plays with texture in his newest self-choreographed solo, Cocoon. Chronicling a metamorphosis from sheltered embryo to enlightened being, the work has an otherworldly ambiance with a choir at stage left (an arrangement of Bjork) and a spot of blue light at center that grows to encompass the entire stage. On occasion, an offstage fan blows through Abraham's costume to create movement in moments of stillness.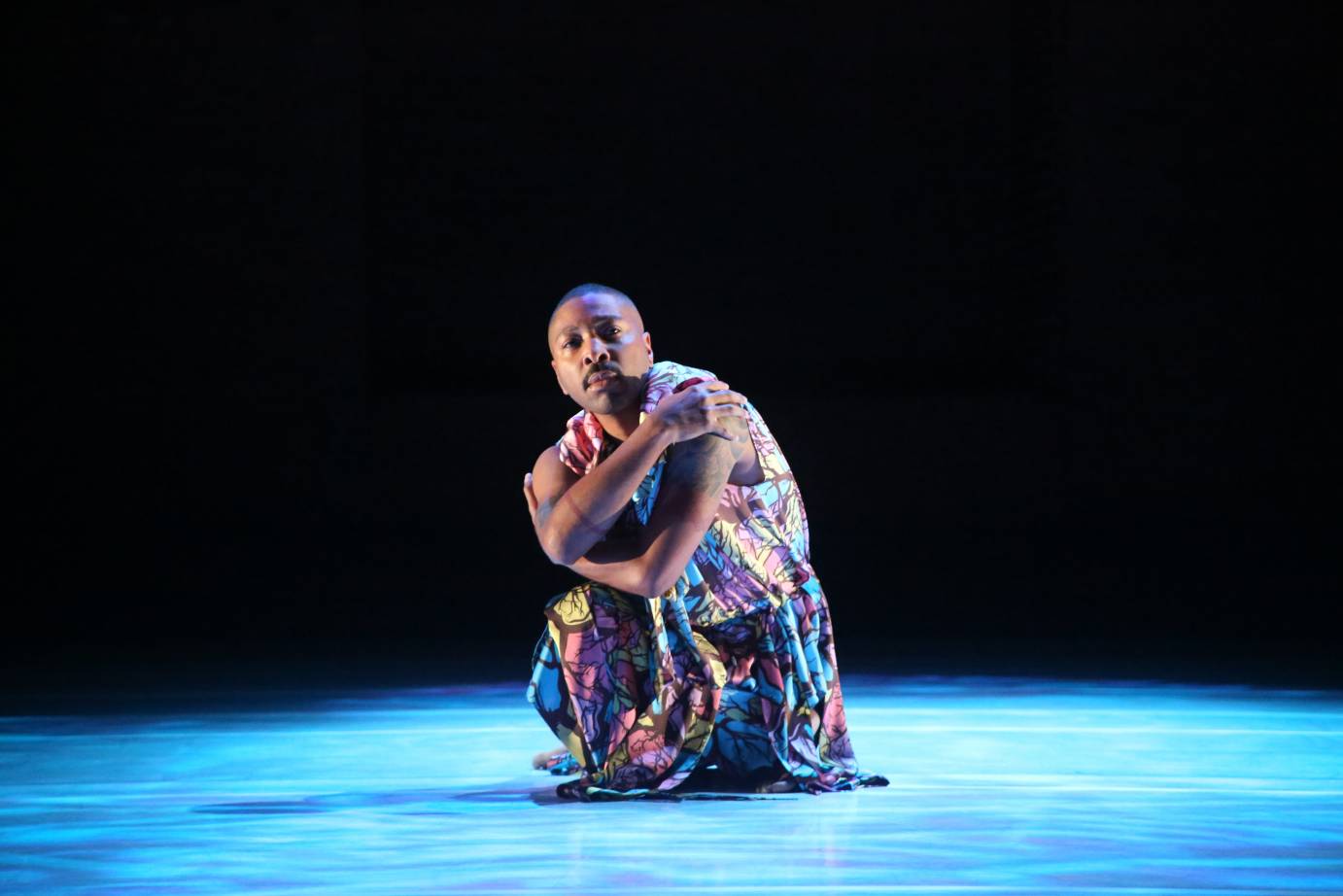 Kyle Abraham in his world premiere self-choreographed solo Cocoon at the Joyce Theater; Photo by Stephen Schreiber
As the piece opens, dim lighting and a grey backdrop accentuate a glistening pile of colorful fabric, which eventually reveals itself to be Abraham. He slowly rotates on the ground and makes his way upright. He bows his head into his elbow in a repeated gesture of reflection. During a series of tiny agitations, he appears to shake off fear and hesitation before succumbing to slow, controlled movement. 
In the gorgeous ending, Abraham is immortalized in a moment of suspension. He lifts his chest toward the ceiling, the "breeze" wafting through his costume. He has been released from his constraints and elevated to a higher level of being.
Claude CJ Johnson and Catherine Ellis Kirk in Kyle Abraham's Studies on a Farewell at the Joyce Theater; Photo by Steven Schreiber
Studies on a Farewell, a world premiere, offers visual intrigue, though not such a pleasing trajectory because the relationships amongst the group are never determined or resolved. Starting as a group before morphing into intimate duets and trios, nine dancers fold and unfold their sinewy limbs like spools of fabric. In an unforgettable moment, they form two parallel lines that partially obstruct our view of a dynamic duet. The lights go out unexpectedly as a solo dancer stands alone onstage. In spite of the prior affection and care among the performers, this ending is lonely and solemn.
Abraham acknowledges his reverence for modern dance's lineage in Brown's Solo Olos. The loose ease of pendulum-like limbs in her movement recollects Abraham's own choreography.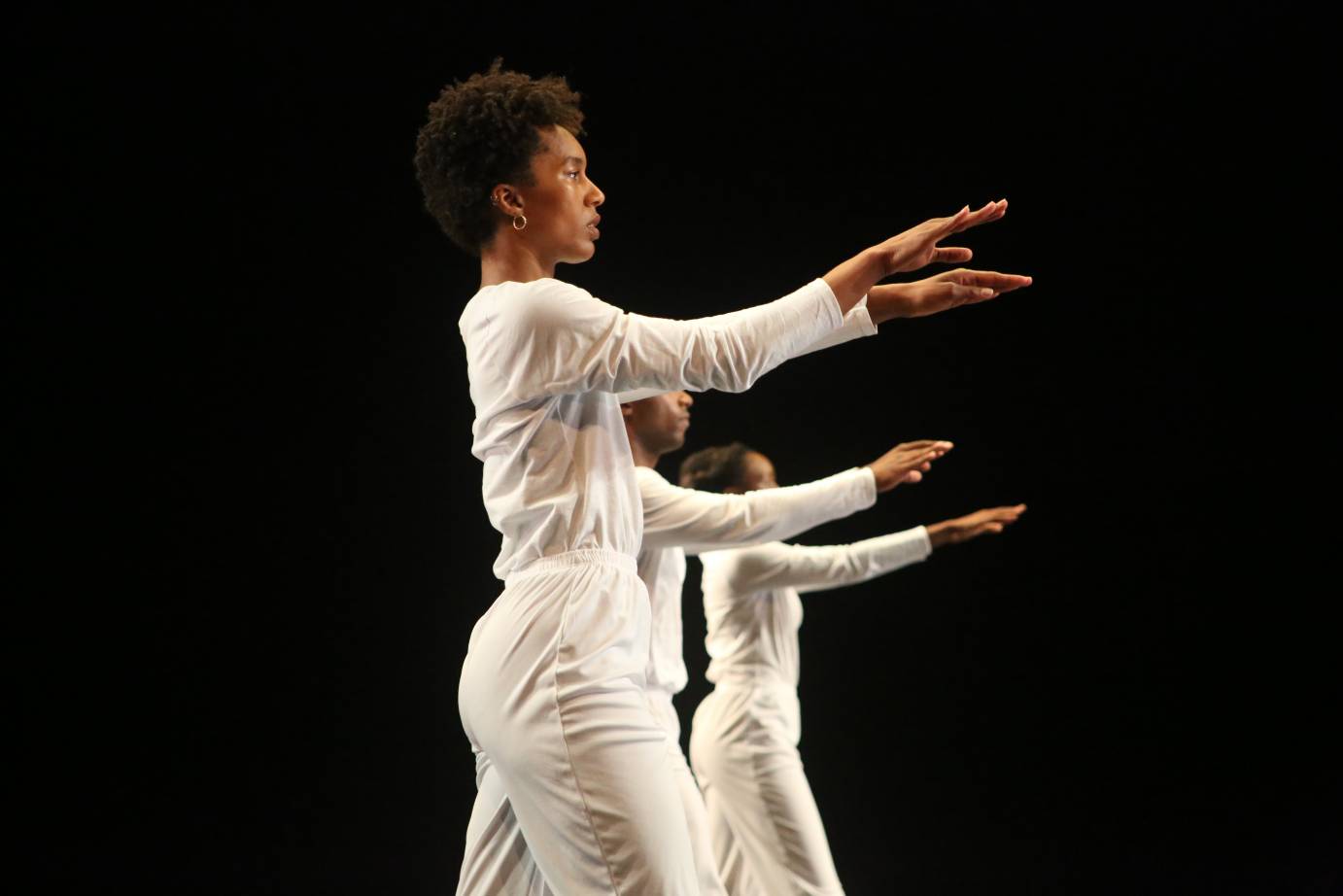 Catherine Ellis Kirk in Trisha Brown's Solo Olos at the Joyce Theater; Photo by Stephen Schreiber
Dancers riff on a movement phrase in response to rapid-fire instructions from a "moderator," who sits in the audience. The dancers respond so intuitively to the instructions that the piece flows like set choreography, with movement phrases diverging and later reconvening in unison. Often, it's easy to forget how much physical and mental coordination the work demands.
The self-reflective Show Pony (2018) investigates the pressures of being a performer who must consistently entertain and captivate. A gold unitard-clad Marcella Lewis performs small, self-conscious gestures and apologetic facial expressions, contrasted by unapologetic rhythmic movements and stunning balances and suspensions. In a nod to classical ballet, Lewis ends in a tendu front, arms gracefully folded a la Swan Lake.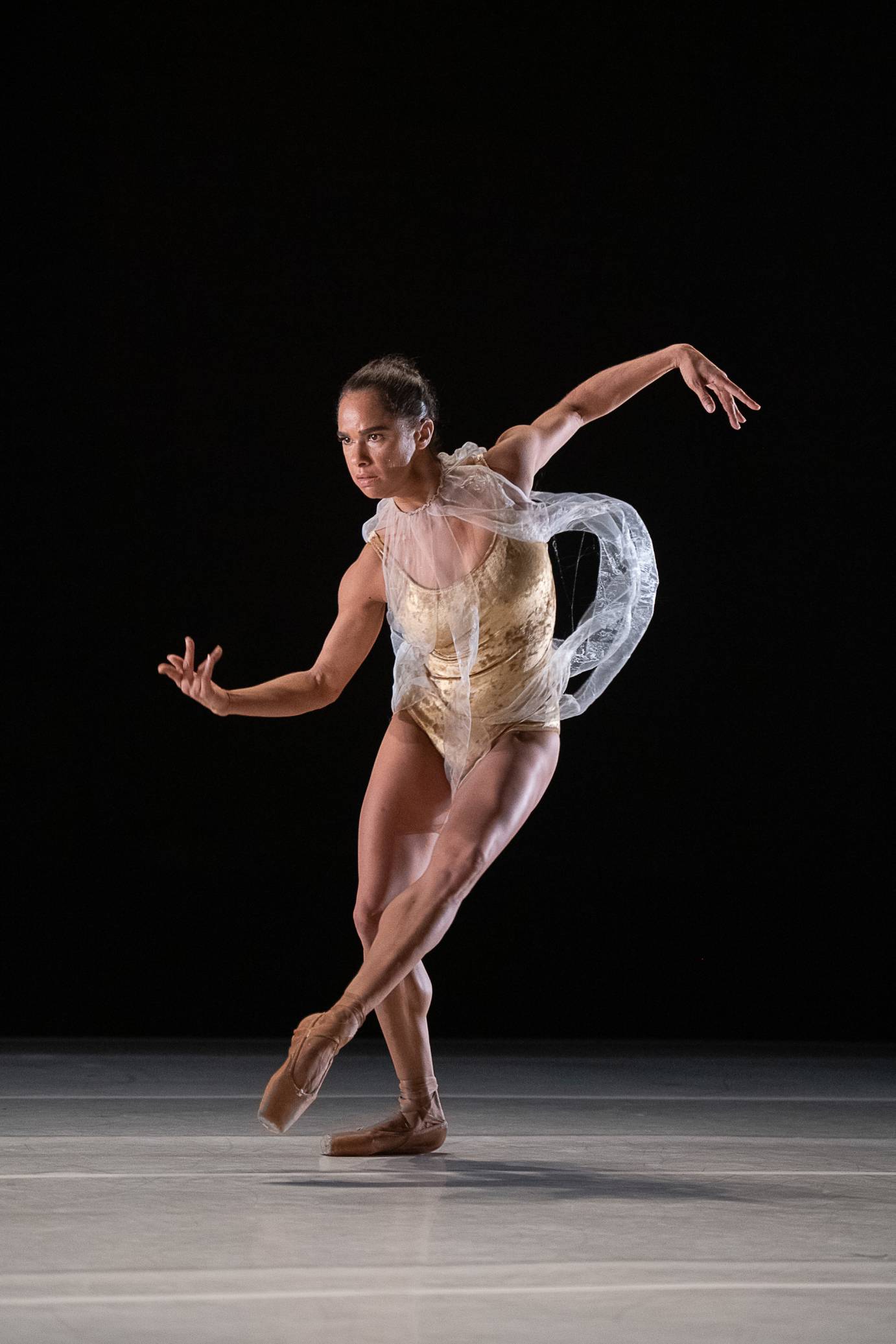 Misty Copeland in Kyle Abraham's Ash at the Joyce Theater; Photo by Christopher Duggan
For one night only, Abraham presents Ash, a solo for the incomparable Misty Copeland that was choreographed for the 2019 Fall For Dance festival. Her stage presence shines through in minute gestures. While not overly virtuosic, the choreography teems with quick weight shifts and challenging direction changes while her movement traces intricate patterns across the stage. Copeland wears pointe shoes, which amplify the rapidness of her turns and footwork. When she finishes by slowly walking backward, the audience jumps from their seats to applaud.
---
---
The Dance Enthusiast Shares IMPRESSIONS/our brand of review, and creates conversation.
For more IMPRESSIONS, click here.
Share your #AudienceReview of performances. Write one today!
---
The Dance Enthusiast - News, Reviews, Interviews and an Open Invitation for YOU to join the Dance Conversation.