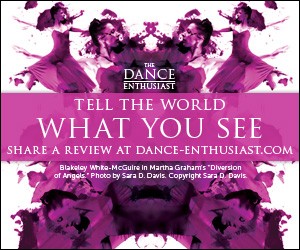 Related Features
IMPRESSIONS: Kyle Marshall's "A.D." and "Colored" at BAM Fisher
December 4, 2019
Dancers: Oluwadamilare (Dare) Ayorinde, Bria Bacon, Miriam Gabriel, Kyle Marshall, and Myssi Robinson
Sound design and interactive sound instrument: Cat Fish
Lighting: Amanda K. Ringger
Original music and chandelier design: Matt Clegg
Additional music: "Father I Stretch My Hand" and Nina Simone's "Young, Gifted, and Black"
---
Why do Kyle Marshall's movements seem so familiar yet refreshing? Laconic, measured, he dances with the pacing of a pensive man. He walks tall, knowing that stance is a statement in itself. His dancers jump with a surprising lightness and stretch into arabesques with feline elasticity. His long-time collaborator Myssi Robinson adds playfulness and softness to complement the mystery of this young black ensemble.
Kyle Marshall's A.D. (Bria Symoné Bacon, Oluwadamilare Ayorinde, Myssi Ronbinson); Photo by Ian Douglas
An antidote to the brashness of New York City, Marshall's A.D., a world premiere, and Colored (2017) were presented at BAM Fisher as part of the Next Wave Festival. A.D. begins with barely audible voices heard in the dark. Two barefoot women appear aloft on opposite catwalks, dressed in brown pants and red tops that curve from the waist to the wrist. Miriam Gabriel appears alone on the bare stage and recites a biblical text, Genesis 12:3,
I will bless those who bless you 
and curse those who curse you; 
and all the families of the earth 
will be blessed through you.
She repeats it as we ponder the strangeness of this promise where every blessing and curse has repercussions.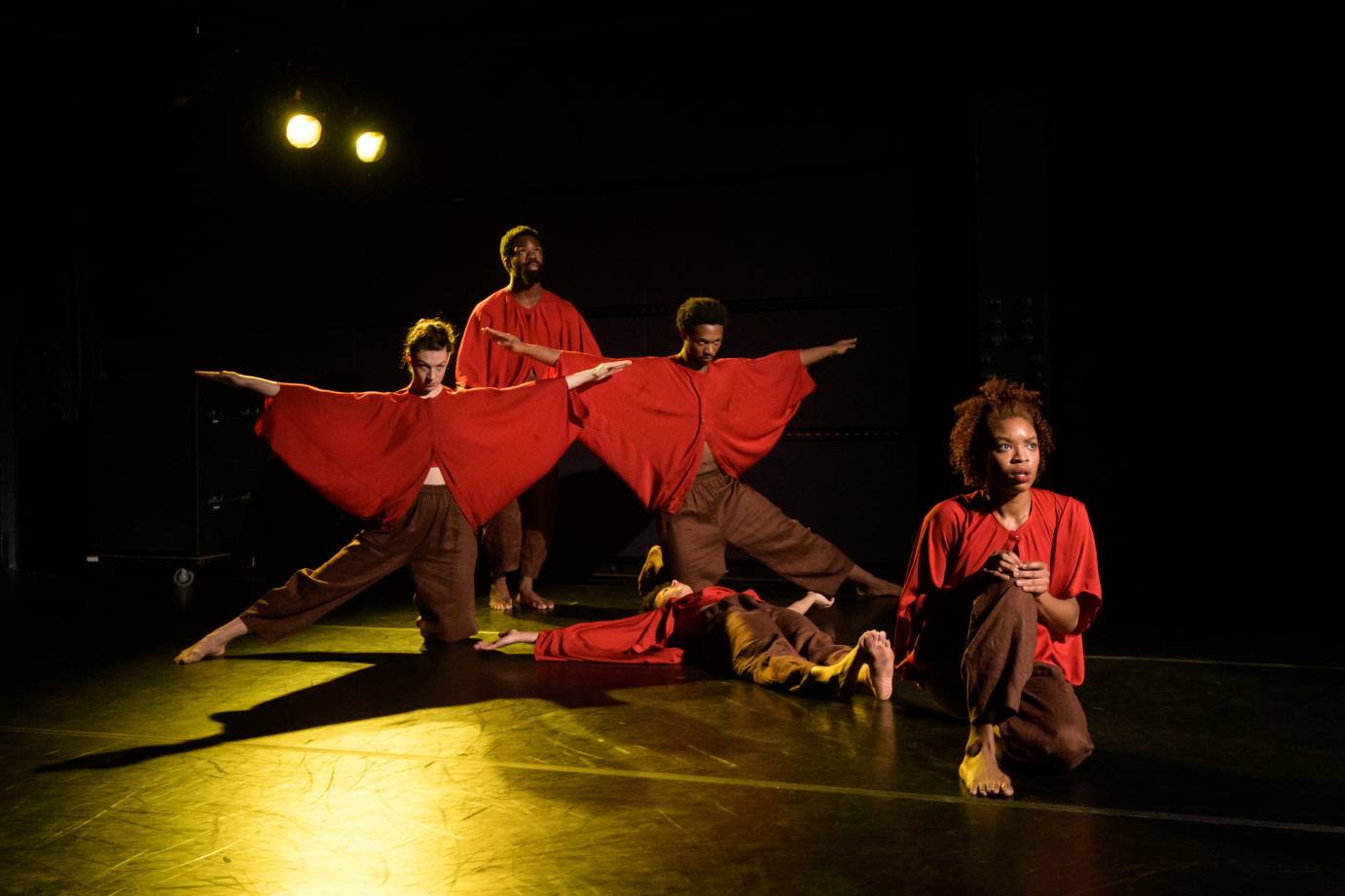 Kyle Marshall's A.D.; Photo by Ian Douglas
Marshall stands upstage left and shakes as though struck by lightning. Four floor lights flanking the stage flash on and off while sound designer Cat Fish triggers a sonic shock. Has Marshall been blessed or cursed? Maybe both. Two men and three women curl their arms and hands upward and move in unisons that seem reminiscent of modern dance pioneer Doris Humphrey.
While A.D. is memorable, Colored is a treasure. The outrageous costumes worn two years ago looked like diapers, a semblance that has mostly vanished from Arielle Davidoff's interesting reconstruction of white outfits with jagged hems. The trio, very cool cats, faces the audience and side steps nonchalantly like a doo-wop group. They wave one hand at hip level.
Kyle Marshall's Colored (Myssi Robinson, Kyle Marshall, Oluwadamilare Ayorinde); Photo by Ian Douglas
Marshall plays into and off our expectations of and historical associations with black Americans. Oluwadamilare (Dare) Ayorinde and Robinson turn their backs to the audience and roll their booties. Ayorinde and Marshall partner each other with ease. Marshall carries Ayorinde lying straight, parallel to the floor, on his shoulders while Robinson weaves her arms through his legs.
Acapella, the three stomp and clap with clear rhythms. 
Many members of this distinctive company graduated from Rutgers University; their dance department should be very proud!
---
The Dance Enthusiast Shares IMPRESSIONS/our brand of review, and creates conversation.
For more IMPRESSIONS, click here.
Share your #AudienceReview of performances. Write one today!
---
The Dance Enthusiast - News, Reviews, Interviews and an Open Invitation for YOU to join the Dance Conversation.