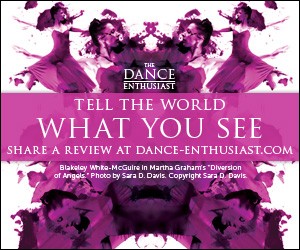 Related Features
Impressions of Larissa Velez-Jackson's "Star-Crap Method"
At the Chocolate Factory
November 4-8, 2014
Directed and Conceived by Larissa Velez-Jackson
Choreography and Sound Design by Larissa Velez-Jackson in collaboration with Tyler Ashley and Talya Epstein
Lighting Design by Kathy Kaufman
Production Supervision and Performance by Lillie De
Costume Design by Larissa Velez-Jackson
---
What if you threw it all out? The pretense, the fourth wall, the virtuosity (technical and/or conceptual), the things that make a show a show. No, this isn't a Judson Dance Theater redux; this is Larissa Velez-Jackson's infectious Star-Crap Method, which received its premiere at The Chocolate Factory. Velez-Jackson abandons the artifice of traditional performance and, with co-creators and dancers Tyler Ashley and Talya Epstein, constructs a piece in the moment.
Before entering the performing space, an earnest young man hands you an object, which you may place anywhere. I, uninspired, tilt my pink triangle against a depression in the wall while others, more ambitious, position their doodads on the ceiling's ductwork. Bedazzled in grins, the performers, between raucous greetings of friends, warble at karaoke, their choices ranging from doo-wop to a shrill rendition of The Cranberries' "Zombie." This pre-show revelry feels like showing up at a party and discovering the hosts have used all of the good drugs.
Photos Courtesy of Brian Rogers
Once the environment resembles a festive preschool, we're hustled to the seating area, and the "show" begins. The trio natters indiscriminately and struts through jazzy phrases studded with turned-in pirouettes. They meander to a laptop and select thumping songs; they tug out a gymnastics mat for lounging and rolling; they strip in and out of their t-shirts and pants; sometimes, they emit weird vocalizations while other times they observe from the sidelines. A white-clad stagehand (Lillie De, dubbed the shadow by the performers) rolls three mirrored screens around, and Kathy Kaufman improvs the lighting. The whole thing shambles with aimless silliness, seemingly prompted by boredom and spontaneity.
If it sounds inane, in reality, it isn't. While the premise, at close to two hours, wears thin, the charisma and cheek of Velez-Jackson and her cohorts keeps the energy sky-high. Their allure, rather than their actions, propels the show forward. Velez-Jackson, brassy mother hen, acts as the ringmaster while Ashley quips and prances and Epstein offers wry meditations. It's a slumber party between goofy besties that, by incident instead of design, unfolds before an audience.
Photos Courtesy of Brian Rogers
Uncertainty and transparency, the twin themes, effuse with a lack of self-consciousness. By eliminating plans and embracing chance, everything is accidental, and in that, honesty is revealed. Star-Crap Method, through posturing the frivolity and nonsense of the human experience, enables itself to mean anything to anybody. Velez-Jackson recognizes this porousness, describing the piece as, among other things, about shape, spirals, and extraordinary hair (the three possess bouncing, envy-inducing curls).
Towards the end, Velez-Jackson, gripping an empty bottle and a bright tchotchke, says, "This is the garbage, and this is the art," waving each respectively. But the point of the piece seems to be the opposite: By removing the strictures of performance, the garbage, equal parts foolishness and brilliance, is the art.