IMPRESSIONS OF: Laurel Snyder & Carlton Cyrus Ward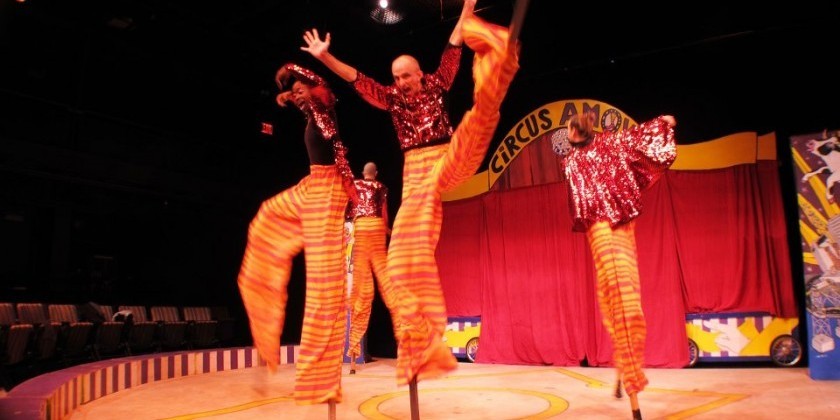 At Triskelion Arts
Date: May 17, 2015
Choreographers: Laurel Snyder, Carlton Cyrus Ward
Dancers: Laurel Snyder, Li Cata, Emma Judkins, Tara Sheena, T.J. Spaur, Carlton Cyrus Ward
Sound Design: Laurel Snyder, Adam Schatz, "Footloose" by Kenny Loggins, "Let's Hear It for the Boy" by Deniece Williams, "Eye of the Tiger" by Survivor
---
Rump in the air, blonde locks wiping the floor, Laurel Snyder explores what she calls her "full-bodied transformation" in Gruff. Like a beloved drunk whose every indulgence is tolerated, she staggers, melts into the floor, and squirms with a whisper of a giggle. Finally, she rises to her feet, her long mane thrown back, to reveal a lush face.  We knew she would be stunning, somehow. She wails and falls on her back.
Laurel Synder in Gruff. Photo: Danny Carroll
Her quartet we all fall down, inspired by building demolitions, follows. Their strangely soft collapses are masterful; their revivals, connecting limbs in simple poses, pedestrian. Li Cata, Emma Judkins, Tara Sheena, and T.J. Spaur mesmerize us, though, in a short line dance that retreats slowly as they individually gesture, gestures of interrupted thoughts and emotions. These gems of moments suggest a state of mind that we have all experienced and elevate the dance beyond an improvised exercise.
Carlton Cyrus Ward. Photo courtesy of the artist.
In Bomont: A Clown Story, Carlton Cyrus Ward captures us from the blackout start with his rambling monologue and his zany polka-dotted, sneaker dance made visible by his own hand-held flashlight. Sporting a red clown nose, Ward runs through the audience to talk to the lighting technician and then noisily makes his way back stage. He pleas for compassion as he confesses that the box of props placed on stage for him  are not in fact "his" props, but he makes do.
How can you not grin, or laugh hysterically (as much of the audience did) as he pulls a drill out to carve sticks that become his dancers, and then at the end of the show, magically, a fully jointed foot. Ward is thoroughly engaging, a seasoned performer, having worked for Third Rail Projects, Jody Oberfelder Projects, and Circus Amok!, among others.  
Triskelion Arts, after nearly 15 years in its previous location, recently moved to its new facility at 106 Calyer Street, Brooklyn.