IMPRESSIONS: Works & Process' Underground Uptown Festival Presents LayeRhythm with Masterz at Work Dance Family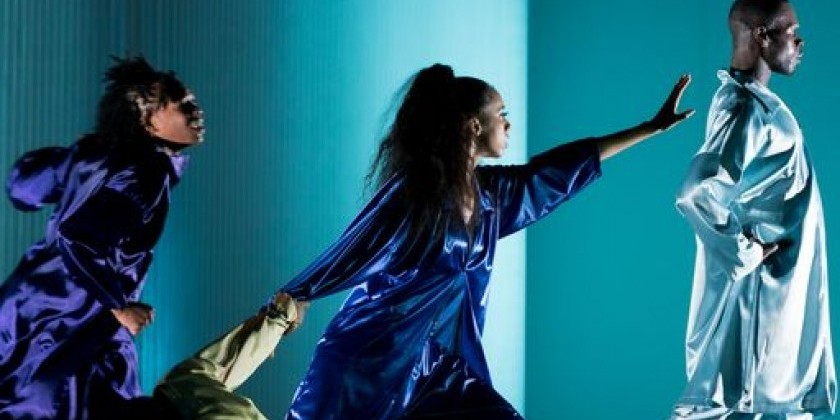 Masterz At Work Dance Family
Choreography: Courtney Washington Balenciaga
Music: DJ Byrell, The Great
Dancers: Aaliyah Berry, Shaquanna Brown, Jai'Quin Coleman, DeAndre Cousley, Luis "ChaCha" Estevez, Guya Marie, Louis "Mi Gente" Matthews, Armani Moore, Larnell "Jay Parel" Clemons, Dashaun "DayDay" Peals, Brian Starke
Panel Discussion: Mai Lê Hô, LayeRhythm, Courtney Washington Balenciaga, Masterz at Work Dance Family, Omari Wiles, Moderator
LayeRhythm
Artistic Direction: Mai Lê Hô
Improvised Dance: Aaliyah Berry, Jai'Quin Coleman, DeAndre Cousley, Larnell "Jay Parel" Clemons, Dashaun "DayDay" Peals
Improvised Music: Axel Tosca (keys), Noah Amick (bass), Osyris Antham (MC), Rodney Harrison (drums),
January 12-17, 2023
---
LayeRhythm with Masterz at Work Dance Family presented both improvised and choreographed street dance on the final evening of Works & Process at the Guggenheim's Underground Uptown Festival in collaboration with 92NY. The five-day sold-out run represented the 'what's what' of Black and brown-generated dance forms developed on the street, in the subway, at parties and in clubs. The genres, Ballroom, Vogue, House, Tap, Percussive, Samba, Flexn, Krump, Hip-Hop, Afrobeats, and Waacking, evolved within the dance makers'  communities. This is the opposite of the traditional forging of dance techniques in the studio.
Axel Tosca, Lamell "Jay Parel" Clemons, and Rodney Harrison; photo by Titus Ogilvie-Laing
The Underground Uptown Festival coincided with the Association of Performing Arts Presenters (APAP), and served to shed light on dance genres long overlooked by presenters in the field. However, over 200 presenters attended the Festival, a testament to new found interest. Many artists performing at other venues are lucky to attract a mere one or two.
Dance artists embraced by Works & Process are truly embraced. Remarkably, artists receive living wage payments of $1050 per week, 24/7 devoted studio access, adjacent housing, health care, performance opportunities and fees, and Works & Process LaunchPAD residencies — what Caroline Cronson, Producer, and Duke Dang, Executive Director, call inclusive longitudinal support from creation to stage and beyond.
This way-past-due blueprint for performing arts organizations shows us what is possible.  Inspired by the street dance cypher (or circle) and the round architecture of the Guggenheim, Works & Process endeavors to include by erasing the distance between performers and audience.
Jai'Quin Coleman, Luis "ChaCha" Estevez, and Shaquanna Brown; photo by Titus Ogilvie-Laing
Ballroom is the foundation of Masterz at Work; in contrast, collaboration between dancers and musicians is the thrust of LayeRhythm. Messages of love and acceptance of the culturally marginalized are paramount for both. Black trans femme choreographer, Courtney Washington Balenciaga, a target as a queer teenager, discovered resiliency and safe haven in dance. A legend in Ballroom, she creates works that, states the program notes, 'convey how her gender transition spurred transformative emotional, creative, and physical liberation'.
As the audience settles, a film by Balenciaga, the earnest Trans Love is Beautiful, screens. Shot in and around Central Park, NYC, on a sunny day, accompanied by the sentimental love song, Butterflies, couples drink wine and ride Citibikes, while men kiss and women wed. A fluid weight-shifting dancer attractively costumed in white pants decorated with fluff, ripples their spine, reaches their long arms and lunges deeply to lower themself onto the slate terrace. Garbed in wedding white, dancers strike poses in front of the two-story fountain of water spray in the Conservancy Garden. The film, addressing the universal theme of love, concludes, "Trans is the experience, Love is the story."
Masterz at Work Dance Family in SPACE by Courtney Washington Balenciaga, a Works & Process commission performed during the Underground Uptown Dance Festival; photo by Titus Ogilvie-Laing
Informed by Ballroom and choreographed by Balenciaga, the crowd-pleasing, Space, a backlit tightly formed group of dancers change shapes and freeze. Evenly spaced unison movers precisely dance a fusion of Ballroom, Vogue, House, and other street dance forms. Draped in long satin tops and wide-legged pants inspired by the colors of the rainbow flag, the 11 riveting dancers slip through space with sensuous clarity. Each dancer displays their distinctive movement personality from high volume, in place, spiked dancing to effortless swirling turns covering the stage. Memorable was the opening soloist De'Andre Cousley's quickly descending movement, and sway from side to side, as well, the irrepressible, can't-take-your-eyes off them, Jai'Quin Coleman. Balenciaga, who in Ballroom sets the runway on fire for the typical 90 seconds of pow, has amplified the compressed structure to long-form choreography.
DeAndre Cousley; photo by Titus Ogilvie-Laing
While a Ball presents a competition between dancers walking a runway displaying evermore bombastic moves, LayeRhythm Productions, founded in 2013 by Mai Lê Hô, is a cooperative venture between movers and musicians. Hô, a French-Vietnamese street/club dancer, speaks of the importance of "letting go. The Freestyle dancer has the freedom to be in the present moment and channels the music to get into the zone. There's magic in that moment." Panel moderator and fellow Works & Process artist, Omari Wiles, reminds us that in clubs, dancers socialize and embody each other's movement languages. There is no right or wrong. The dancer transforms themself with others as the DJ spins.
 Jai'Quin Coleman and Rodney Harrison photo by Titus Ogilvie-Laing
Following the discussion, an engaging, fun and inclusive LayeRhythm collaboration between three live musicians playing keyboard, drums and bass, seven solo dancers, and audience members begins.  An improvised partnership is formed when the dancers or the musicians either lead or follow.
MC Osyris Antham, who delighted the audience with improvised clips of rhyming poetry, kept the three-part "Layer," or set, moving. "Bricks," namely movement or word suggestions, were requested for the first Layer from audience members who contributed the four movements — 'hands up,' 'shooting,' 'karate' and 'wiggle.' Lamell "Jay Parel" Clemons and Coleman each riffed on the gestures by building phrases that changed in shape, size, level and rhythm.
Next Layer, "Dance Upon a Word", two audience members call out words: "Heart" was one word that Antham developed with, "Heart the most important part, where we begin and where we end."  For the final Layer, "Rhythm Conducta", the band, as individual accompanists, tracks the moves. Audience members, invited to jump on stage, danced individually, thus erasing the distance between movers and watchers, a reminder that we are all connected through our innate shared desire and ability to dance.
RELATED: DAY IN THE LIFE OF DANCE: LayeRhythm (On The Move) with STASIS: Works & Process at Lincoln Center by Sarah Cecilia Bukowski
---
The Dance Enthusiast Shares IMPRESSIONS/our brand of review, and creates conversation.
For more IMPRESSIONS, click here.
Share your #AudienceReview of performances. Write one today!
---
The Dance Enthusiast - News, Reviews, Interviews and an Open Invitation for YOU to join the Dance Conversation.