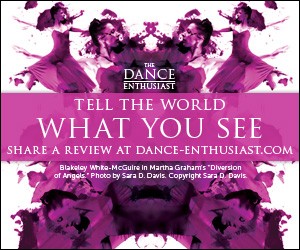 Related Features
Impressions of: Ballet in Boulder, Colorado / Lemon Sponge Cake Contemporary Ballet Confronts Gun Violence
An Outdoor Performance in the Rocky Mountains Uses Spoken Word and Ballet to Address Bullets
Choreography by Robert Sher-Machherndl
Produced and Directed by Robert Sher-Machherndl and Jenifer Sher
Performed by Bailey Harper and Robert Sher-Machherndl / Spoken Word by Denis Berkfeldt
Musical Performance by George Lopez (piano) and Frank Mauceri (saxophone) / Musical Compositions by Frank Mauceri and Johann Sebastian Bach
Lighting by Brett Maughan /Costumes by Jenifer Sher
---
Following its September 2015 White Mirror, which bravely confronted a Holocaust theme, Lemon Sponge Cake Contemporary Ballet presented White Fields on September 17. The outdoor public performance, at Holiday Park in Boulder, Colorado, took artistic aim at the issue of gun violence in America. In three sections, with the majestic Rocky Mountains in the background, White Fields interspersed poignant duets with spoken word that painfully recounted the tragic statistics and emotional wreckage of lives cut short by bullets.
Lemon Sponge Cake's founder and choreographer Robert Sher-Machherndl was formerly a principal dancer with the Dutch National Ballet and the Bavarian State Ballet. Based in Boulder with his British wife and co-director/producer Jenifer Sher since the late 1990s, his stated mission has been to integrate classical technique with contemporary movement sensibilities and stretch its limits as an instrument for enlightened commentary on modern life. His abstract creations typically plumb the tensions between hope and despair, longing and withdrawal, connection and alienation.
When the producer-directors undertook their first project in the U.S. in 2000, they thought it would be a one-off and so looked for a cool, funny name as opposed to branding the group after themselves.  Lemon Sponge Cake was on the dessert menu of a Boulder restaurant called Trios, and they liked the sound of it.
 
Sher-Machherndl's movement style, reminiscent of William Forsythe, seems to deliberately accentuate his length and angularity, which becomes striking in combination with his clear center and precise technique. Bailey Harper, a statuesque Louisiana native with rare emotional depth and dramatic intensity, partnered Sher-Machherndl in White Fields. She was also part of the ensemble in White Mirror.
White Fields began with Sher-Machherndl anxiously circling Harper and periodically catching her as she fell alternately backwards and forwards – as if collapsing from shock, grief, or a bullet wound. Frank Mauceri's taped electronic score set a tone of psychological fog and disarray by combining the sounds of a gunshot in reverse slow-motion with falling shells, wind chimes, and a gong. On top of this, Mauceri layered live improvised scattershot saxophone while concert pianist George Lopez contributed comparable notes on the keyboard of a Steinway transported to the grassy middle of the park.
As the tense duet evolved, Harper's anxious, contorted movements evoked the pain and disassociation of both a disturbed shooter and the shooting victim. While she remained in a world of her own, Sher-Machherndl tracked her with a confused mix of support and avoidance. Each seemed to seek both escape and support, both with and from each other, though a tragic tangle was the only thing possible.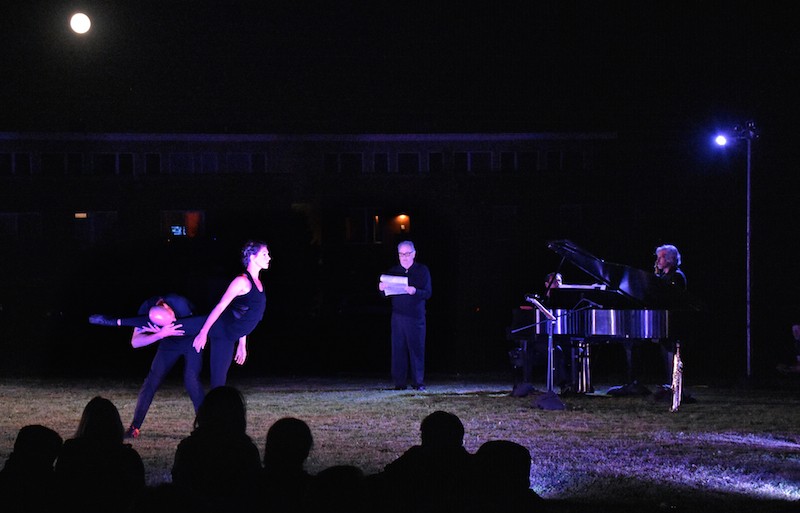 Photo courtesy of the company.
In the second section, Lopez offered a sensitive interpretation of Bach's "Chaconne" while the dancers partnered one another with a somewhat more classical vocabulary but ongoing ambiguity. The quicker pace and high drama of the music brought to mind the accelerating frenzy of a shooter preparing to act. The dancers made regular gestures that suggested desperate yet futile pleas for help. As if he were a newscaster, actor Denis Berkfeldt delivered descriptions of  accidents, killings, and suicides, along with shooting statistics from around the world that highlighted the crisis in America.
The third and final section began with Berkfeldt sharing prayerful words about the possibility of healing while Lopez played Bach's "Prelude in E-flat Minor." Sher-Machherndl hovered slowly and gently around Harper, as if prepared to catch or hold her, without ever actually making contact – suggesting the impossibility of adequately comforting those who've lost loved ones to gun violence. He then moved to the background and waved his right arm in the air, as if bidding a farewell, while front and center Harper began an intense solo in which she seemed to try to shake trauma off herself. A gifted actress, her facial expressions suggested tumultuous inner processing and a futile search for relief, release, and self-comfort.
By the end, the viewer was left neither hopeless nor hopeful, but rather with a heightened awareness of the urgency of the problem of gun violence in American society. Like previous Sher-Machherndl works, the impression was of sorrow and torment meeting cathartically with an inner grace in search of resolution, and stepping tentatively toward healing.
---
The Dance Enthusiast:
Sharing Reviews/Impressions and creating conversations.
Share your #AudienceReview of this performance or others with us.