IMPRESSIONS: Les Ballets Trockadero de Monte Carlo at The Joyce Theater
December 15, 2021
Artistic Director: Tony Dobrin
Choreography: Peter Anastos for Nightcrawlers, Michel Fokine for The Swan, Lev Ivanovich Ivanov for Le Lac Des Cygnes, Elena Kunikova after Leonid Lavrovsky for Valpurgeyeva Noch ("Walpurgisnacht")
Music: Frédéric Chopin, Charles Gounod, Camille Saint-Saens, Pyotr Ilyich Tchaikovsky
---
Affectionately known as "the Trocks," Les Ballets Trockadero de Monte Carlo was founded in New York City in 1974, in the wake of the Stonewall riots. Irreverent and hilarious, the all-male company reimagines modern and classical works by relishing in ballet's inherent glamour and melodrama. For those brought up in the rigid world of classical dance, the Trocks offer a fresh, joyful perspective. The troupe reclaims ownership of a discipline from which many have historically been excluded based on gender norms and strict physical standards.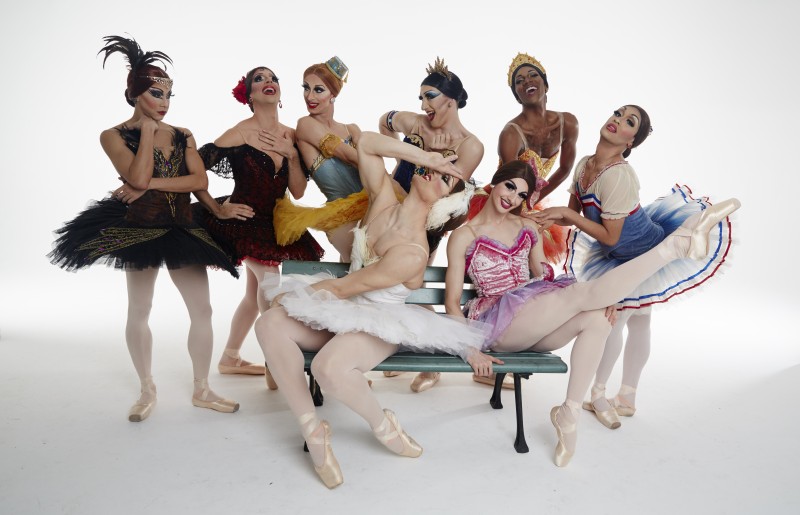 Photo by Zoran Jelenic
Program A at The Joyce Theater begins with the company's signature work, Le Lac Des Cygnes, a parody of Swan Lake's iconic second act. Le Lac, which features much of Lev Ivanovich Ivanov's original choreography, strikes the perfect balance between technical proficiency and comedy. Humorous flairs are laced throughout, like when Odette shimmies into a backbend out of a supported pirouette en pointe. A bevy of swans, Odette's "posse," suggests a gaggle of high school girls, sizing up Prince Siegfried to make sure he's satisfactory for their girlfriend.
Le Lac pokes fun at how emotions are demonstrated in ballet by swapping out graceful, aloof gestures for more natural human responses. The results are hysterical. Benno spitefully kicks over a gracefully posed swan after Odette refuses to pay him attention. Odette stomps her feet and "ugly cries" when Von Rothbart tells her she must stay away from Prince Siegfried. After a dramatic curtain call in which the "conductor" presents a gracious Odette with a massive bouquet, the curtains rise to reveal the entire cast fighting over the flowers.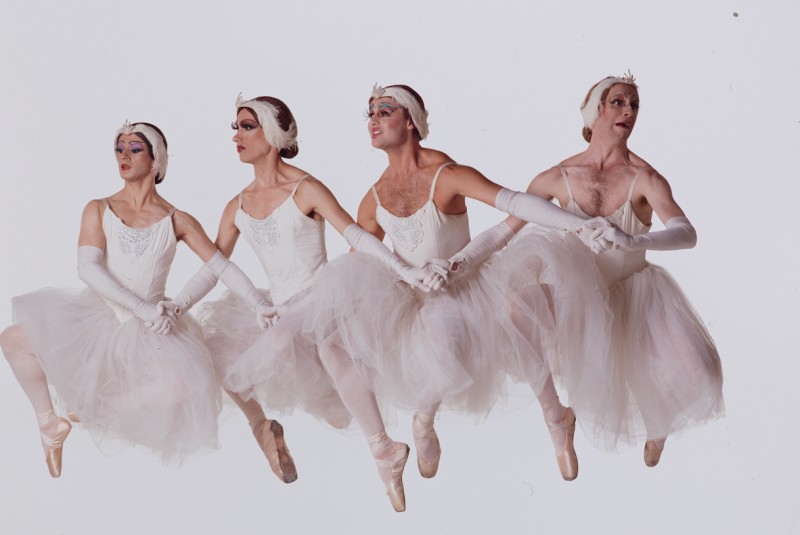 Swan Lake; Photo by Lois Greenfield
The company stretches the boundaries of gender roles, challenging the traditional relationships between men and women in classical ballet. Pas de Deux (or Trois) celebrates different shapes and sizes, with two "women" en pointe partnered by a small man. The wit plays on the awkward moments of a trio, where someone is always left without a partner. The piece finishes triumphantly when the two women press the man into the air and promenade him in a circle (it would've been more exciting if they were en pointe).
Some moments feel like an inside joke between the cast and those audience members who grew up in the ballet world. Benno is the bad partner who can't seem to keep a ballerina on her leg. The dancers often present responses to their execution of choreography physically. They rejoice with an elbow pump after tackling a tough turning sequence down the diagonal or grimace after falling out of a pirouette. It's the reaction we always wanted to have, but were forced to mask.
Ugo Cirri, Alejandro Gonzalez, Haojun Xie; Photo by Steven Pisano
Nightcrawlers, an NYC premiere choreographed by founding Artistic Director Peter Anastos, parodies Jerome Robbins' In the Night. Set to nocturnes by Frédéric Chopin, the work recounts the quarrels and affection among three individual couples dressed in evening wear. The affair eventually erupts into chaos as one woman chases her partner in rabid accusation. Odette even makes a surprise appearance.
Quirky tidbits appear throughout. A pre-show announcement in a phony Russian accent informs us of casting changes – all the dancers have names like "Maya Thickenthighya" or "Nadia Doumiafeyva." Perhaps the highlight is a surprise performance of the melodramatic The Dying Swan in which a hammy soloist in a molting tutu leaves the stage looking like a chicken coop after a raccoon attack. She gathers the fallen feathers and stuffs them into the chest area of her costume. Overcome by the tragedy of the moment, she explodes into convulsing sobs before folding her limbs into the wilted final pose.
Robert Carter; Photo by Steven Pisano
The show finishes with Elena Kunikova's reimagining of the Bolshoi Ballet's Valpurgeyeva Noch, which depicts a fantastical bacchanal of nymphs, fauns, and maidens. Flirtatious and jubilant, it transports us to an ancient, magical place.
For the final curtain call, the dancers return in Statue of Liberty hats and perform a can-can dance to Frank Sinatra's "New York, New York," a la The Rockettes. What could be a more appropriate skewering of bows' performative humility than this?
---
The Dance Enthusiast Shares IMPRESSIONS/our brand of review, and creates conversation.
For more IMPRESSIONS, click here.
Share your #AudienceReview of performances. Write one today!
---
The Dance Enthusiast - News, Reviews, Interviews and an Open Invitation for YOU to join the Dance Conversation.