IMPRESSIONS: Limón Dance Company in "Exploring the Underworld" at Green-Wood Cemetery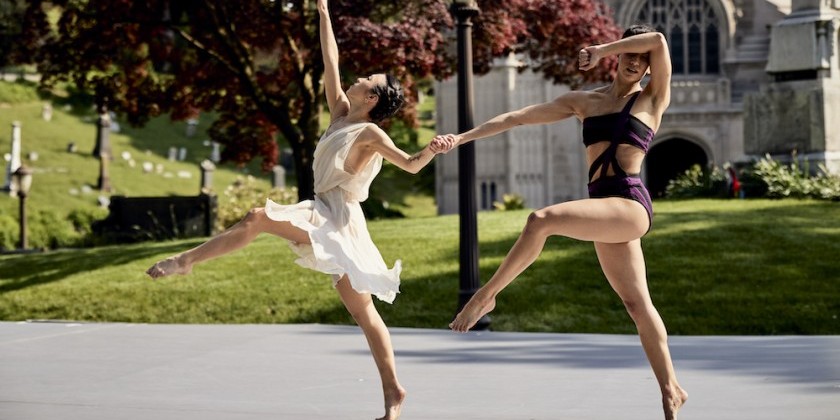 Dancers: Natalie Clevenger, Joey Columbus, Terrence D.M. Diable, MJ Edwards, Mariah Gravelin, Johnson Guo, Deepa Liegel, Eric Parra, Nicholas Ruscica, Frances Lorraine Samson, Jessica Sgambelluri, Savannah Spratt, Lauren Twomley
Narrator: Dion Mucciacito
i. Suite From a Choreographic Offering
Choreography: José Limón
Music: J.S. Bach "Musical Offering" | Costume Design: Caitlin Taylor | Lighting Design: William Brown
ii. Orfeo
Choreography: José Limón
Music: Ludwig van Beethoven "String Quartet Op. 95, #11"
Original Costume Design: Charles D. Tomlinson  | Current Costume Adaptation: Quinn Czejkowski
Lighting Design: William Brown
---
The Limón Company braved two bright but chilly spring evenings to bring their Exploring the Underworld program to Green-Wood Cemetery in Brooklyn. The tranquil, verdant setting and open sky lent an expansive air to two classic repertory selections: Limón's 1964 Suite From a Choreographic Offering and 1972 Orfeo. The works remain fresh and timeless on the company's thirteen assured, expressive dancers, who bring clarity and care to every step.
In keeping with the "underworld" theme, Suite From a Choreographic Offering sets the stage as an homage to Limón's great mentor, Doris Humphrey, following her death in 1958. The dance lovingly paraphrases themes and motifs from Humphrey's work, some of which remains in the Limón Company's active repertoire. This bountiful, joyous dance adeptly displays the aesthetic  lineage between Humphrey and Limón by putting their techniques and sensibilities into conversation through several meandering movements of J.S. Bach's lushly complex "Musical Offering."
Limón Dance Company in José Limón's Suite from a Choreoraphic Offering at Greenwood Cemetery; photo by Kelly Puleio
Clad in a warm palette of simple unitards, the dancers move as a community, their eyes often cast skyward to emphasize their easy command of gravity. Group dances build and swell, giving way to a seamless sequence of eloquent solos, duets, and small groupings that showcase the full company in their startling breadth and composed precision. Canons and counterpoints bloom in kaleidoscopic arrangements as the dancers trace diagonal passes and clasp hands in circles. Thematic phrases and gestures are intricately interwoven, mirrored, and refracted: fleet-footed triplets, curved palms, deep side bends, swirling promenades, suspended leaps, and luxuriant falls fill the space with a wash of constant, but never frantic, motion. The dance is a well-preserved exemplar of early classical modern dance technique that now shines with a bright, enduring light in memory of Humphrey and Limón together.
Mariah Gravelin in José Limón's Orfeo; photo by Kelly Puleio
The slowly fading sky over Green-Wood's gentle hills and towering stone monuments cast a fitting mood for Orfeo, Limon's condensed interpretation of the classic Greek myth of love, fate, and loss. The dance—and the story itself—are brought into contemporary focus through gender-expansive casting, with Orpheus and Eurydice danced by Joey Columbus and MJ Edwards, two male-presenting dancers; two female-presenting dancers, Lauren Twomley and Mariah Gravelin, danced the roles the previous evening, and both casts of three traditionally-female Guardians were likewise gender inclusive. These choices constitute a notable and commendable example of forward-thinking casting in classical repertory, given that many companies and choreographic trusts remain resistant to casting across gender.
The roles feel natural and appropriate to the qualities of each dancer, with Columbus deploying his athletic power and dramatic grace through the full dynamic range of Orpheus's anguish and longing. In the opening solo, he wields an abstract lyre alternately as shield, beacon, and weapon, with long slides and lofty reaches punctuated by deep spinal curves and propulsive jetés. Eurydice arrives swathed in billowing blue-gray fabric, escorted by Guardians who wind and wrap the ethereal figure in postures that evoke both protection and captivity. Edwards floats with sprightly grace and delicacy, pulling threads of tension between the fated lovers as they dance together without setting eyes on each other. The pairing evokes both comfort and apprehension as their bodies exude danger and desire. Orpheus's fatal backward glance hypnotizes them both into a desperate entanglement as the watchful Guardians return to cast their eternal veil over Eurydice. As they drift off stage and up the path among somber headstones and mausoleums, Orpheus is left powerless in grief as night descends.
Savannah Spratt, MJ Edwards, and Jessica Sgambelluri  in José Limón's Orfeo; photo by Kelly Puleio
Exploring the Underworld is an act of thoughtful curation that demonstrates the potential for canonical repertory to resonate in new ways. The beauty of its outdoor staging highlights the sweeping amplitude and expressive vitality of Limón's technical and choreographic vernacular, and the dancers' generosity and poise breathe life into a lineage worthy of preservation and advancement.
---
The Dance Enthusiast Shares IMPRESSIONS/our brand of review, and creates conversation.
For more IMPRESSIONS, click here.
Share your #AudienceReview of performances. Write one today!
---
The Dance Enthusiast - News, Reviews, Interviews and an Open Invitation for YOU to join the Dance Conversation.