Related Features
Contribute
Your support helps us cover dance in New York City and beyond! Donate now.
IMPRESSIONS: Mari Meade Dance Collective's "On Leaving" at Triskelion Arts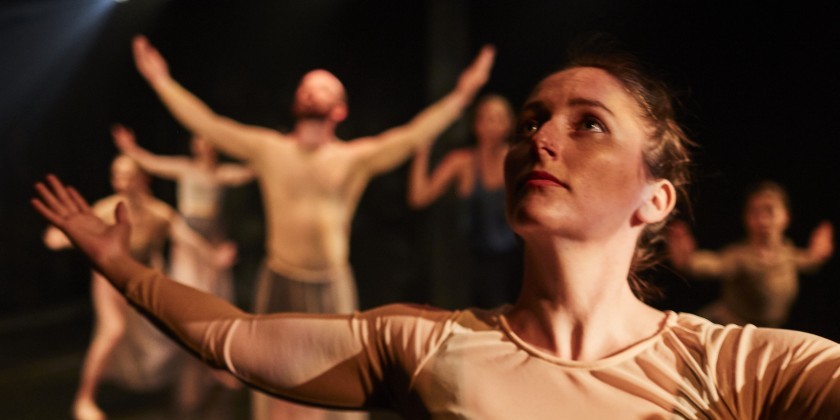 June 8, 2019
Choreography: Mari Meade // Concept: Mari Meade and Jeremy Galuret
Dancers: Allison Beler, Dia Dearstyne, Breanna Gribble, Misuzu Hara, Emilee Harney, Sean Hatch, Morgan Hurst, Isaac Owens, Emily Petry, Or Reitman, Roza Savelyeva
Dramaturgy: Rachel Rizzuto and Danny Yoerges // Text: Mari Meade
---
In On Leaving, choreographer Mari Meade explores loss and grief with grace and sensitivity as she follows two sisters on a journey after the sudden death of their mother. Not an easy topic, but to Meade, an important one. "It seems so taboo to talk about, but it is a part of everyone's life. It is a shared experience hiding as an elephant in the room," Meade wrote to me in an email.  
Slippery, personal, and ever-shifting, grief can be difficult to navigate. However, Meade does it beautifully, walking the tightrope between too literal and not literal enough. Using music, dialogue, voiceover, mime, and athletic movement, On Leaving allows audiences to follow the story's narrative yet also connect to their own experiences. Meade offers us the gift of space, a place where we can each revisit and process our own grief.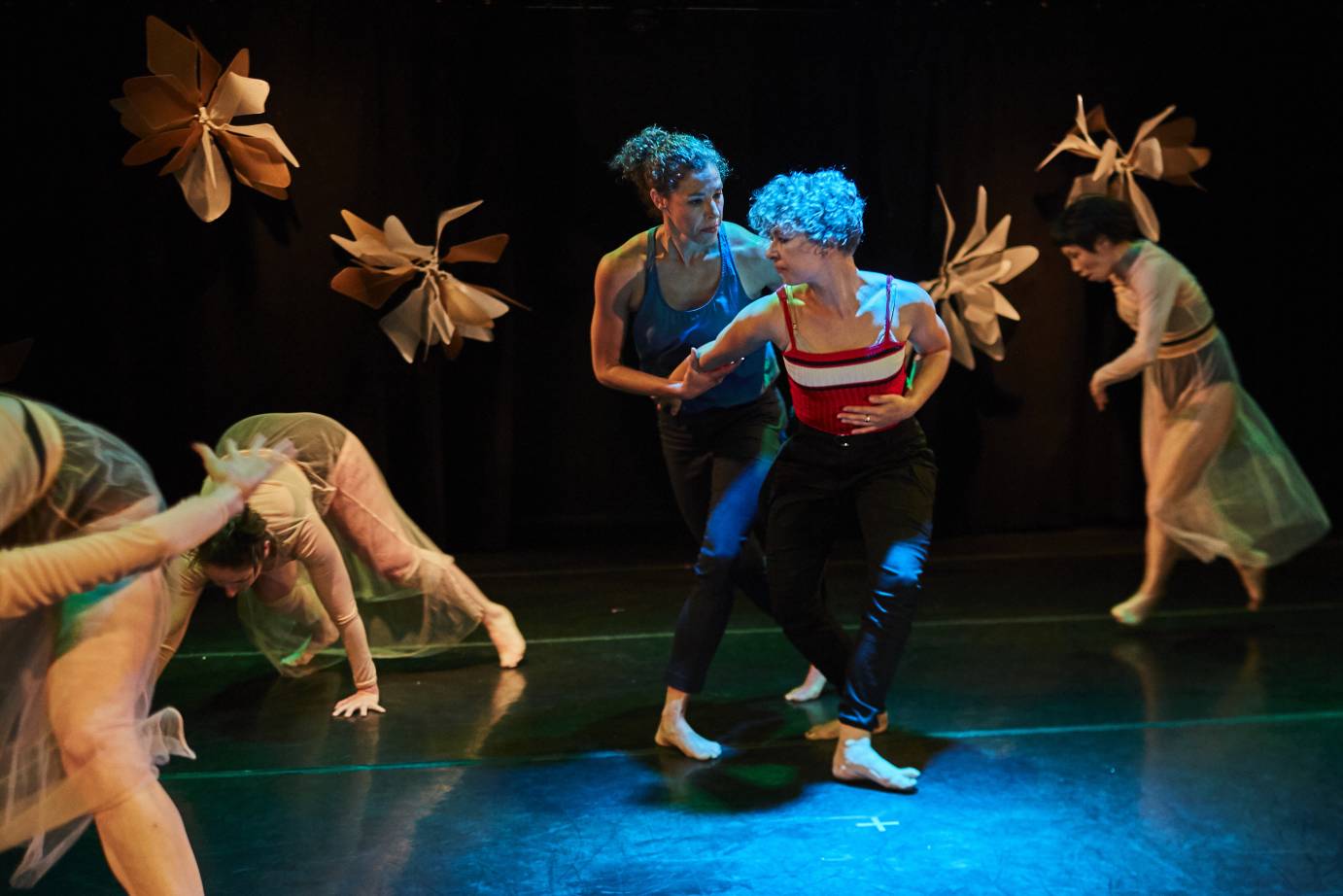 Mari Meade Dance Collective's On Leaving; Photo by Benjamin Hoste
Using staging and lighting, she introduces her two protagonists, and as we see inside their homes, we see inside their lives. One sister is regimented and sterile, the other free yet troubled. One cycles between the boardroom and the gym as her partner waits at home growing more resentful with each repeated scene. The other gets drunk with friends and sees a therapist. When her partner finds the anti-depressants she hid, he walks away in anger.
In this well-edited montage, there is not an extraneous moment anywhere. Each scene feeds into the next as the plot unfolds. Suddenly the call comes that their mother is gone, and two very different worlds collide.
On Leaving peels back emotion like an onion, layer after layer. Each section is new territory, and we feel the dark and destructive side of anguish, as well as the lovely nostalgia of memory. With thrashing undulations performed to driving EDM music, Morgan Hurst portrays a tormented inner landscape. The linear and intensely physical sequences of her sister, Allison Beler, illustrate her need for control.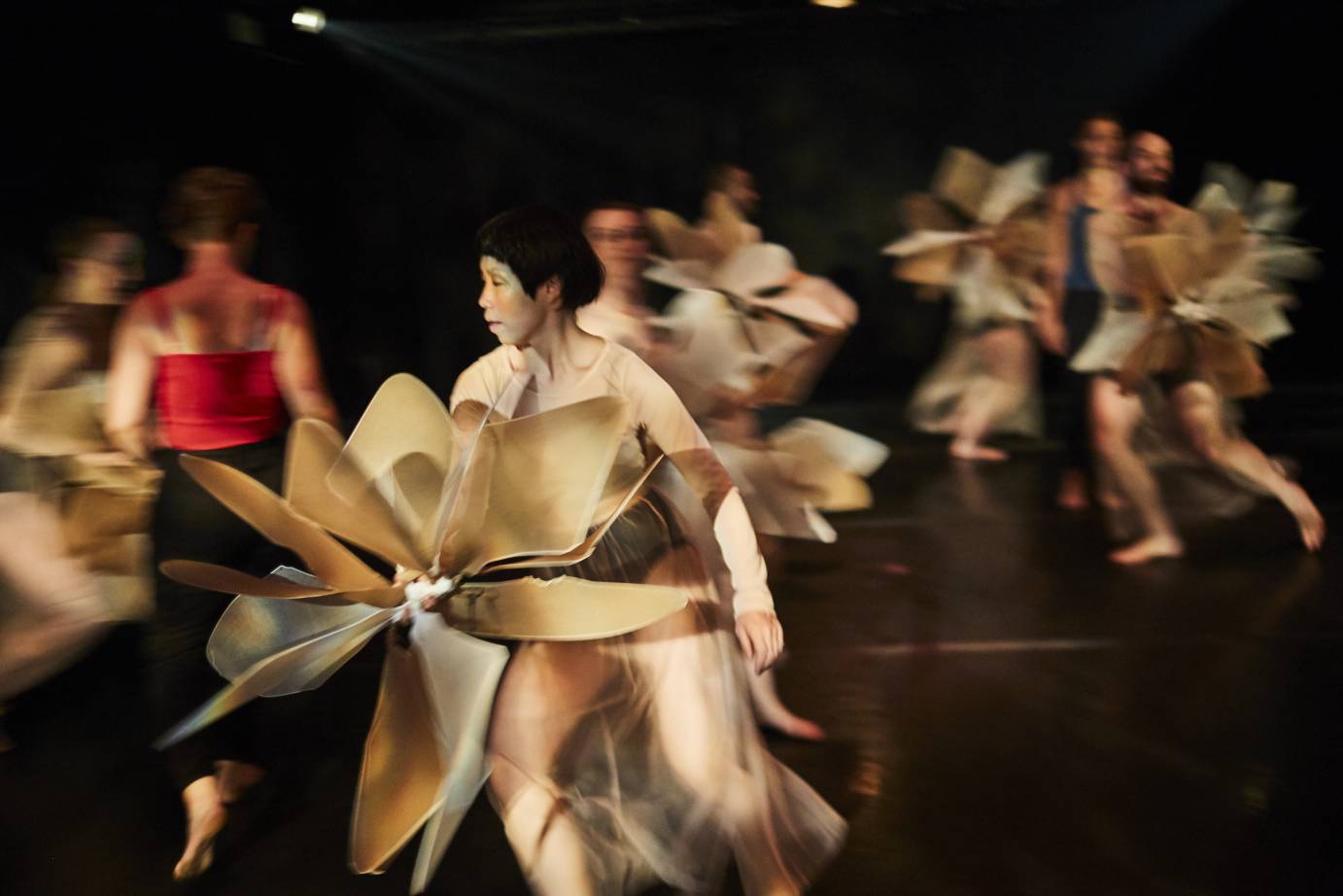 Mari Meade Dance Collective's On Leaving; Photo by Benjamin Hoste
Dressed in sheer nude overlays of fabric, seven performers act as manifestations of the sisters' internal struggles. Inner demons, antagonists, friends, or angels, these characters both support and impede the women. With repetitive piqués and gestures, Beler attempts to return to her routines as the antagonists chase her, but she is unsuccessful. Hurst spirals into her emotions, tossed back and forth among the whirling spirits. The desire to both return to and run from the familiar is evident. As Hurst fights the descent into desolation, Beler brashly tells her, "Guard your heart!"  At one point, she physically holds her together as Hurst flails. Large, handheld, pinwheel-shaped flowers made by the cast glide through the air, marking the transition from earthly to spiritual existence.
Sadness and bereavement are not the only themes that touch the heart. Meade and her cast paint a comprehensive picture, one of the beauty and love in relationships, the legacy loved ones leave behind, both while they are alive and when they are gone. Two sisters, so different from each other, find in the end that they need a little of what the other possesses. Fierce determination and gentle yielding are both components of strength. As the lights fade, Beler and Hurst scatter the ashes of their mother.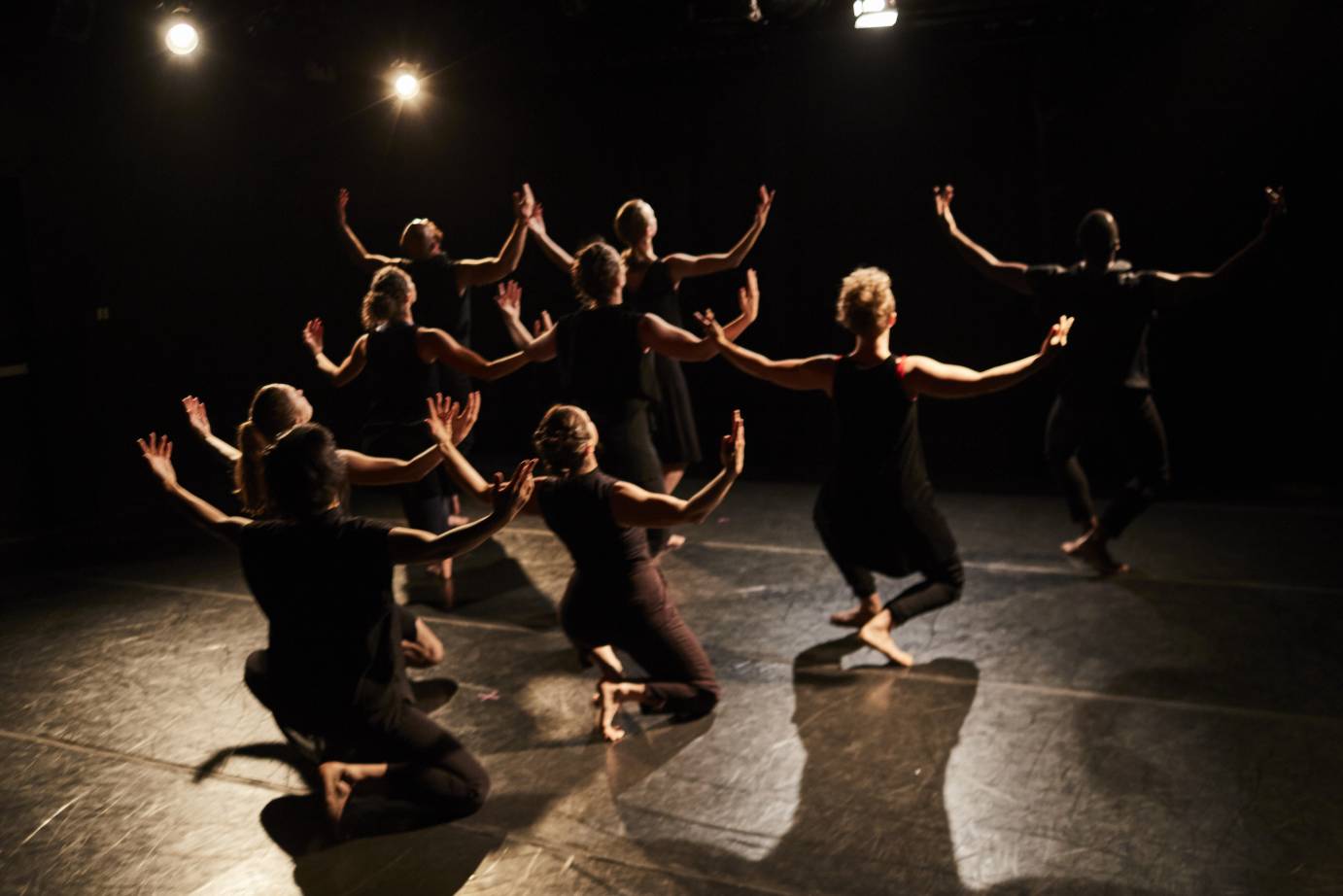 Mari Meade Dance Collective's On Leaving; Photo by Benjamin Hoste
All around me in the audience, I can feel catharsis happening, the release of feelings held throughout this 45-minute journey. There were tears, knowing nods, questions of concern from stranger to stranger, and an invitation from Meade to join the cast at an after-party. Without ever being trite, sophomoric, or over the top, On Leaving reminds us that grief is ongoing and offers an opportunity to connect.
---
The Dance Enthusiast Shares IMPRESSIONS/our brand of review and Creates Conversation.
For more IMPRESSIONS, click here.
Share your #AudienceReview of performances. Write one today!