Impressions of The Mariinsky Ballet's "Cinderella"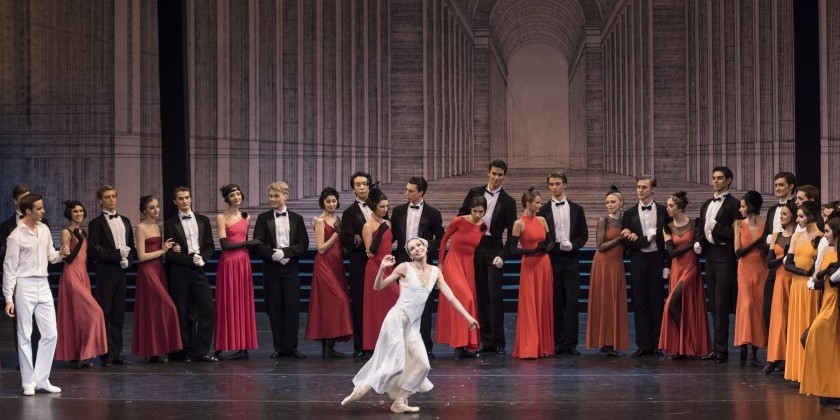 At BAM's Howard Gilman Opera House
Choreography by Alexei Ratmansky
Music by Sergei Prokofiev
Musical Direction by Valery Gergiev
Live Music by The Mariinsky Orchestra
Set Design by Ilya Utkin and Yevgeny Monakhov
Costumes by Elena Markovskaya
Cinderella: Anastasia Matvienko
The Prince: Alexander Sergeyev
Stepmother: Anastasia Petushkova
Stepsisters: Xenia Dubrovina and Anna Lavrinenko
The Four Seasons: Vladislav Shumakov, Boris Zhurilov, Konstantin Ivkin, Andrey Solovyov
The Mariinsky Ballet performs at BAM through January 25. For more info, go to bam.org.
---
Cinderella is timeless. Thousands of years after its first incarnation, the tale of the persecuted heroine continues to touch hearts and capture imaginations. Found in places as far flung as Korea to Italy, the story celebrates a pure heart and the life-altering power of a new dress. While the details may change, the broad strokes remain the same: There's a wicked stepfamily, a magical transformation, a lost slipper (or some other talisman), and a handsome prince who goes on the hunt for love. As for the ending, well, you know how these things go.
The Mariinsky Ballet, as part of their three-program engagement at BAM, present Alexei Ratmansky's 2002 version of Cinderella, which, according to the program notes, takes place in the 1930s. In reality, the production features a zesty pastiche of influences including folk dancing and old school jazz. MC Hammer pants and the Running Man make notable appearances.
The Mariinsky Ballet in Cinderella. Photo: Jack Vartoogian
Ratmansky tries valiantly to transcend the chugging engine of Prokofiev's score, which is programmatic, noisy, and busy. Clopping along under the baton of Valery Gergiev and played live by The Mariinsky Orchestra, the music sounds like what it is: a relic from Stalinist Russia. Ratmansky, indulging the score's rhythms, crafts lively, intricate choreography that paints his characters as stereotypes. The stepsisters, blowsy goofballs, lope through flamboyant flapper moves and grotesque gestures. The Four Seasons, punk rock minions of the Fairy Godmother, leap and swivel and preen while the shrewish Stepmother, in an orange fright wig, stretches in amplified extensions and turns a cartwheel.
Cinderella (a likeable if unmemorable Anastasia Matvienko) and the Prince (a heavily made up Alexander Sergeyev) get the loveliest choreography. As strings swell rapturously, the two glide through off-balance développés and soar in lofty lifts. Ratmansky inserts moments of technical bravura for the two to flaunt their gifts. Sergeyev, in particular, skates through his whip-fast spins and rocketing jetés with ease, his mouth twisted in a smirk: Prince Charming's a good dancer and he knows it.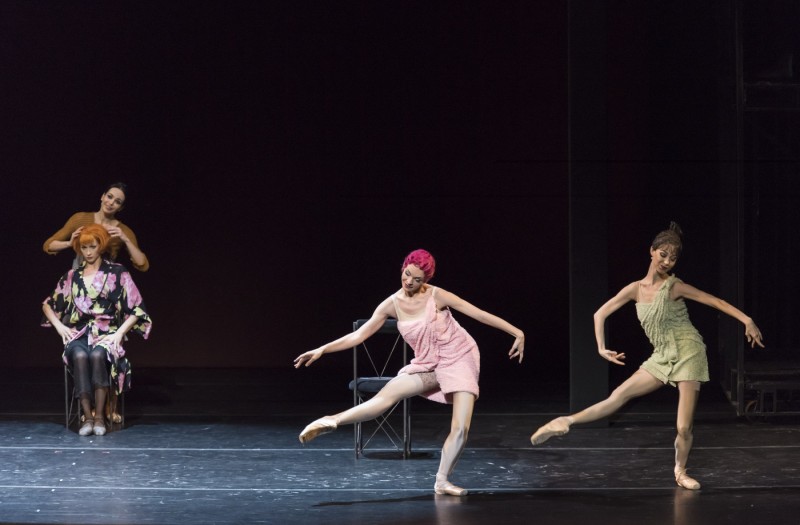 The Mariinsky Ballet in Cinderella. Photo: Jack Vartoogian
Plain and to the point, the sets skip grandeur for gulag chic. Black-painted staircases decorate each side of the stage, and often, random groups of dancers in crop tops hang out on them (like chorus members who've drifted in from a Bob Fosse production.) During the ballroom scene, myriad couples perform moves from Michael Jackson's "Thriller" against an austere black-and-white sketch of a palatial hall. There's an enormous chandelier/clock to highlight the race-against-time motif that, unintentionally, evokes a medieval torture device.
The big disenchantment stems from Ratmansky's unwillingness to update Cinderella into a heroine for the 21st century. His protagonist is passive to the point of inertia. She casts her eyes down and flings her head back, but she never, ever looks squarely ahead. Her choreography, ballet academicism executed with a tilted pelvis, suggests she is not in charge of her own destiny; instead, Cinderella is thrown this way and that by the forces of fate. The Stepmother, in contrast, epitomizes the modern woman: She asserts her own agenda and embraces her sexual appetite. Yet, she's the one at whom we're supposed to laugh.
Most of the audience probably doesn't care that Cinderella is nothing more than a beautiful birdbrain. They're here to see attractive young people in pretty costumes perform impressive physical feats, all of which the Mariinsky Ballet supplies in abundance. But unlike fairy tales with their hidden meanings and dark undertones, the very reasons why they resonate across so many generations, Ratmansky's Cinderella seems more like a made-for-TV movie: watchable but then easily forgotten.