Impressions of Performance: Marissa Perel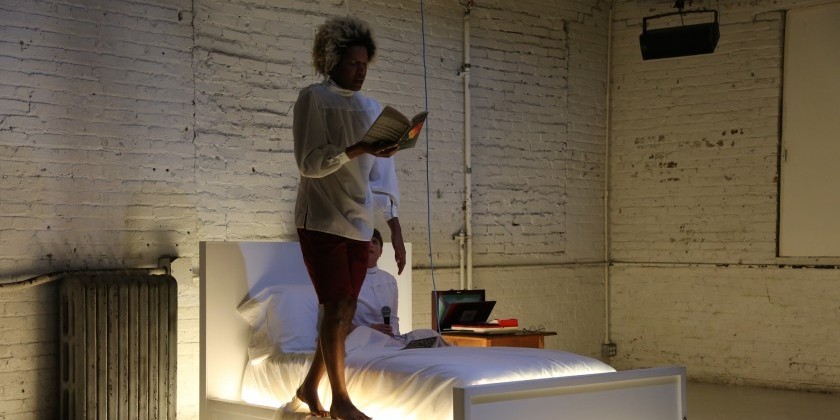 "More Than Just a Piece of Sky" at The Chocolate Factory
Written by Marissa Perel
Choreographed in collaboration with performers LIndsay Reuter and Jumatatu Poe
Sound by Shawn Hansen, Miguel Gutierrez, Jon Moniaci
Video by Kristiana Weseloh, Nicholas Steindorf
Production and set by Lilli De, Elliott Jenetopulos, John Taylor, Steve May
---
When the audience enters the theater at the Chocolate Factory for Marissa Perel's More Than Just A Piece Of Sky, the performance has already begun. Perel lies in an all-white bed that gives off a pristine glow. In a video projected on the wall across from the bed, Perel and her fellow performers, Lindsay Reuter and Jumatatu Poe, discuss the belief systems imposed upon them in childhood versus their adult experiences of gender, sexuality, race, and disability. Perel tells of a Passover that led to a major rift with her father; Poe talks about being "raised by a movement" because of his parents' involvement in Pan-Africanism; and Reuter describes growing up in an interfaith family.
Presented as part of the Queer New York International Arts Festival, More Than Just a Piece of Sky is a work driven by fractured text. Some words are written by Perel, and others are read aloud from books piled throughout the space. The piece also draws inspiration from the Barbra Streisand movie musical "Yentl", based on a play by Leah Napolin and Isaac Bashevis Singer which is based on the story "Yentl the Yeshiva Boy," by Bashevis Singer. In "Yentl," a young Orthodox Jewish woman disguises herself as a man in order to obtain an education.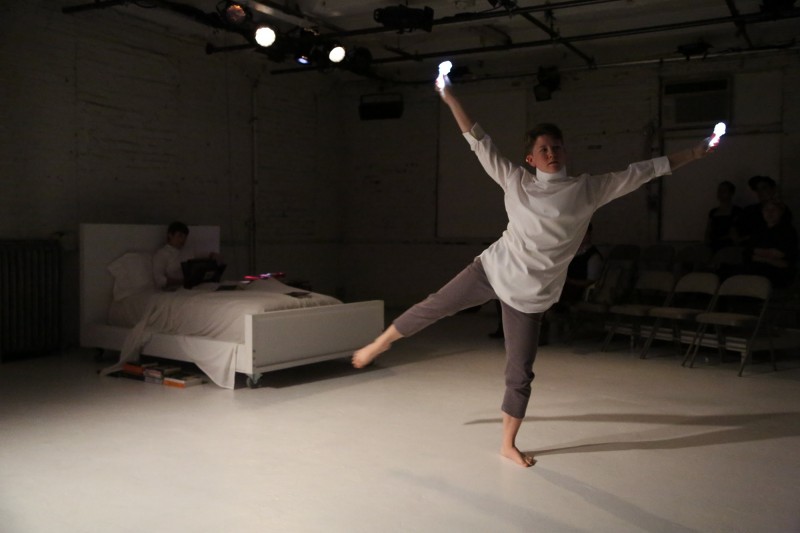 Lindsay Reuter in More Than Just A Piece of Sky Photo: Madeline Best
Perel's project is to explore identity – particularly gender and sexuality. While the work has striking moments, it often feels disjointed and hazy. Many ideas are put forward, but few are fully elucidated. This fragmentary structure leaves something to be desired.
The video interviews at the beginning of the show are intriguing, but unfortunately, we hear only snippets of them. I wanted to hear more. Moments drawn from "Yentl" and various other texts are also fleeting.
While Perel sits up and speaks, she never leaves her bed, suggesting that these brief scenes are part of a dream. Poe and Reuter are free to move around the space, occasionally joining Perel in bed. But a suggestion hangs in the air that sleep is not the only thing keeping Perel fixed on her mattress. In an earlier video interview, Perel discusses the experience of a debilitating accident, introducing the idea that she does not get up because she is unable to.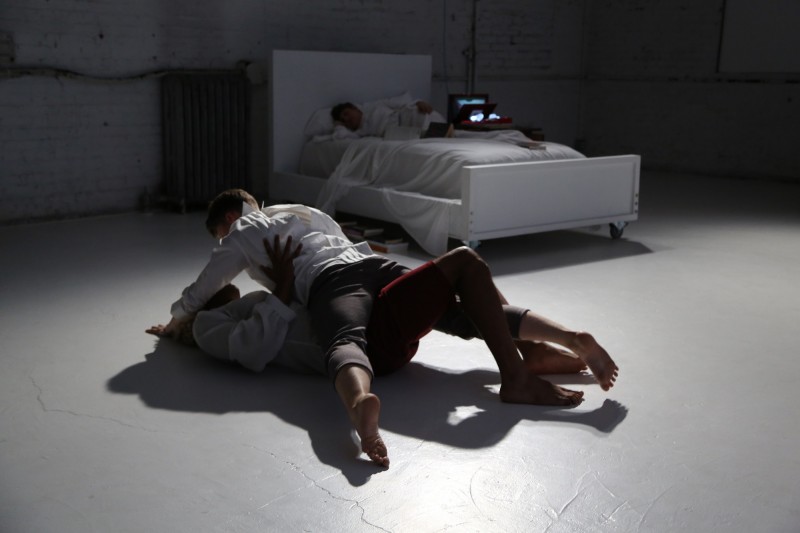 Lindsay Reuter and Jumatatu Poe on floor , Marissa Perel in bed More Than Just A Piece of Sky Photo: Madeline Best
Like dream figures, Reuter and Poe are able to assume the form of multiple characters at once. They introduce themselves not only by their own names but also as the protagonists of the movie, Yentl and Avigdor.
The work's most memorable moments are its physical ones. Reuter performs a captivating dance that looks like stop motion animation – a series of minute articulations that move her gradually through space. A powerful presence throughout, Poe is especially arresting when he balances precariously on the edge of Perel's bed and then strips off his clothes to twist and circle his way through the space.
Most compelling in More Than Just A Piece Of Sky is its end, when Poe and Reuter roll across the floor in a close embrace. This tender, intimate vignette is a pleasant and somewhat surprising conclusion. Perel tucks herself in back under her covers. She, at least, seems satisfied.