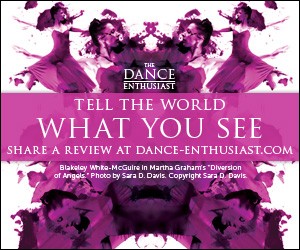 Related Features
Impressions: Mark Dendy Projects' "NEWYORKnewyork"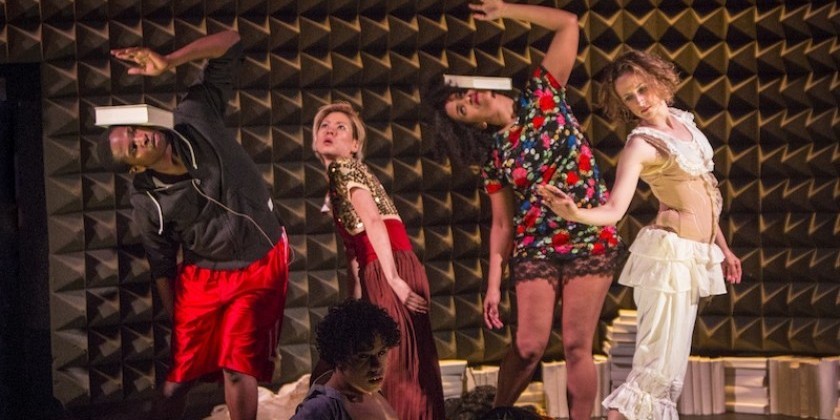 At Joe's Pub
May 6-9
Conceived, Written and Directed by Mark Dendy
Choreography by Mark Dendy in Collaboration with the Performers
Directorial and Choreographic Assistance by Christopher Bell
Lighting Design by Lauren Parrish
Video, Sound, Costume and Prop Design by Stephen Donovan
Cast: Christopher Bell, Danté Brown, Leslie Cuyjet, Mark Dendy, Stephen Donovan, Alice Klugherz, Abigail Levine, and Mei Yamanaka
---
Old-timers can all agree---New York City is not what it used to be. New buildings rise, and old ones are torn down. Immigrants arrive to transform neighborhoods. On rare occasions the citizenry erupts in protest, and then our flaming ire subsides. Yet the greed of the monied classes persists across generations, a hazard that choreographer Mark Dendy reminds us of in NEWYORKnewyork, the witty yet informed dance-theater piece that his Mark Dendy Projects unveiled, on May 6, in Joe's Pub at the Public Theater.
Opening the 20th season of the DanceNOW/NYC Festival, Dendy's commissioned work offers a capsule history of the building and the neighborhood that the Public Theater calls home. Like an archeologist, Dendy excavates beneath the pavements of Lafayette Street, Astor Place and St. Mark's Place, uncovering layers of buried drama. He peoples the Pub's tiny, cabaret stage with characters whose stories belie the simplistic narrative in which real-estate development leads miraculously to urban renaissance. Ultimately, Dendy transforms this artistic watering hole into a bastion of resistance to capitalism.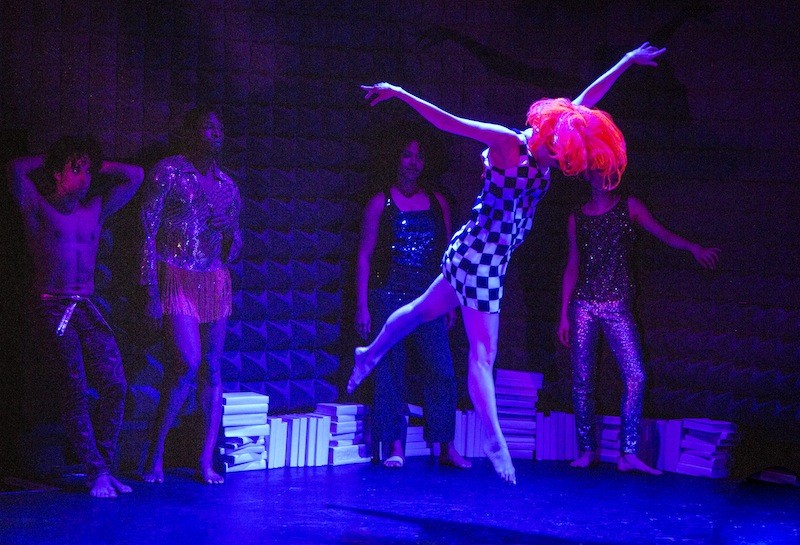 Pictured: Abigail Levine (center); Back L-R: Christopher Bell, Dante Brown, Leslie Cuyjet and Mei Yamanaka. Photo: Yi-Chun Wu
The lynchpin of Dendy's tale is the riot that occurred on May 10, 1849, when state troopers fired indiscriminately into a crowd on Astor Place, murdering some 25 people. This massacre occurred near the gentrified spot where Millennials now line-up to order frappuccinos at Starbuck's. Less surprising to modern ears than the soldiers' brutality is the cause that provoked the riot. The mob assembled, 166 years ago, to protest a performance in Macbeth by British actor William Charles Macready. The darling of upper-crust snobs, Macready was the rival of American actor Edwin Forrest, who by no coincidence was also playing Macbeth in the city that night. In a demonstration that blended outraged patriotism with class resentment and theater mania, the working class turned out for Forrest.
The Scottish play provides Dendy with a handy moral framework---he equates Macbeth's unscrupulous scheming with unchecked lust for wealth; and Shakespeare's trio of weird sisters reappears periodically in NEWYORKnewyork cackling with glee. Yet Dendy also seems nostalgic for a time when ordinary Americans took the arts seriously, and people thronged the streets to defend their principles. Perhaps by embracing politics he hopes to make the theater relevant again.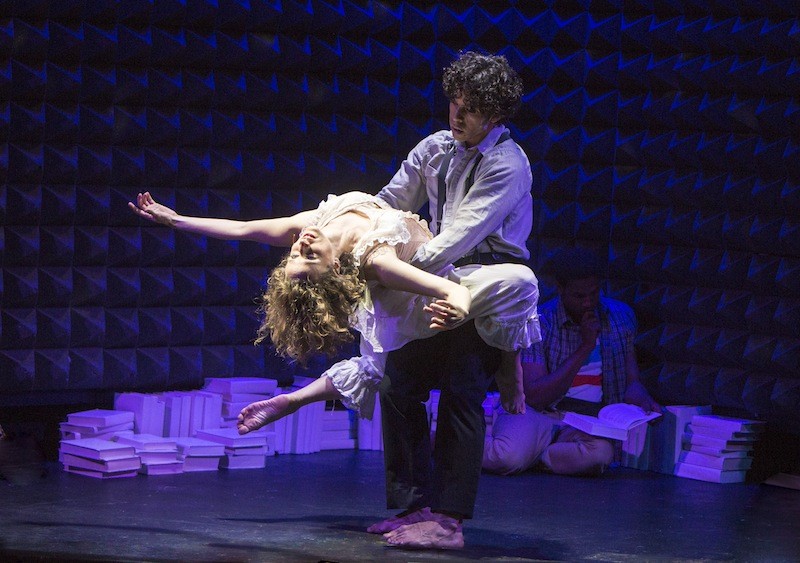 Pictured: Abigail Levine and Christopher Bell. Photo: Yi-Chun Wu
Dendy appears in the show himself, lolling in an arm-chair as he impersonates William Backhouse Astor, a wealthy grandson of John Jacob Astor. The senior Astor, for whom Astor Place is named, became a multi-millionaire in the 19th century by skinning his competition in the fur trade. He compounded his gains by snapping up tracts of farmland on the still sparsely populated island of Manhattan. Before he died, however, the progenitor of the Astor dynasty tried to absolve himself of a flinty landlord's crimes ("Out, damned spot!") by establishing the Astor Library in the very building that the Public Theater and its speakeasy now occupy.
Dendy argues that, like John Jacob Astor, today's philanthropists may support the arts as a way to expiate their sins or conceal misdeeds. Another character in NEWYORKnewyork (a real-estate broker) cynically points out that the presence of artists in run-down neighborhoods is a sure-fire way to raise property values. After the neighborhood revives, the artists are expendable. Since Dendy doesn't name any contemporary philanthropists, viewers left to their own hand-held devices may wish to Google the arts patron and infamous former Citigroup boss Sanford Weill. Hint---a less than beneficent portrait of Weill emerges in Andrew Cockburn's article "Saving the Whale, Again," in the April 2015 edition of "Harper's Magazine."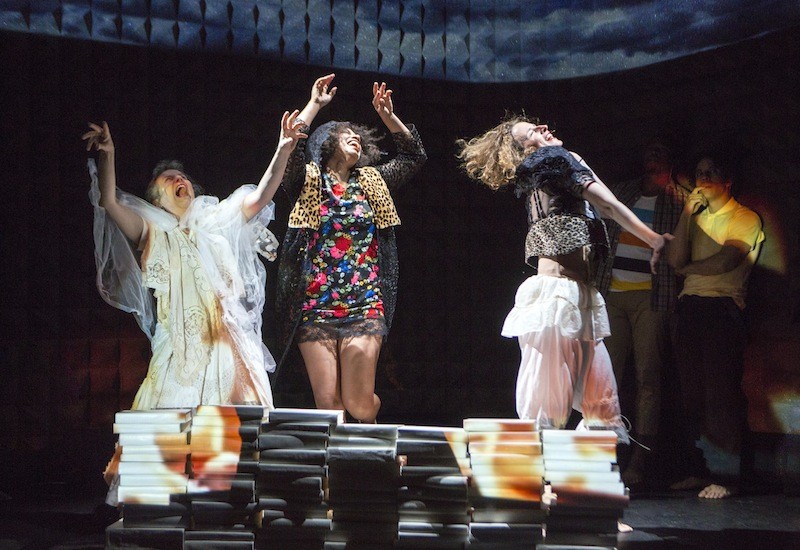 Pictured: L-R Alice Klugherz, Leslie Cuyjet and Abigail Levine. Photo: Yi-Chun Wu
As "Backhouse," Dendy has little to do but fill-in the Astor backstory, sniping haughtily at the malcontents and riff-raff performing beside him, their speeches alternating with bursts of sinuous movement and frantic sign-language. Backhouse has little in common with his socially ambitious wife. Played by Abigail Levine with a weasely intensity, Mrs. Caroline Astor has a crystal chandelier that trails her like a personal assistant. Backhouse mellows, recalling his fondness for the orgies on his sea-faring yacht. After swishing her skirts and high-kicking in an energetic Can Can, dancer Leslie Cuyjet reaches under his lap-robe to simulate giving him a vigorous hand-job. This is a Macbeth with benefits. The raunchy episode is Dendy at his most mischievous; but acknowledging the commonplace reality of sex is another one of this artist's talking points.
In addition we have Christopher Bell, an Adonis in furs swinging his raccoon-tail to a clubhouse beat and describing the hedonism, and subsequent terror, at the St. Mark's Baths when AIDS first appeared. Dendy knows that librarians have their passions, too, so he introduces us to Alice Broadbent, who worked as a cataloguer at the Astor Library in 1909 and later penned a memoir of her life as a turn-of-the-last-century single woman. Alice Klugherz is Broadbent, electrified by the mash note she finds tucked between the leaves of a library book. In this message, her randy admirer suggests she allow his lips to meander up her arm, along her shoulder, and down her collarbone until they arrive at "the purest of valleys."
Pictured: Center L-R: Leslie Cuyjet, Dante Brown & Mei Yamanaka; Back Left: Abigail Levine & Christopher Bell; Right: Mark Dendy. Photo: Yi-Chun Wu
Really it's astonishing what one can learn by opening a book. Ranging further uptown, Dendy recalls the Civil War Draft Riots of 1863, when poor Irish immigrants turned against their African-American neighbors in a horrible outburst of lynching, arson and bloodshed. Wealthy New Yorkers, naturally, could pay for substitutes to take their places in the Union Army. Among other roles, Stephen Donovan is a resentful Irishman; while Danté Brown solemnly recounts the experience of a former slave who survived the Draft Riot.
Here in the former Astor Library, books are never far from anyone's thoughts. Portraying the occupant of an overcrowded (and over-priced) New York City apartment, Cuyjet frets over her decision to upload her personal collection and discard the bulky tomes, which like human bodies have a reassuring physical substance. At the outset of NEWYORKnewyork, books litter the stage and a bucket list of illustrious authors' names flashes on the backdrop. The cast organizes the anonymous, chalk-white volumes into piles, which may suggest a model cityscape crowded with apartment blocks. Mei Yamanaka threads her way cautiously among these towers, performing a slinky, crouching-tiger solo; but then she lashes out and the books begin to topple.
Is this the start of a new era, or the end of civilization?