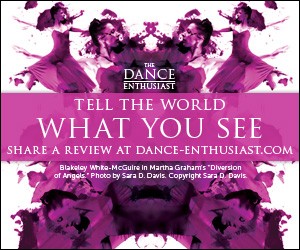 Related Features
IMPRESSIONS: Mark Morris Dance Group's "Pepperland" at Hopkins Center for the Arts at Dartmouth College
The Decade That Never Was
June 28-30, 2018
Hopkins Center for the Arts, Dartmouth College
Artistic Director: Mark Morris / Executive Director: Nancy Umanoff
Dancers: Mica Bernas, Sam Black, Durell R. Comedy, Brandon Courtnoy, Domingo Estrada Jr., Lesley Garrison, Lauren Grant, Sarah Haarmann Aaron Loux, Laurel Lynch, Dallas McMurray, Brandon Randolph Nicole Sabella, Christina Sahaida, Billy Smith Noah Vinson
MMDG Music Ensemble: Clinton Curtis, Colin Fowler, Jacob Garchik, Ethan Iverson, Sam Newsome, Rob Schwimmer, Vincent Sperrazza
Choreography: Mark Morris / Set Design: Johan Henckens / Costume Design: Elizabeth Kurtzman
Lighting Design: Nick Kolin / Assistant to Mark Morris: Aaron Loux
---
Are the Sixties making a comeback?
No, grandpa and grandma are just acting weird again, saying they feel "groovy." Whatever that means.
And Mark Morris is simply the latest contemporary choreographer to cast a glance backward at that wild decade in which Boomers came of age amid an outpouring of psychedelia, angry demonstrations and widespread nose-thumbing at social conventions.
For Morris, the symbol of that unbridled and bra-less era when the oldsters were still hipsters is a vinyl classic by The Beatles: Sgt. Pepper's Lonely Hearts Club Band. To mark the album's 50th anniversary, last year, Morris produced a joyful and sometimes brilliant evening-length dance called Pepperland, with an ad hoc score by Ethan Iverson that re-orchestrates selected Beatles' songs and fills the gaps between them with original compositions. Mark Morris Dance Group performed the work, July 28-30, at Hopkins Center for the Arts at Dartmouth College, in New Hampshire. (For a look at the company's touring schedule, go to the company website.
Mark Morris Dance Group in Pepperland; Photo: Gareth Jones
For Pepperland, costume designer Elizabeth Kurzman has outfitted the dancers in electric colors, the costumes suggesting chaste versions of upscale Carnaby Street fashions; while set designer Johan Henckens has placed coruscating footlights and reflectors at the back of the stage, perhaps in reference to the song "Lucy in the Sky with Diamonds" (LSD). As delightful as this production is, however, viewers — especially those belonging to generations X, Y and Z — should not study it for clues to what America was like half a century ago. Sentimental old-timers, meanwhile, should leave their nostalgia in the back-closet at home or risk disappointment.
Pepperland is a DayGlo fantasy of an era that was defined by considerably more than bright clothing and sunglasses. Yet The Beatles are themselves to blame for the extent to which Morris has sanitized the decade. Savvily packaged, Sgt. Pepper became an instant hit in 1967, embraced as a timely product of the counterculture for its references to transcendental meditation ("Within You Without You") and recreational drug use ("With a Little Help from My Friends"). Yet this sweetly romantic album turned a blind eye to the thornier aspects of its times.
Mark Morris Dance Group in Pepperland; Photo: Robbie Jack
The Beatles were not The Rolling Stones, who lamented that "sleepy London town is just no place for a street fighting man." When Sgt. Pepper was released, it was still barely possible for certain shag-haired British rockers to ignore the Vietnam War and the social upheaval that only a few months later would lead a desperate U.S. establishment to assassinate two prominent and persuasive advocates for change, the Rev. Dr. Martin Luther King, Jr. and presidential candidate Robert F. Kennedy. Idealistic young people were joining movements to transform and uplift American society, but Sgt. Pepper stood outside the fray remaining stubbornly naïve.
Morris, has created a dance of similar innocence. The same-sex embraces that appear in Pepperland are taken for granted, as if the Stonewall Riots (1969) had not been essential to gay liberation. When dancer Lesley Garrison, wearing a pair of trousers, leads a parade and commands the stage with her assertive gestures, she has Betty Friedan and the militant feminists of the 1960s to thank for her empowerment; but watching Pepperland you wouldn't know those women had to struggle to overcome gender stereotypes.
Mark Morris Dance Group in Pepperland; Photo: Robbie Jack
Teasingly bringing to life some of the celebrities who adorn the Sgt. Pepper album cover, Morris follows the Beatles in avoiding controversy. We get boxer Sonny Liston, striking a defensive pose, but not the draft-dodger Muhammad Ali who succeeded Liston as heavyweight champion. Dancer Noah Vinson assumes a lotus position impersonating guru Sri Paramahansa Yogananda, but that icon of peaceful protest, Mahatma Ghandi, remains persona non gratanda.
The Sixties most surely deserve another look; but Pepperland won't show us the rebellious, earth-shaking decade that choreographer Paul Taylor depicted in Changes, his dance to music of The Mamas and The Papas. Nor is Morris's vision the one Twyla Tharp shared in her exuberant yet heart-breaking jukebox musical Movin' Out. Forget about the war-torn generation that Anne Teresa De Keersmaeker recalled in her solo program Once, set to the songs of Joan Baez. And, it goes without saying, Pepperland does not evoke the racist Sixties that Ronald K. Brown portrayed in March, his terse yet noble duet set to a speech by Dr. King.
The police dogs and the firehoses, like the flag-draped coffins, and the acrid smell of tear gas are entirely absent from Pepperland. So are the rank nudity and the sex. This show offers viewers an expurgated 1960s with no parental guidance (or guilty obfuscations) required. Perhaps we shouldn't be surprised. Morris was only 11 years old when Sgt. Pepper debuted. Too young in 1967 to be eligible for the draft, and with no punch card of his own to fold, spindle, or mutilate, how much was he aware of at that time?
Mark Morris Dance Group in Pepperland; Photo: Mat Heyward
What Morris does achieve here, in his trademark style, is a fusion between high art and popular culture that did not exist in the Sixties — at least not in America. The dancers perform variations on social dances like The Twist and The Swim, but in contrast to the atomization of those times, when it was every boy and girl for themselves on the dance floor, Pepperland displays the ingenious formal patterns, leitmotivs, and harmonies typical of Morris' work. This piece owes as much to the Minimalism of the 1970s as it does to a playful dance-party film like Beach Blanket Bingo (1965). Maybe Pepperland is best compared with Paul Taylor's Esplanade, which applied compositional rigor to footloose pedestrian movement in 1975. Similarly, Morris has disciplined the Sixties in the name of a well-ordered beauty.
Iverson's score is paradoxical in its own way, since the Beatles augmented the music of Sgt. Pepper with studio effects never intending those songs for live performance. The sound of Pepperland may initially shock listeners familiar with the album, but Iverson's arrangements quickly prove seductive. Cleverly he experiments with a Theremin to cover a vocal line; and the Pepperland orchestra also includes a harpsichord, an organ and a trombone. Only the late George Harrison's sitar is missing.
Morris' approach to the Beatles is essentially the same as his approach to Schubert and Handel. This choreographer toys with visualizing elements of the music; and dramatizes incidents in the accompanying text. Baritone Clinton Curtis sings the words to "Penny Lane," (not included in the original Sgt. Pepper album) while the dancers pantomime fleeing to seek shelter from a rainstorm, pointing to their eyes and ears in reference to the lyrics. Similarly, during "A Day in the Life" a crowd of horrified witnesses gathers around an accident.
Mark Morris Dance Group in Pepperland; Photo: Mat Heyward
If Pepperland fails to portray even a drug-addled reality, this dance nevertheless contains two outstanding episodes that should justify the enterprise from any point of view. First, Morris has concocted a wacky Music Hall spoof to the tune of "When I'm Sixty-Four." Here the dancers join a chorus line that grows and grows, insouciantly prancing, high-kicking, and grinding their hips. Then the line splits into groups performing the same steps to different counts. The dancers, though apparently drunk and threatening to veer off course, must syncopate precisely. To emphasize how absurdly difficult this performance is, Morris has a few members of his cast step to the sides and encourage the others by clapping their hands to the beat. No description can do this wonderful number justice — you have to see it for yourself to appreciate its hilarity.
Second, and in a totally different vein, the choreographer has composed an extraordinary solo (or is it a duet?) to "Within You Without You." Here Vinson resumes his cross-legged pose, tranquilly meditating at the front of the stage. His stillness prompts viewers to zero-in on another figure performing in the distance behind him. Directing our gaze this way, via the contrast between two dancers, is a masterstroke, especially considering they are not alone. What happens upstage, however, is even more amazing.
Dallas McMurray is the upstage dancer, twisting his body sinuously, his lunges and seraphic gestures drawing inspiration from South and South-East Asian movement arts. He works his way languorously downstage, eventually switching places with Vinson. To return upstage, McMurray lies on his back and bounces, as if each of his chakras were being tweaked.
Pepperland will end as it began, reprising the Sgt. Pepper theme song with the dancers loosening a tight circle with a slow-dancing couple at its center — presumably a reference to the "Summer of Love." The summer of 1967 has never seemed more impossibly distant, however, than it does now, viewed through the gauze of Mark Morris' 21st-century imagination.
---
The Dance Enthusiast Shares IMPRESSIONS/ our brand of review and Creates Conversation.
For more IMPRESSIONS, click here.
Share your #AudienceReview of performances for a chance to win a prize.