Related Features
Contribute
Your support helps us cover dance in New York City and beyond! Donate now.
IMPRESSIONS: Martha Graham Dance Company's "Sacred/ Profane" at New York City Center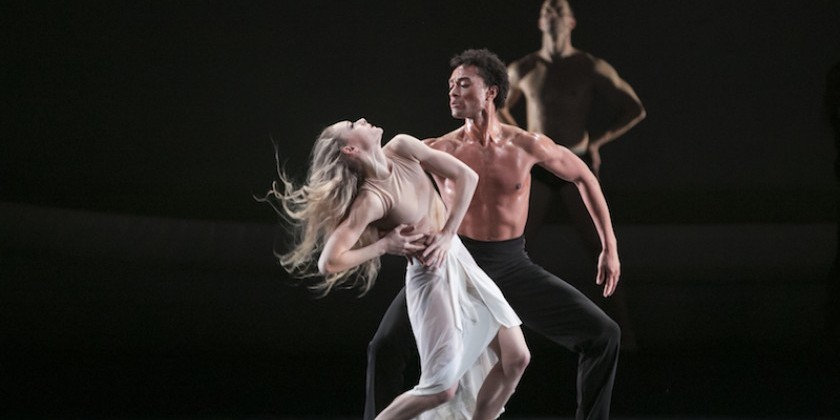 April 12, 2018
Works: Ekstasis, Histoire (Lucinda Childs), Panorama, The Rite of Spring
Conductor: David Haynes
The Mannes Orchestra
Pictured above: Charlotte Landreau and Abdiel Jacobsen in Martha Graham's The Rite of Spring; Photo: Melissa Sherwood.
---
Martha Graham, aka the "Mother of Modern Dance," expanded the expressive capacity of the human body and developed one of the first codified techniques. Her almost 70-year career traversed many phases and evolutions, but her central theme was that dance can convey potent emotion. Perhaps this explains why Graham's work still hits us right in the gut.
One of Martha Graham Dance Company's latest performances at City Center offers the opportunity to see the troupe's versatility, which attests to the enduring value of her movement language.
In Ekstasis (1933), a lost dance reimagined by Virginie Mécène, the articulation and distortion of PeiJu Chien-Pott's torso is exaggerated by the white spandex material of her costume (designed by Graham). This simple but haunting solo explores initiating movement from the pelvis — the location where life is born, sexual desire lives, and agony is experienced. The visceral quality of Graham's later work builds on this elemental motif of contraction and release.

PeiJu Chien-Pott in Martha Graham's Ekstasis reimagined by Virgine Mécène; Photo: Brigid Pierce.
 
Chien-Pott's subtle, sensual gestures rarely take her far from center stage. The thrust of her pelvis leads her into increasingly complex spirals and distortions, eventually settling into the ethereal final image. As she extends her arms gracefully upward, she sparkles in the spotlight like a hologram.
Panorama, a 1935 work about social activism, features 30 teenaged participants from the Graham All-City Panorama Project. They display sharp gestures, upright torsos, and shifting geometric patterns. Swarms of red-clad dancers rush across the stage in traveling jumps, like charging bulls. The group's unity and cohesiveness suggest society's capability to band together and rise up against a common cause.
Though not professionals, the sophistication of the young dancers shows in their grasp of the principles of modern dance: groundedness, seamless shifting of weight, and initiation from the center. This is why Graham technique is still a required course in many prestigious dance programs.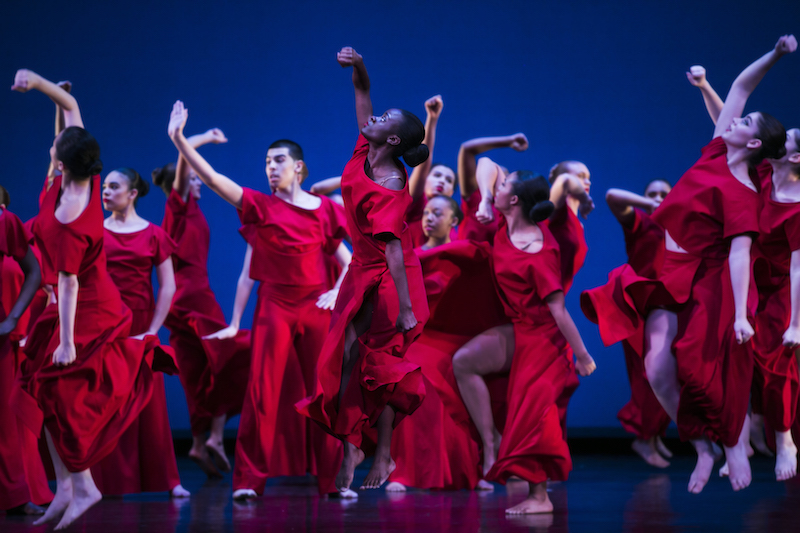 Teens@Graham students in Martha Graham's Panorama; Photo: Melissa Sherwood
Histoire, a new work by Lucinda Childs, expands upon a duet she created for MGDC in 1999. Childs' work is characteristically minimalist, and the harmonious opening duet doesn't venture far from this. Later, four couples enter, springing delightfully in meticulous spatial arrangements as their swirling dresses magnify the serpentine choreography. The music of Astor Piazzolla infiltrates the work with the spirited intensity of the tango. While Childs' balletic movement language differs from Graham's, the latter's influence is exhibited in the twist and torque of the back.
It should be difficult to shock current audiences, yet Graham's Rite of Spring shakes us to our core by exploring disturbing the complexities of the human psyche. Originally choreographed by Vaslav Nijinsky to Igor Stravinsky's controversial score, the piece tells the story of a primitive springtime ritual in which a young virgin is chosen as a sacrificial victim.
Anne O'Donnell and Lloyd Knight in Lucinda Childs's Histoire; Photo: Melissa Sherwood
 
Edward T. Morris' scenery depicts a nightmarish, shadowy arch, looming in the background against ominous flashes of lightning. Abdiel Jacobsen, "The Shaman," is a menacing, caped figure, flanked by two other large men. A corps of men in underwear and women in skirts create architectural landscapes with their bodies, which move in sharp, jolting unisons.
"The Chosen One" (pale, wiry Charlotte Landreau) kneels, and then Jacobsen suspends her by her wrists, engulfing her in his massiveness. Jacobsen is both predatory and protective, and his relationship with Landreau demonstrates complexities of sexuality. She seems both frightened and intrigued by her response to him. In one juxtaposition of fear and desire, she wraps her legs around him passionately.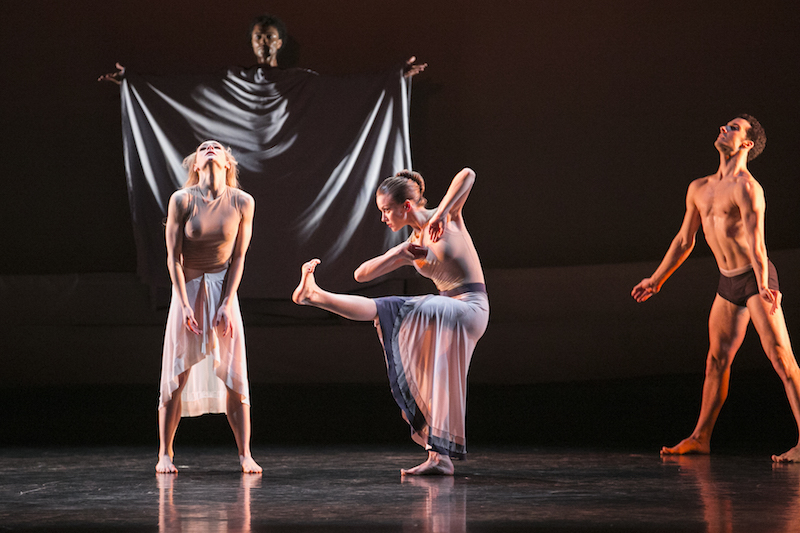 Charlotte Landreau, Anne O'Donnell, Lorenzo Pagano and Abdiel Jacobsen (background)  in Martha Graham's The Rite of Spring; Photo: Melissa Sherwood
In a tormented solo, Landreau contorts her torso, her fingers splayed and her chest heaving. She performs an impressive series of penché/ pitch turns to sudden halts. Meanwhile, the cast emphasizes the music with stomping feet — an homage toNijinsky's original choreography. As Landreau continues her terrified spasms, two executioners emerge, wielding lengths of forest-green fabric. The sacrifice will be completed, thus bringing the season of growth and rebirth.
Graham's rendition suggests a conflicted view of sexuality rather than a straightforward tale of a barbaric ritual. Perhaps the work ends not with the literal death of the virgin, but with the sacrifice of her innocence, to welcome the season of fertility. In the final curtain call, the cast runs out on stage against a blood-red backdrop. It's both a tantalizing hint and a reminder how Graham's works continue to intrigue, even in the 21st century.
---
The Dance Enthusiast Shares IMPRESSIONS/ our brand of review and Creates Conversation.
For more IMPRESSIONS, click here.
Share your #AudienceReview of performances for a chance to win a prize.