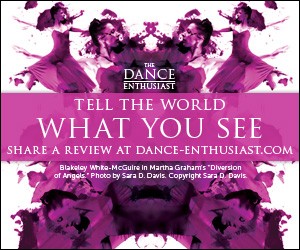 Related Features
Impressions of: The Fall Season at the Chocolate Factory
The Chocolate Factory, in Long Island City, occupies a remarkable position in the ecology of New York City dance. A self-described "leading incubator for new developments in experimental performance," it's a Mom-and-Pop operation. Its managers, Brian Rogers and Sheila Lewandowski, practically live over the store: they have a house two doors down, and they've made strong alliances with politicos in Queens during their nearly ten years in the area. They keep ticket prices low, mostly $20 or less. Wave your program in various neighborhood bars and you'll get discounts on craft beers and the like.
For me, the space—two shoebox-like rooms with windows on their far walls, connected by an awkward staircase and a sloping floor—combines aspects of dream and nightmare. My prejudices lean toward experimental work observed up close, and the Chocolate Factory definitely facilitates that. Some shows accommodate as few as 20 people. Some require you to climb the stairs from the basement space (with its primitive restroom) to the upstairs white box in the middle of the action.
If choreographers want to display full-out dancing, they may lay or build special floors in order to preserve the bodies of the performers.
For the most part, shows at the Chocolate Factory are short, under an hour. Twenty years ago, my critical colleagues and I might have complained about this; now we are generally grateful. Pieces may contain little or no "dancing" at all; perhaps all they have in common are notions of beginning, middle and end. Sometimes they are works in progress; one hopes the material displayed will have another life, a longer run in a bigger house in another borough.
Tatyana Tenenbaum's Private Country. Photo by Brian Rogers. Pictured: Laurel Snyder and Talya Epstein.
Since September I've witnessed five shows there, four confined to the upstairs space. Under the best of circumstances, the intimate situation lets you commune with the artists, appreciate the detail work on costumes and props. Perhaps my favorite was Tatyana Tenenbaum's Private Country (October 30-November 2), the one which required relocating partway through.
Private Country is actually a tiny opera, or oratorio, in three parts. It began with a prologue: Tenenbaum and her floppy-haired brother Ezra down in the basement, reciting and singing to each other. They explored the harmonic possibilities of the room, as sound engineer Adam Bach layered recorded sound (by Ezra) with the live voices. After 15 minutes we were sent upstairs, where stuffed white birds, constructed by Anne Krauss (the Tenenbaums' mother), hung from the ceiling of the room and the adjacent shaftway. Triangular set pieces on wheels, identified as "mountains" by designer Stephen Schaffenberger, dotted the space, as Madeline Best's lighting cast shadows of the birds on the walls. The Tenenbaums and Talya Epstein sang the same lyrics we heard downstairs; then Laurel Snyder joined them. Eventually the Tenenbaums left; the bird on the ceiling flapped its wings, as a couple, Peter Sciscioli and Odeya Nini, appeared. He mimed various forms of work as Nini, an extraordinary vocalist, splayed herself against a side wall. Sciscioli might have been gardening, or tending a greenhouse, as they sang a passionate, startlingly beautiful duet: "Is time made of silence? Skin? Water? Dirt? Clay?" They were joined by Snyder and Epstein in a final quartet, recounting a Connecticut flood. To attend on musicianship of this caliber, from a distance of about 10 feet, is reason enough to make the trek to Long Island City, and reason enough for the existence of this quirky operation.
Megan V. Sprenger / MVworks  in Flutter. Photo by Madeline Best. Pictured: Donna Cicchesi, Michael Ingle, Tara O'Con and Anna Adams Stark.
 
The season began with a whimper. There is dancing, and there is movement theater, and then there is standing around. Megan V. Sprenger's Flutter (September 18-21), which opened the fall season, contained altogether too much of the latter.  Sheathed in pristine white by designer Naomi Luppescu, and poised against Brad Kisicki's white gauze panels, four performers strode forward toward the viewers, diffidently, each in a private space; they moved toward contact, almost/never touching. Structurally the piece resembled Schnitzler's La Ronde, with the three women and one man changing partners. There was some heavy breathing and shrieking, but finally the action had not much follow-through, not enough charged movement to keep this viewer engaged. They flailed, and they fell into a square.
Karinne Keithley Syers is a gifted interdisciplinary artist who has had the foresight to get herself a PhD; most of Another Tree Dance (October 2-5) seemed to be a repurposing, with Sara Smith, of the materials and methods of her academic research, on the American Transcendentalist writer Ralph Waldo Emerson. She suspended a couple of carousel slide projectors from the ceiling, and occupied a pew-like seat at a little counter, holding a microphone, barefoot in dark clothing, singing to recorded music. Off to the side was an old-fashioned filmstrip projecter.  The slides, some of which contained words as well as images, included a plane and various tourist sites. The entire leisurely undertaking, which included movement as well as what can only be called an academic lecture, seemed an effort to bring us to attention, as well as transforming philosophy into poetry and dance.
Karinne Keithley Syers' Another Tree Dance. Photo by Brian Rogers. Pictured: Karinne Keithley Syers.
 
"I have been reading the same few books for six years," she declared, as the slides, as well as a set of cards distributed at the end of he performance, introduced us to a range of personnel and concepts from Emerson's writing. The longest of the season's offerings, it utterly bewitched me, and I'm still delighting in the gift of the deck of cards. She may eventually emerge as a college professor, and I envy the students who'll get to work with her.
Billed as a solo, Will Rawls's The Planet-Eaters (November 13-16) was in fact a duet with composer Chris Kuklis, who joined Rawls in clapping complex rhythms and playing patty-cake. Serbian designer Sasa Kovacevic crafted printed pajama-like suits for the two men and other elaborate garments. Spectators were ranged along one of the long walls of the incense-perfumed room; the opposite long wall was covered in pale muslin, yielding hoofbeat-like sounds under Kuklis's hands. Kuklis beat on the radiator, the wall, the furniture, and his own chair and table (home of that essential instrument, the laptop), while Rawls jogged around the rectangular space, which he had covered with resilient material to spare his joints. Kuklis banged a gong and sat cross-legged on a piece of Astroturf, strumming a guitar while Rawls performed an intricate stepdance, arms akimbo. He pranced backward and forward in a circle, maintaining an upright posture, for about 15 minutes, then stopped and stood still. He breathed heavily into a microphone, and told us a story about his adventures camping on the coast of the Adriatic, speaking in sprung rhythm and in two languages.
Will Rawls' The Planet-Eaters. Photo by Brian Rogers.Pictured: Will Rawls.
 
After about 45 minutes, Rawls changed his outfit, reappearing in a costume inspired by a Bulgarian pagan ritual. Various other changes later, the piece wound down, having lost momentum somewhere along the way. He finished doing slow Balkan steps, holding hands with Kuklis. We'd been on a journey, all right. Only the direction was somewhat unclear.
The fall season concluded with Jon Kinzel's Someone Once Called Me a Sound Man (December 4-7).  Kinzel, who's been involved in the downtown scene for a quarter-century, seemed here to be returning to performance-art roots. Barefoot, in brown pants and a tan shirt, he lay on the floor, making semaphore gestures with his arms. Slowly standing in the bare space, he moved with bent knees, executing something hovering between Trisha Brown style released movement and T'ai Chi.
Jon Kinzel's Someone Once Called Me A Sound Man. Photo by Madeline Best. Pictured: Simon Courchel and Jon Kinzel.
 
Ten minutes in, a second dancer, Simon Corchel,  entered; they shared a tentative duet, spiraling to the floor, There were hints of contact improvisation, hints of unison, before a third dancer, the young Stuart Shugg, joined them,  twisting in space, to recorded street noise, provoking a trio with flung limbs and little swivels.
Suddenly the lights brightened, and the three arranged foam panels as though they were curating a gallery show.  Kinzel attacked one of the panels with a hammer.  The other two went on arranging the rest, as though nothing had happened.  And maybe nothing had.