IMPRESSIONS: Miguel Gutierrez's "This Bridge Called My Ass" presented at The Chocolate Factory as part of American Realness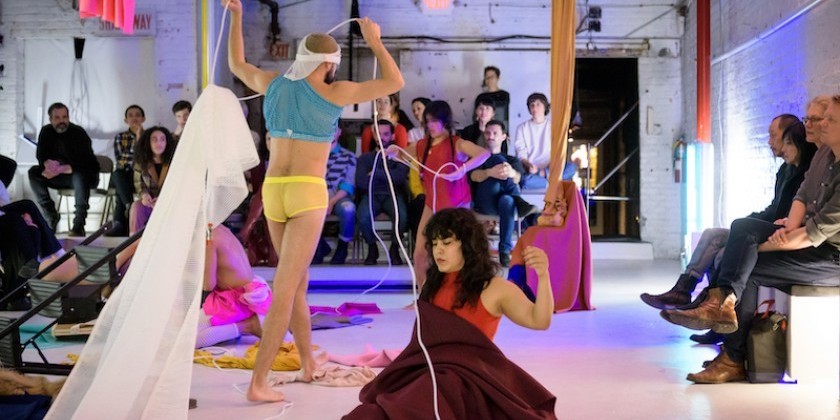 Creation: Miguel Gutierrez in collaboration with the performers: Alvaro Gonzalez, John Gutierrez, Xandra Ibarra, nibia pastrana santiago, Evelyn Sanchez Narvaez
Original music created by Miguel Gutierrez in real time music by all the performers.
Dramaturg/Assistant Director: Stephanie Acosta
Prop Design and Construction: Matthew Shalzi / Recording Engineer: Rosana Cabán
---
Cultural advancement depends on artists who push the boundaries of what we accept as fact. American Realness, a festival now in its 10th year, is dedicated to showcasing such artists. It makes sense, then, that choreographer Miguel Gutierrez, no stranger to challenging the status quo, was presented as part of American Realness at the Chocolate Factory with his latest work — This Bridge Called my Ass. The piece is rousing, hilarious, and utterly absurd, challenging my understanding of how I experience art, as both a writer and observer. It's also hugely entertaining.
In the beginning, sheaths of fabric hang from the theater's ceiling, and extension cords, fans, speakers, and overturned stools and stepladders are littered about. A cast of six — all Latinx, many partially clothed — loiter among this disjointed landscape of random objects floating on islands of colorful fabric. Amidst the chaos, the dancers muster powerful collective energy in chanting trabalenguas (Spanish tongue twisters), sometimes in unison, sometimes as call and response.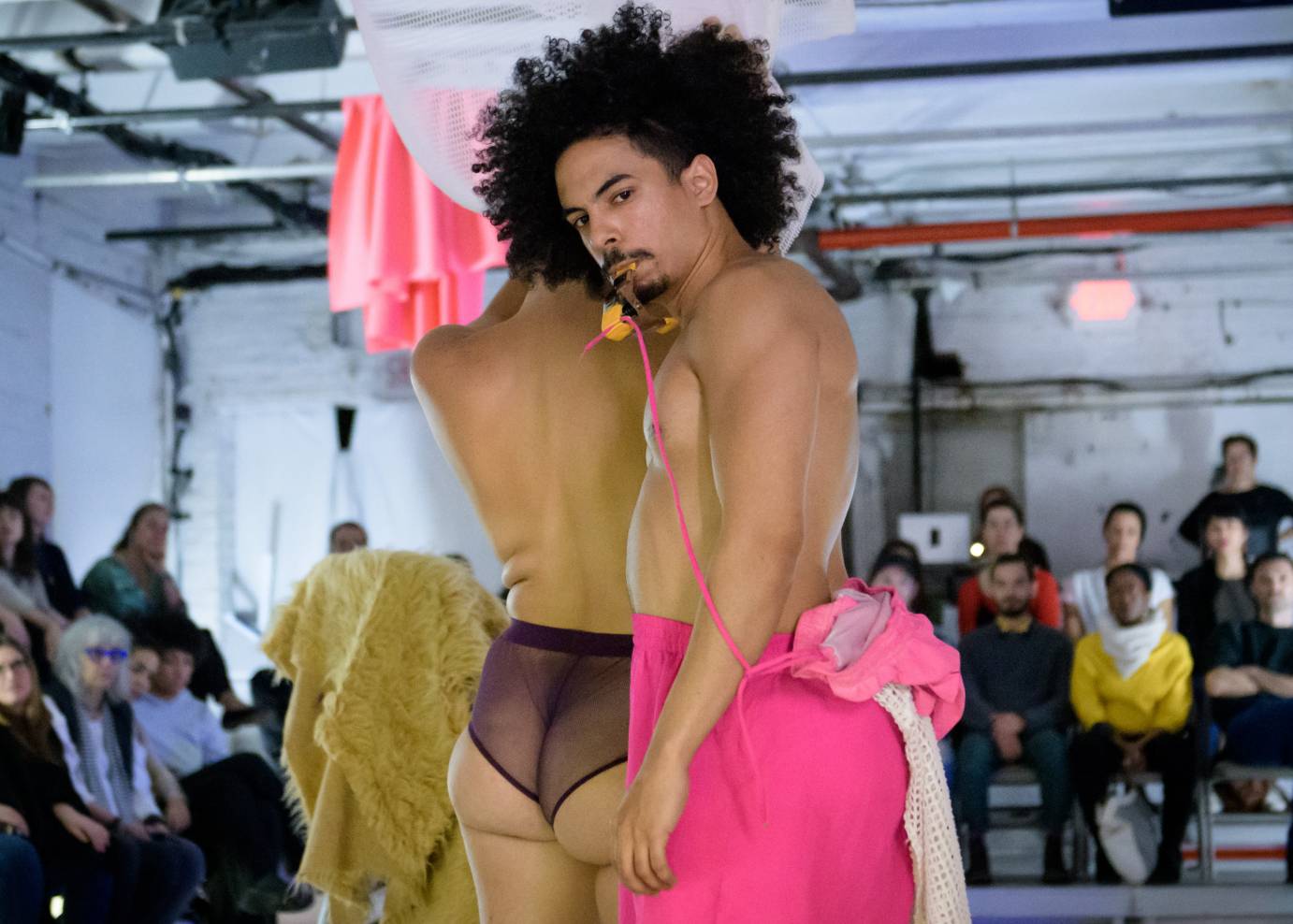 Miguel Gutierrez's This Bridge Called My Ass presented at The Chocolate Factory as part of American Realness; Photo by Ian Douglas
The performers compile and string together the detritus to facilitate moments of intimacy, with the objects and with one another. But these moments are brief and lack substance, as if the characters being portrayed are on singularly focused journeys to achieve short but instant elation. To wit, one woman uses a radio to get herself off while another grinds against a stepladder. Everyone shimmies and flirts like performers in a dystopian strip club. The sexuality is so overstated that it loses its shock factor.
At a cue unbeknownst to us, the dancers work together to clean up the room. They move objects to the sides and lay the fabric across the floor to form a colorful patchwork quilt. The effect of watching chaos collect into unity washes over me like a sigh of relief.
As if acknowledging the new harmony of the space, the dancers assemble themselves on hands and knees in a pose that mimics the image on the front cover of This Bridge Called My Back, the anthology featuring feminists of color from which Gutierrez derived his title. The gesture is vulnerable and yet resolute — it seems as though they are bracing for impact. This moment of stillness is delicate yet charged, like a teacup wavering on the edge of a table.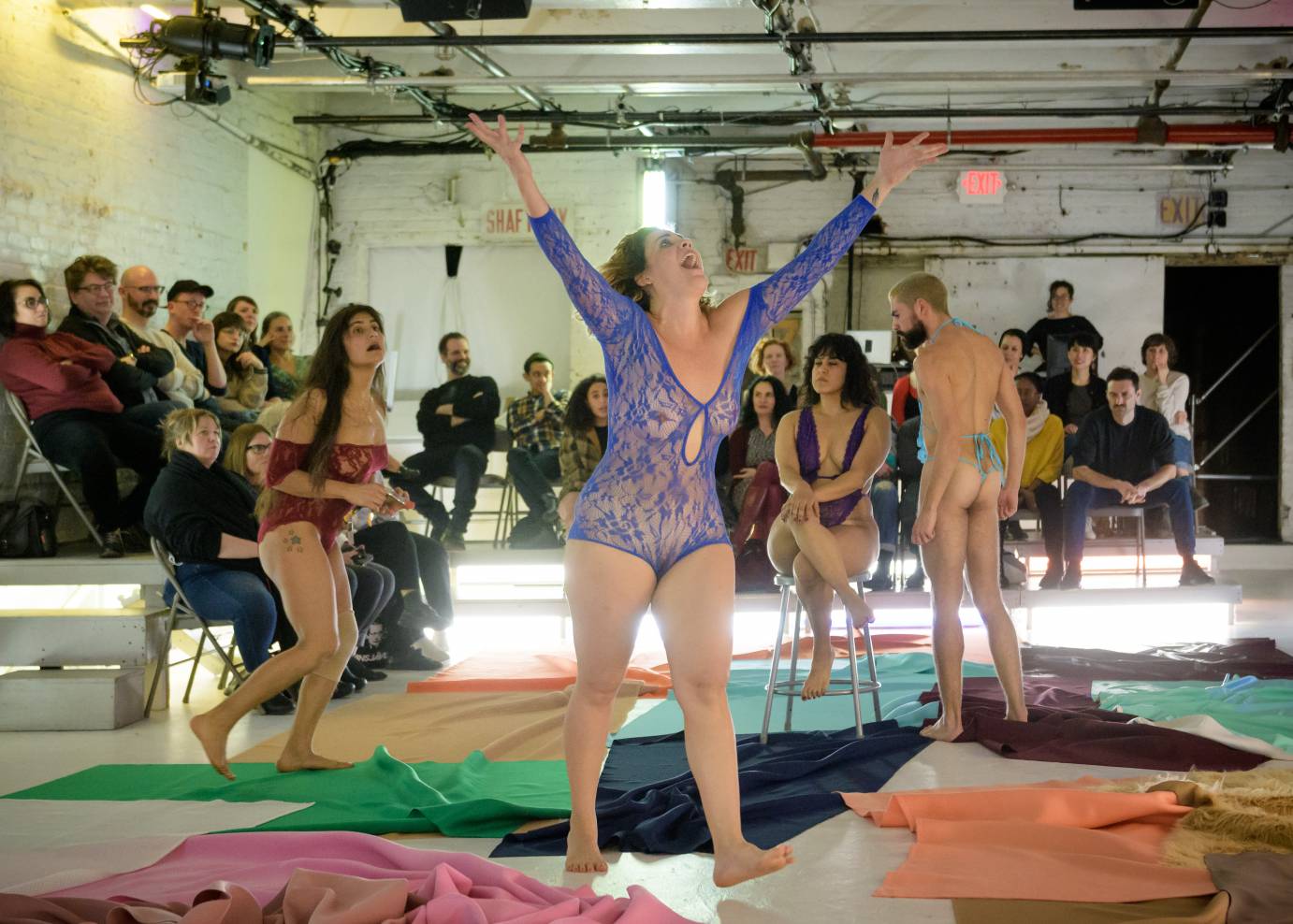 Miguel Gutierrez's This Bridge Called My Ass presented at The Chocolate Factory as part of American Realness; Photo by Ian Douglas
Then it shatters into an unruly parody of a "telenovela," or Spanish soap opera. Guttierez plays the confused observer, trying to piece the facts into something logical. But the skit defies all logic — during the melodramatic ending, the character Xandra shoots everyone including herself. In a post-apocalyptic finale that leaves us with more questions than answers, the dancers "rise from the dead." They gather around a tiny statue of a Dog Deity, which is, hilariously, constructed from the clamps previously used to hang fabric.
This Bridge is the kind of show that gathers in complexity and intrigue as it marinates in my head during the days following the performance. While the work can be generally categorized as abstract, it also must speak differently to audience members based on their cultural background and life experiences. While we all feel the power of the collective chanting, would I experience it in a deeper, more contrasting way if I spoke Spanish?
Miguel Gutierrez's This Bridge Called My Ass presented at The Chocolate Factory as part of American Realness; Photo by Ian Douglas
In his essay "Does Abstraction Belong to White People?" Gutierrez argues that for performers of color, who wear their cultural background in a way that is outwardly visible, to remove context is impossible. A white person can be a blank slate, because whiteness doesn't communicate anything specific to an audience member. Instead, it's just the norm. 
This piece emphasizes that art doesn't have to be categorized as abstract or content-filled: it can be someplace in the middle. While I leave This Bridge with more questions than answers, it is out of that muddy feeling of confusion that the seeds of new understanding are sewn.
---
The Dance Enthusiast Shares IMPRESSIONS/our brand of review and Creates Conversation.
For more IMPRESSIONS, click here.
Share your #AudienceReview of performances. Write one today!