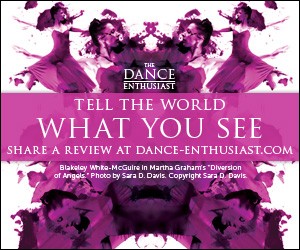 Related Features
Impressions of Molly Poerstel and Alex Escalante
Curated by Donna Uchizono
Gibney Dance 280
December 5, 2014
---
Choreographers Alex Escalante and Molly Poerstel put free will to the test in the December 5th DoublePlus Series at Gibney Dance. Under the guidance of curator, Donna Uchizono, each dancemaker worked to build dances that challenged both the performers' emotional boundaries and physical capabilities.
At the onset of his solo, Venado, Escalante peers into the eyes of each viewer. The gesture, warm and sincere, silently welcomes the audience to witness his "theatrical version of a ceremonial dance performed by the indigenous tribes of northern Mexico." We learn in the evening's post discussion that Venado is a structured improvisation in which the soloist had the agency to pause and reset at any point. I appreciate the risk and vulnerablity of Escalante as he invents on-the-spot, allowing his spirit to drive his dance.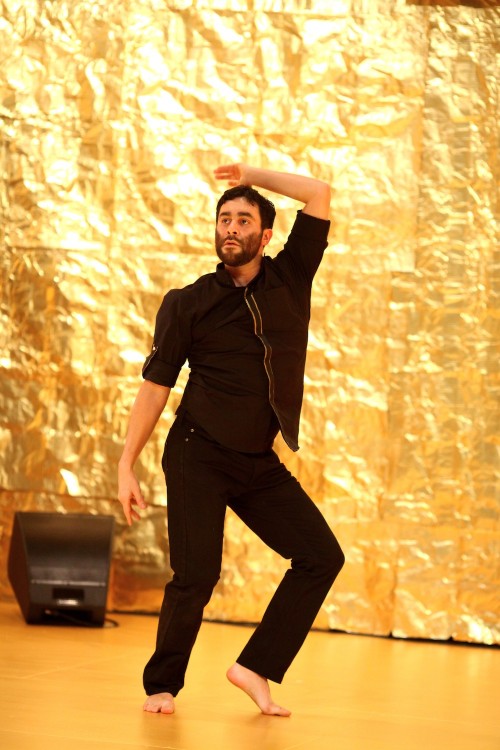 Alex Escalante. Photo: Paul Court.
Though Escalante creates a beautiful, tranquil environment, Venado lingers in a meditative state. It's a great relief when the artist revs up his internal rhythm and transforms into a powerful presence. Forcefully raising his hands to his forehead, creating a crown with his fingers, the dancer becomes a hunter about to kill its prey. Later, after a bout of tense arm stretches and percussives stomps that appear to rattle the earth beneath him, Escalante pounds his fist to the floor. His chest rises and falls in exhaustion as he collapses in a heap. Escalante is bewitching when he exudes brutish physicality, but, his untamed dynamism disappears before we can savor it.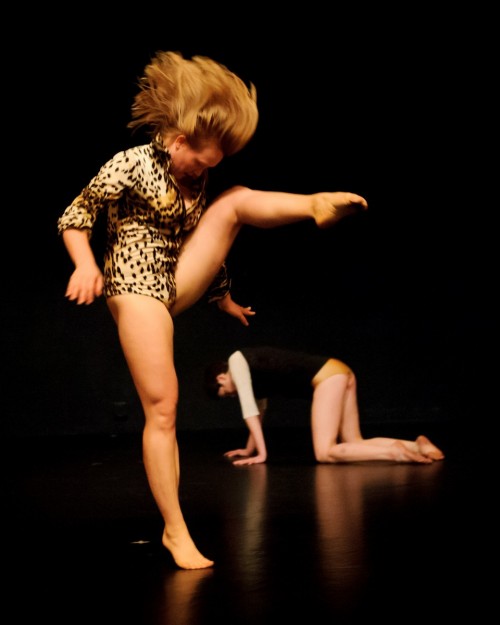 Molly Poerstel and dancers. Photo: Ian Douglas
In contrast to the intermittent stops and starts of Venado, stolen ground is a relentless beast for Poerstel's dancers Alice MacDonald and Mary Read. The polyrhythmic score demands precision and constant vigilance from the dancers -- only allowing them to catch their breath for brief moments throughout the 25 minute work. Their black oxford shoes slap and swish as they stride elephantine-like around the stage in a grid-like pattern. Their awkward, bowed gaits and leather and fringed tops, conjure images of deranged, albeit captivating, dominatrix cowgirls.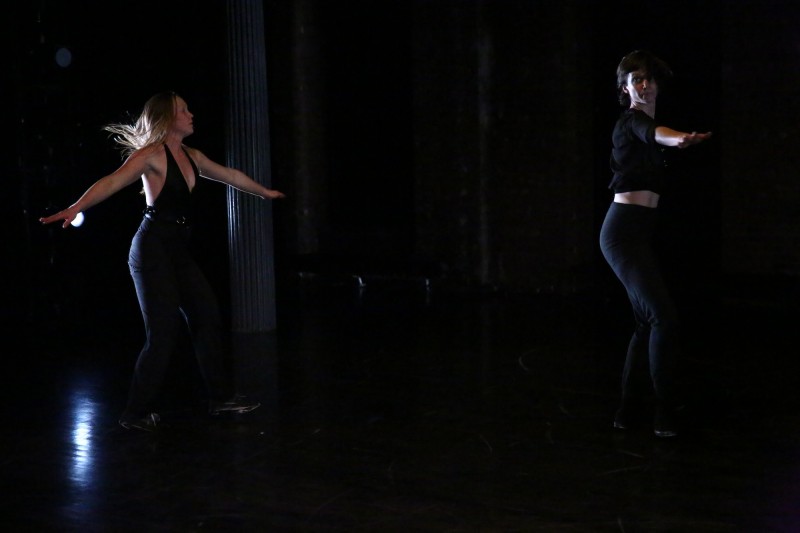 Alice MacDonald and Mary Read in stolen ground. Photo: Paula Court
From a hidden corner offstage, Poerstel musically contributes to the recorded score by banging together to-go containers, plastic cups and cds. As the sound and dancing swells in volume and complexity, it becomes clear that that there is no way out for the performers - only Poerstel has the power to release them. Perversely provocative, stolen ground's destructive and sadistic tone reveals the tyrannical nature of dance making.
Venado and stolen ground work in tandem, vividly illustrating the extremes of being in and out of control. Together, Poerstel and Escalante question: When in dance making is enough is enough?