Related Features
Contribute
Your support helps us cover dance in New York City and beyond! Donate now.
IMPRESSIONS: NIC Kay's "[GET WELL SOON] you black + bluised" at Abrons Arts Center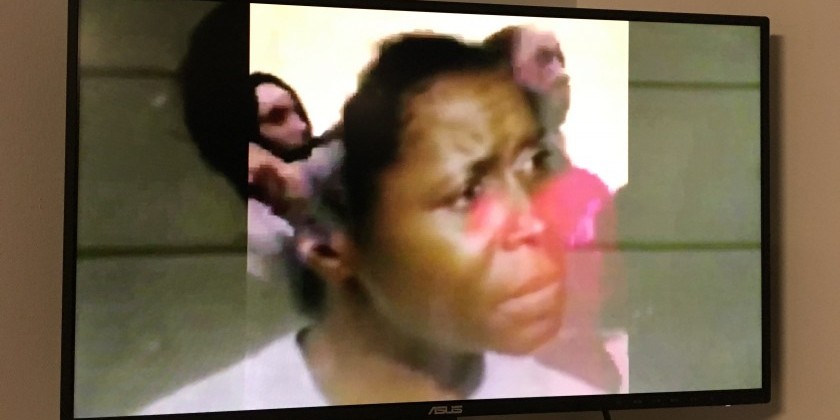 May 23-25, 2019
Cast: Aye Eckerson, Bri Frei, Katrina Reid, Stanley Gambucci, Trinity Bobo, Aviva Jaye, NIC Kay, Morgan Johnson, Jonathan González, Yunique Palmer Saafir, Autumn Knight
---
The transdisciplinary artist NIC Kay uses the expression "get well soon" as the jumping off point for their latest work, a triptych of hour-long performances that unfold over three days. Site-specific in nature, the world premiere of [GET WELL SOON] you black + bluised uses the brick-and-mortar architecture of Abrons Arts Center as its setting. Taken as a whole, the work reflects upon othering, the concept in which certain groups like Black and queer are positioned as different from and inferior to the mainstream.  
The first piece, Prayer, occurs in the outdoor amphitheater several hours after a downpour. The sky dusky, the air sultry, showgoers recline on cushions as curious onlookers observe from the sidewalk for what feels like a spontaneously deconstructed church service.
Around us and in the midst us, people come to life. Situated on a low balcony, a singer intones, "have mercy." The lyrics I scrawled down point to Moses Hogan's "Hear My Prayer" — an original a cappella spiritual. A sound artist loops and layers the singer's voice to make music so you rich and thick you could eat it.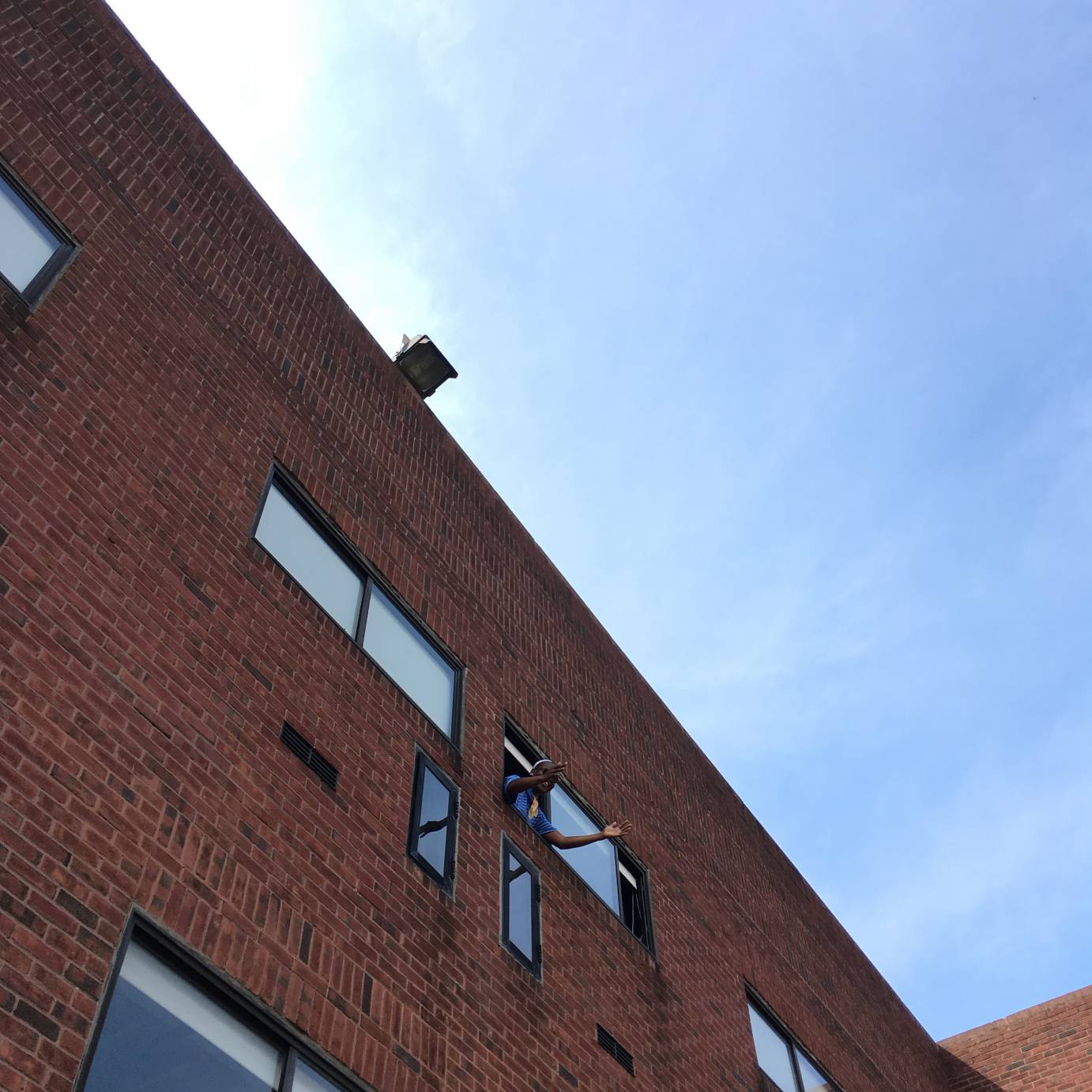 Photo by NIC Kay
In the audience, Trinity Bobo, attired in a fancy blue dress, dons bracelets and reposes on a giant Styrofoam hand. Three performers file in, a finger pointing upward, as an older woman gazes out a window, several scarves knotted together dangling below her. Behind me, a man marches with cymbals, first held apart noiselessly; later, he clangs them together with ear-piercing precision.
The cast becomes restless, then fevered, as they pulse and bounce. "Pray for yourself," admonishes the woman in the window to a young man. Music sounds — hip-hop, piano — before, gradually, the agitation eases. Have they experienced catharsis? Maybe. Momentarily.
Protest, the middle and most starkly drawn part of the triptych, features Kay in a baggy Glen plaid suit orating in the Underground Theater. They could be a politician, a pastor, or a union organizer, the language that resonates from behind their podium rabblerousing in its vagueness due to the proliferation of pronouns. "WE are afraid of THEM because we are afraid they are US," Kay states as they drill their eyes into the crowd. It feels impossible not to personalize us and them into concrete categories of who us and them are to me and you.
Midway through, Kay directs the audience to move to the performing space as they and an audience member relocate to our area. We need a change, Kay explains. The duo piles our bags and water bottles onto a side table as we shuffle in place. Us and them have switched places, but has that switched us into them?
A line is drawn, first with words, then physically. Kay links together velvet-roped stanchions, the kind that stands outside nightclubs and galas, separating the chosen few from the hoi polloi. Perhaps, between the first and third point of view, demagoguery lives in you — the second person.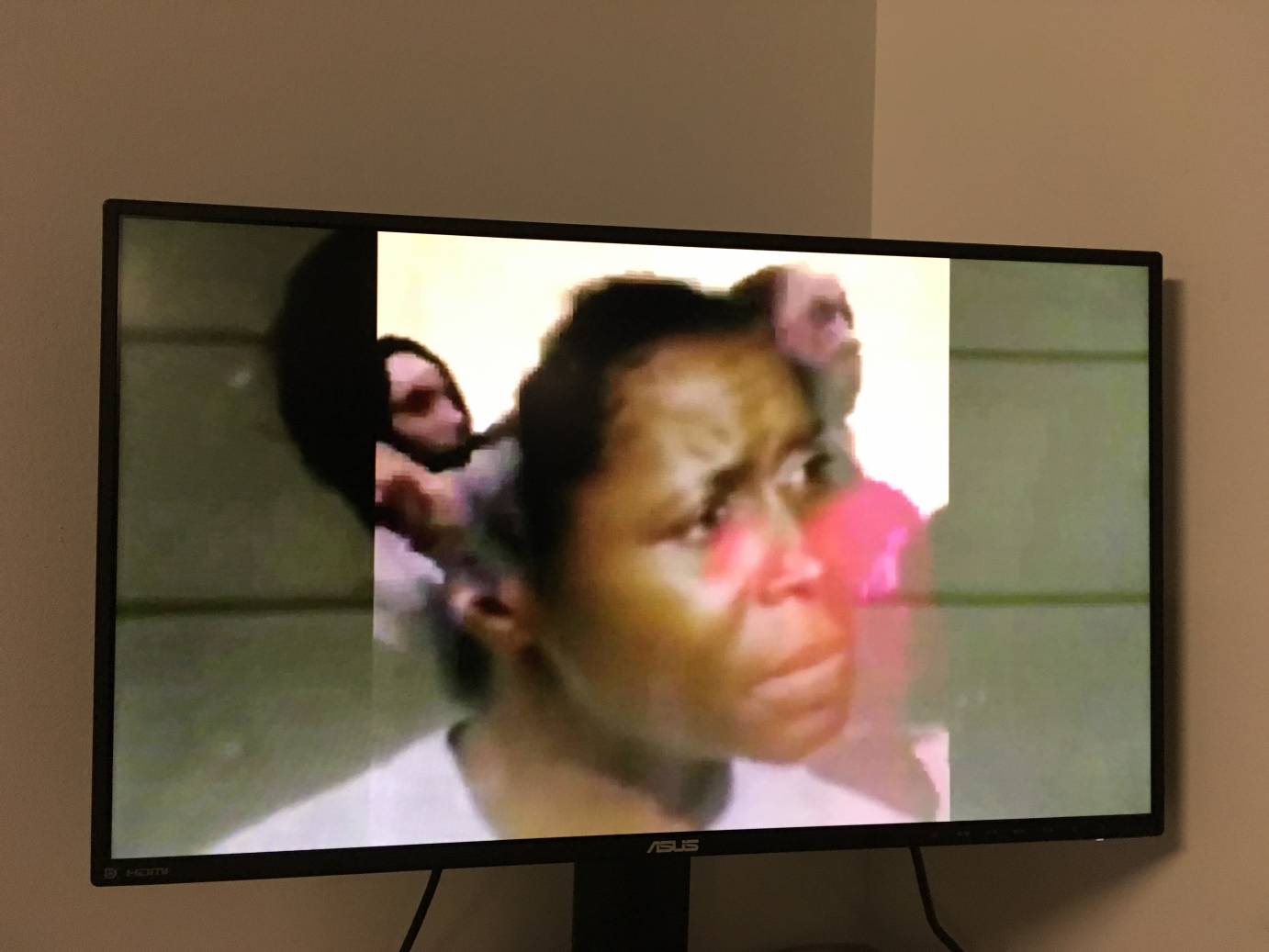 Photo by NIC Kay
A Pieace, the last portion of [GET WELL SOON] you black + bluised, is a private experience. A video link live for two hours was emailed to audience members to watch on the screen of their choice. The film opens with a medley of videos: Victoria Santa Cruz's "Me Gritaron Negra," a four-paned video of Whitney Houston singing "I Loves You, Porgy," and poet Nikki Giovanni's "When I Die," among others.
The focus shifts from past artworks to what functions as both a piece and a rehearsal of a piece. In a black-and-white shirt, Autumn Knight stares at the camera, blinking and checking her phone. Later, she recites lyrics from Billie Holiday's "All of Me" as she acts it out, pretending to yank out her eyeballs and throw them away. Off-screen, Kay's voice gives instructions. Try to make it like you're talking to a friend, they say.
The video ends with the audio from Color of Fear: What It Means to be American. Presenting a conversation among white, Black, Asian, and Latino men, the 1994 documentary by Lee Mun Wah packs a powerful punch in 2019. It makes me wonder — how will anyone get well soon in this world where the past is still the present.
---
The Dance Enthusiast Shares IMPRESSIONS/our brand of review and Creates Conversation.
For more IMPRESSIONS, click here.
Share your #AudienceReview of performances. Write one today!