Related Features
Contribute
Your support helps us cover dance in New York City and beyond! Donate now.
IMPRESSIONS: Nederlands Dans Theater at New York City Center with Choreography by Gabriela Carrizo, Marco Goecke, Sol León, and Paul Lightfoot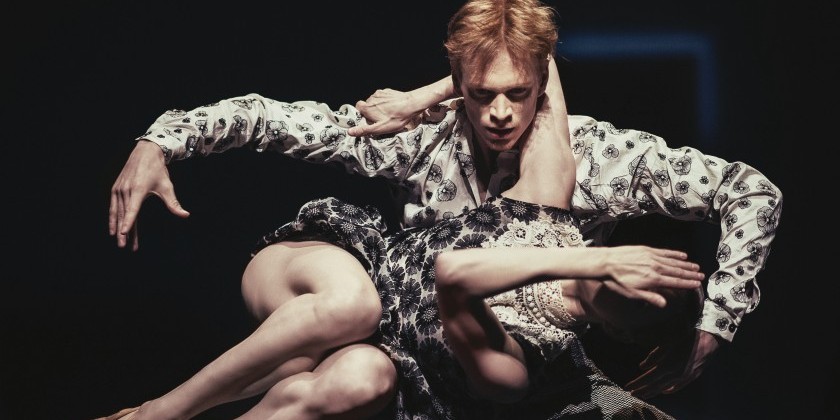 March 4th, 2020
Artistic Director and House Choreographer: Paul Lightfoot
Choreography: Gabriela Carrizo, Marco Goecke, Sol León, Paul Lightfoot
Performance: Nederlands Dans Theater
---
Nederlands Dans Theater, based in The Hague, is revered for its innovative and often multidisciplinary work, performed by some of the world's most versatile dancers. The troupe is celebrating its 60th anniversary with a world tour, which includes a weekend at New York City Center. The program showcases three thematically similar works that focus on the human subconscious and the juxtaposition between the seen and unseen. The pieces are visually stimulating, yet they also aim to be substantive and thought-provoking. They succeed at the latter with varying degrees.
Gabriela Carrizo's the missing door; Photo by Rahi Rezvani
In Gabriela Carrizo's the missing door, normal scenarios soon twist and distort into a nightmarish reality. Based on the photography of Gregory Crewdson, whose work is inspired by eavesdropping on his psychologist father's sessions, thoughts come to life in a universe reminiscent of a Hitchcock movie. The walls shake violently, and an interrogation spotlight follows dancers.
The opening scene evokes a bar at closing time — one man is passed out in a chair, and another lies facedown on the ground. A loosely developed murder mystery unfolds as characters cycle on and off the stage. They engage in benign tasks like buttoning a shirt or reading the paper, which go awry as their inner monsters come to life.
Gabriela Carrizo's the missing door; Photo by Rahi Rezvani
Shoes and feet are thematic throughout. One woman walks in pumps only to find the heels collapsing under her, and another paces on the tops of her feet. Moments of slapstick humor appear, such as when a man is shocked by a volt of electricity only to stand up and get hit by the door. Like physical theater, the dramatic content drives the choreography, so only a few full-on "dance" moments occur.
Two intersecting walls make up the set, with three doors in the downstage wall and two doors on stage right (perhaps the impetus for the title "the missing door"). At times, the space is a literal representation of a room while, sometimes, it seems to embody a mental space where the darkest depths of the human psyche reside.
Gabriela Carrizo's the missing door; Photo by Rahi Rezvani
After the curtain descends, each dancer takes a solo bow while remaining in character. It's as if they're pausing to briefly acknowledge the audience, reinforcing that the work continues beyond what is visible.
Initially mysterious and enticing, the missing door loses its intrigue as the string of non sequitur tableaus unravel into surrealist self-indulgence. Because of its theatrical nature, I want to uncover some plot or through-line. But when no pattern or story could be deciphered, the mystery feels like a gimmick.
Sol León and Paul Lightfoot's Shut Eye; Photo by Rahi Rezvani
Related in both theme and visuals is Shut Eye, choreographed by Sol León and Paul Lightfoot. Here, a single door at center stage delineates the seen and unseen — sounds and silhouettes from behind the door allude to the action that transpires in this cryptic unknown.
The piece opens with a dark-clad woman, her face painted white, dancing alongside a bare-chested man, their expansive movement contrasted by tiny gestures. Once again, characters emerge: a woman in a patterned dress, a man in business attire. Three dancers in all-black distinguish themselves from the pedestrian-clad ones, perhaps as literal representations of their inner psyches.
Sol León and Paul Lightfoot's Shut Eye; Photo by Rahi Rezvani
Shadows and light are motifs throughout. A full moon hangs in the sky, and a giant shadow represents different figures — a woman sitting, a man standing. The shadow eventually reverses to a white on dark background.
While the enigma originally draws us in, Shut Eye, like the missing door, begins to ramble, losing sight of any plot or through-line. However, the work stays afloat thanks to the stunning movement and the dancers' captivating performances. 
Marco Goecke's Walk the Demon; Photo by Rahi Rezvani
Marco Goecke's Walk the Demon is more abstract and mature. As the title suggests, humans walk alongside their inner demons, an elegant premise that serves as a powerful unifying concept.
Dancers transition between man and beast. Fast foot movements and sharp arm gestures accompany soulful music. Statuesque poses oppose grounded weight shifts and guttural shrieks, perhaps representing civilization and primitivism. In one instance, a man pounds on his chest, gently at first before the gesture builds, holding us rapt.
Marco Goecke's Walk the Demon; Photo by Rahi Rezvani
Two puffs of steam, the only suggestion of a "set," hover over the stage, morphing and dissolving, like an ethereal heaven. In an incredible image, the dancers cinch rows of upstage dark curtains, and steam cascades through. A slinky figure faintly registers several times on the dark stage, as though personifying the beast that exists within us — even in our most civilized moments. This figure ultimately reveals itself to be a gorilla. 
Two men obsessively stutter curse words at one another, rain and machine guns sound, and the men embrace as the lights go out, a delightful if abrupt ending.
Simplicity prevails tonight; the work with the least distracting elements resonates the most.
Marco Goecke's Walk the Demon; Photo by Rahi Rezvani
---
The Dance Enthusiast Shares IMPRESSIONS/our brand of review, and creates conversation.
For more IMPRESSIONS, click here.
Share your #AudienceReview of performances. Write one today!
---
The Dance Enthusiast - News, Reviews, Interviews and an Open Invitation for YOU to join the Dance Conversation.