IMPRESSIONS: Neil Greenberg's "To The Things Themselves!" at the Chocolate Factory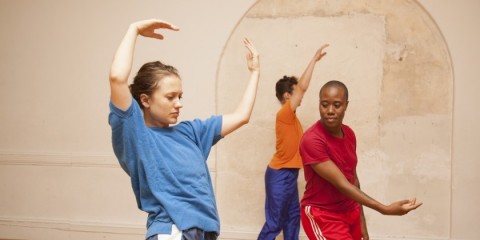 December 8th, 2018 at 8 p.m.
Choreography: Neil Greenberg
Sound Design: James Lo
Lighting Design: Michael Stiller
Performed by: Neil Greenberg, Michael Ingle, Kyli Kleven, Omagbitse Omagbemi 
---
The Chocolate Factory Theater, home to many experimental performances over the years, fits perfectly into Long Island City. This industrial neighborhood in Queens hides many cultural gems in its folds. But the area is changing. Amazon is coming, and the venue for post-modern innovation is moving into a new, larger space in 2019. It seems appropriate that Neil Greenberg, a revered dancer and choreographer known for his anti-narrative work, would be one of the last to bid the old space adieu. His latest, Of the Things Themselves, explores our ingrained desire to derive meaning from art.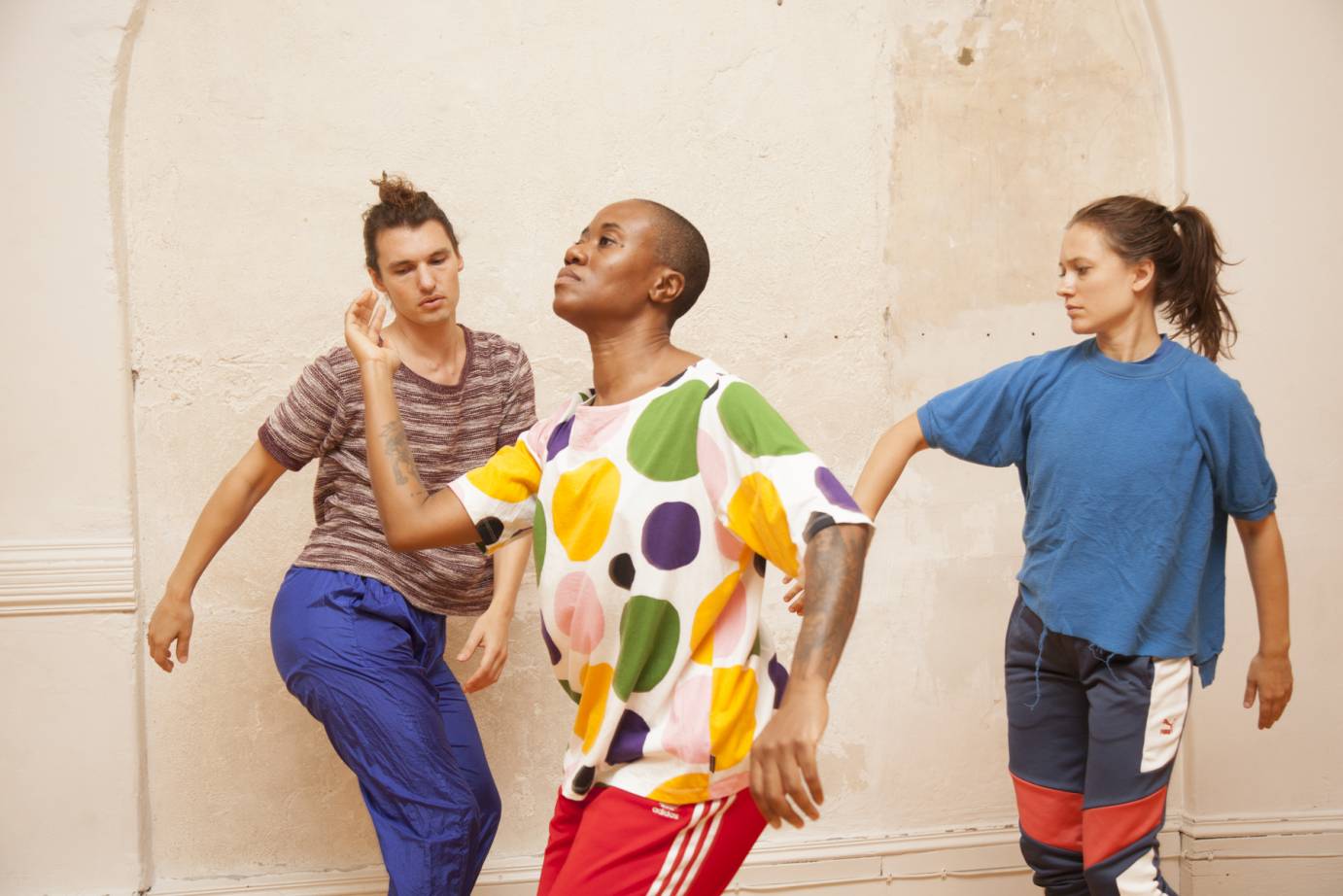 Neil Greenberg's To the Things Themselves! at the Chocolate Factory; Photo by Frank Mullaney.
The show begins with a solo from Greenberg himself, who hasn't seemingly aged since he taught my freshman improvisation class at SUNY Purchase in 2006. He sports a Fu Manchu mustache and a green tracksuit with two stripes across the chest. These reflect his parallel positions and the piece of plywood he linearly carries. This plywood nods toward recognizable forms — a baton, an oar, a saddle, a weapon — before shifting and morphing.
The movement does the same. The balletic lines of Merce Cunningham (Greenberg danced for him for seven years) are intercepted by hip circles, booty shaking, pantomimed ballet steps, and mundane gestures, like waving goodbye.
Greenberg leaves to return with a shiny blue pole, an upgraded version of the plywood prop. He lies on his back with the pole upright. He stares up at it contemplatively before exiting.
Neil Greenberg's To the Things Themselves! at the Chocolate Factory; Photo by Frank Mullaney.
Next, Omagbitse Omagbemi, Michael Ingle, and Kyli Kleven enter one by one, all costumed in versions of the casual tracksuit. Each has a unique, perfectly tailored movement vocabulary. Omagbemi is particularly entrancing in her snake-like sensuality. Little physical contact materializes among the dancers — they seem intent on their personal exploration, yet are companions within the whole.
Gestures reoccur: a raised arm, a wave of the hand, an overhead lasso move. Every action is so intent and committed that it feels meaningful, even if it lacks a universally encoded message. Ingle punctuates a recorded woman's monologue in Russian with probing finger gestures. The woman's voice and accompanying piano music speed up to create a funny dance of words, music, and movement. When a moment of unison tempers the chaos of Ornette Coleman's "Eventually," the partnership is refreshing and delightful.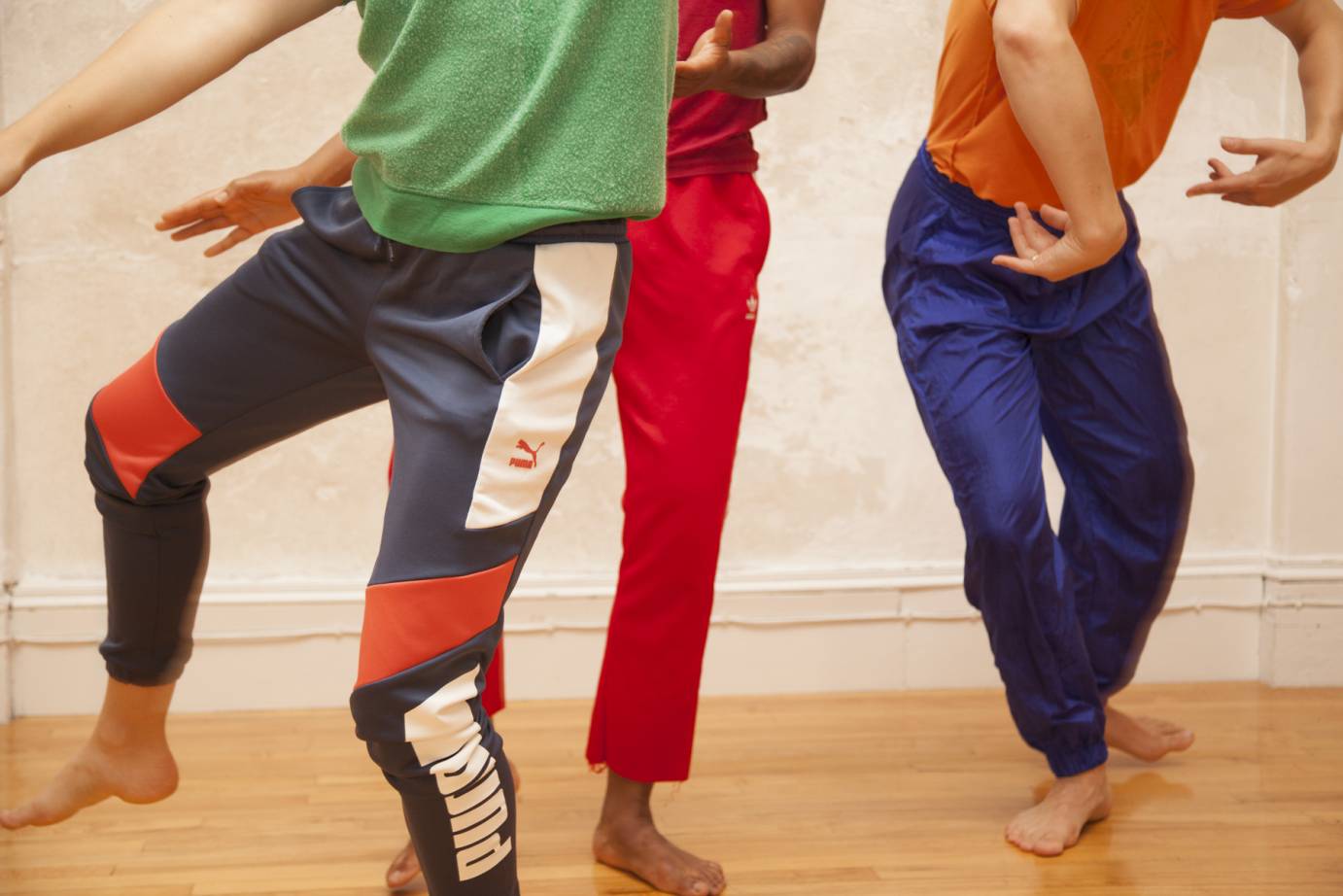 Neil Greenberg's To the Things Themselves! at the Chocolate Factory; Photo by Frank Mullaney.
The audience surrounds the action on four sides, sometimes just inches from the action. On occasion, the dancers nudge us out of our comfort zones by entering our personal space. When Omagbemi reaches across the first row to hold a microphone toward my lips, I am startled. Is this an abstract gesture, or am I supposed to do something?
The word "things" in the title might refer to the objects that appear throughout: a water bottle, a microphone, a piece of plywood, a blue pole, and a wooden duck. These objects are manipulated to highlight their potential for functionality and representation. But the word also takes on a deeper meaning, alluding to the things that we (intentionally or unintentionally) use to derive meaning from a piece of work, such as the music, the lighting, the costumes, and the relationship among the dancers. Is it possible to make a dance about nothing?
Neil Greenberg's To the Things Themselves! at the Chocolate Factory; Photo by Frank Mullaney.
Throughout the work, I am acutely aware of myself watching and processing. While certain gestures are universally decipherable, other elements hold significance for only me. For example, Ingle's red-and-white costume reminds me that today is the dreaded "SantaCon." To The Things Themselves suggests that, while it is almost impossible to make a dance about nothing, a dance can mean something different for every person watching. 
---
The Dance Enthusiast Shares IMPRESSIONS/our brand of review and Creates Conversation.
For more IMPRESSIONS, click here.
Share your #AudienceReview of performances. Write one today!