Related Features
Advertise With Us
Make an impression — place an ad on The Dance Enthusiast and receive thousands of eyes on your work every week. Learn more. 
Contribute
Your support helps us cover dance in New York City and beyond! Donate now.
Impressions from Las Vegas: A Choreographer's Showcase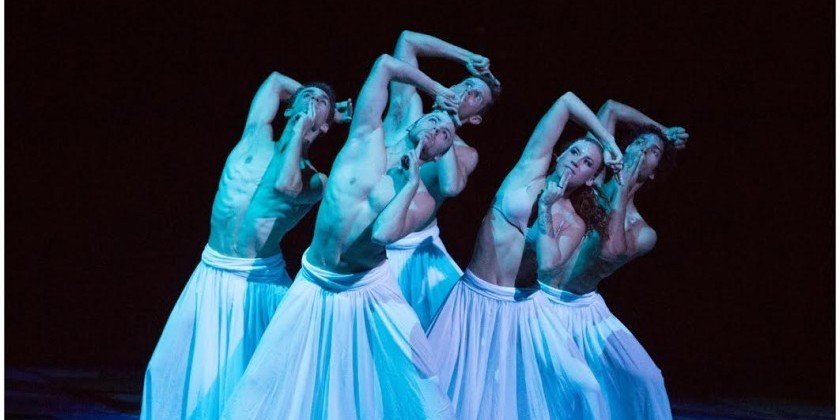 Presented by Nevada Ballet Theatre and Cirque du Soleil
The Mystère Theatre, Treasure Island
Las Vegas, Nevada
October 26 and November 2, 2014
Dancers: Artists of Nevada Ballet Theatre and Cirque du Soleil
---
Walking into the Mystère Theatre, one feels that an adventure is about to unfold. The semicircular rows of house seats descend toward a thrust stage, preparing the audience for a more three-dimensional experience. The ceiling is decorated, appearing as a blend of billowing ship sails and ancient map details. Upstage, fragments of projection material are pieced together to create one large surface which is used throughout the performance to display individual work credits.
A Choreographer's Showcase brings together the dancers of the Nevada Ballet Theatre (NBT), and artists of Cirque du Soleil. A partnership that had its inception seven years ago, the collaboration serves to discover the creative potential of blending the two companies, and to feed the arts culture of Nevada. This season showcased eleven short pieces by new and returning choreographers from both camps.
The heart of the evening was childlike imagination, appropriate, as the project supports NBT's youth program, Future Dance. Each year, some of the proceeds go toward this outreach program, and the students are often involved in the production. This season, twelve of the young dancers participated in the performance. Garbed in white, they appeared on stage and in the house between each piece, walking through or sitting in the space while sketching on notepads. They carried the audience through the night -- their presence indicating curiosity and abundant creativity.
 Kent Caldwell's Arratu (Cirque du Soleil)
With such playful elements at work, it is only fitting that the dances took one on a dreamlike journey. From the ugly duckling vignette of Tyrell V. Rolle's The Green Flamingo, to the marionette manipulation of both stilted creature and young girl in Kent Caldwell's Arratu, the night was tinted with whimsical spirit and technical virtuosity.
The ballet dancers and cirque artists were well matched, each bringing their own aesthetic to the individual works. In some cases their talents were juxtaposed, as in Caroline MacDonald's Reynadine, wherein one male was set against five women en pointe. The audience first encounters a seemingly innocent duet between the lone Bill May and one of the women. The two approach each other with caution, and as they become more comfortable, they begin to engage in a balletic pas de deux. She was dressed in a maroon cropped top and skirt, and he had been transformed into a werewolf with a neutral unitard and face paint. Throughout, May displays a liquid spine, seamlessly falling into twisted, contortion-like maneuvers. His back functions with incredible clarity, sending never-ending spirals through to his wrists.
After the duet, the other four women emerge and begin to fall under May's spell, signified by their repetition of his movements. As they continue with an assortment of pointe work, small jumps, hip swings and such, he weaves through, drawing each girl into a turn or lift. A score with English folk themes plays a hypnotic tune as May's character lures the women further along the stage, only fading with the lights while the dancers continue to move.
Braeden Barnes's Wes & Lee  (NBT)  
Being in Las Vegas, the production elements did not disappoint. The theatre sported lights from all edges of the color wheel for the choreographers to choose from; each piece was bathed in various colors, adding to the theatricality of some of the work. Costumes varied from elaborate tropical unitards to grayscale rehearsal-wear. Some of the choreographers made use of the rotating stage. This was especially striking in Falling, choreographed by Tori Lubecki. Two male-female duets opposing in ideology stayed on this circle for the duration of the piece. Lubecki, exploring relationships, chose one couple to represent painless, blissful love, and the other to signify violent, strained bonds. The dancers, men in jeans and black tops and women in dark dresses and pointe shoes, executed skillful partnering. Between sweeping lifts and finger turns the narrative was carried by gestural work. One couple tended toward more affectionate gesticulation, the other's movements were more jarring, including a well-timed slap to the face. Intermittently the stage rotated, marking the passage of time and giving the audience a sense that these two duets could be different facets of one story.
A Choreographer's Showcase gives many chances: for the artists to collaborate and discover further reaches of their potential; for budding choreographers to fully realize pieces; for returning choreographers to flesh out new ideas; and, for younger dancers to engage and become inspired by their more seasoned peers. Hopefully this forum will continue to provide opportunities for artists of all ages and genres of movement.
Choreographers included:
Tyrell V. Rolle - "The Green Flamingo"
Tori Lubecki - "Falling"
Alan Medina Narvaez and Lourdes Cuadrado Cruz - "Labertino"
Caroline MacDonald - "Reynadine"
Jenn Stafford - "Won't Forget"
Vanessa Convery - "The Song is Ended ... But the Melody Lingers On"
Braeden Barnes - "Wes and Lee"
Mary LaCroix and Greg Pennes - "Cell la Vie"
Kent Caldwell - "Arratu"
Ryan Johnson - "Urban Jungle: The Village"
Caine Keenan - "Spinning Out of Nothingness"