IMPRESSIONS: Never Before Never Again at Triskelion Arts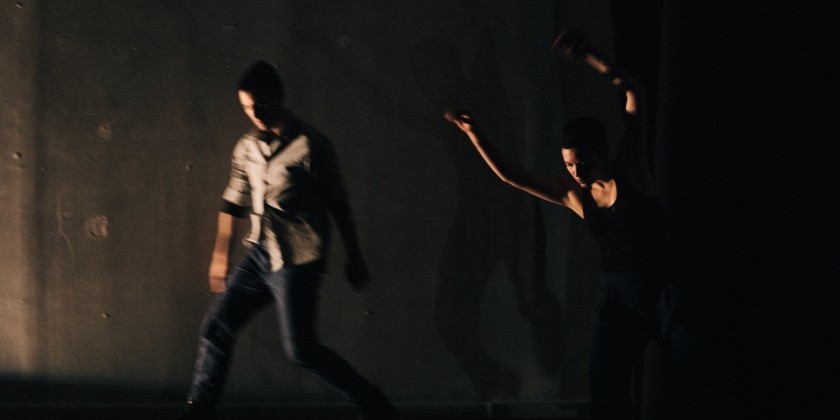 January 10, 17, 24, 2019
Dancers: Asumi, Warrior Poets Hannah Wendel, Elia Mrak, Yiannis Logothetis, Stephanie Saywell & Helen Wicks, Courtney Colon & Lianna King, Nicole Wolcott, The Lovelies, Diana (sans Limites), Zaybra, Sarah Chien, Luther Bangert,
Musicians: Jason Mears, Matteo Liberatore, Sean Ali, Carlo Costa, Omar Zubair, Ninicom, Henry Chevert
---
In Triskelion Arts' three-week improvisation festival, Never Before Never Again, freedom, along with mindfulness and empathy are embraced.  Highlighters: The Warrior Poets (notably Yiannis Logothetis), Nicole Wolcott, Luther Bangert, Sean Ali, and the series curator herself Rachel Mckinstry, make us feel the glee of their adventure and creative logic. They share their corporeal discoveries with a spirit of generosity. Wolcott has the wild edge and invention of Jimi Hendrix, while Mckinstry flutters like a multi-petaled flower. The Warrior Poets, Logothetis, Hannah Wendel, and Elia Mrak, gambol with affection for each other and the potency of each moment. Sean Ali played his bass as though it was a barn door whose hinges were tuned to open and close one's mind. Bangert juggles with a fluidity and grace rarely seen.
Picture of Nicole Wolcott, one of the participants at Triskelion Arts' Never Before Never Again; Photo by Whitney Browne.
Never Before Never Again artists are invited to explore the unexpected, to tread the path least traveled. Zaybra, on her stomach, moved as slowly and erratically as a turtle whose shell had been replaced with a plant. Patrick Ferreri directed the memory of the audience, by posing the emotion of desire. "What comes to mind?" he asked. He gathered words on stickies from the audience and danced around briefly as he placed them on the floor. Many other performers explored dance with text. Too often, citing the text seemed to silence the dance.
The festival also hosted improvisation workshops: Mrak's Contemporary Cypher; The Lovelies' BE MOVED TO EMBODY DEMOCRACY. Laurel Snyder's "Who is this body?."
Hannah Wendel, one of the participants at Triskelion Arts' Never Before Never Again; Photo by Holly Sass.
Few obvious rules seemed to rein in this year's participants. In Never Before Never Again, a flamenco or jazz artist might feel out of place, or a hip-hop dancer, accustomed to the adrenaline of "the battle," the thrill of topping the other performers' virtuosity, might be lost in the laid-back atmosphere. While the bar(re) might not be set high, or even exist in this festival, how great that a dog-eat-dog town like NYC can hold this type of noncompetitive event designed to stoke curiosity and a love of play.
---
---
The Dance Enthusiast Shares IMPRESSIONS/our brand of review and Creates Conversation.
For more IMPRESSIONS, click here.
Share your #AudienceReview of performances. Write one today!