IMPRESSIONS: The Liberty Hall Dance Festival at Kean University in New Jersey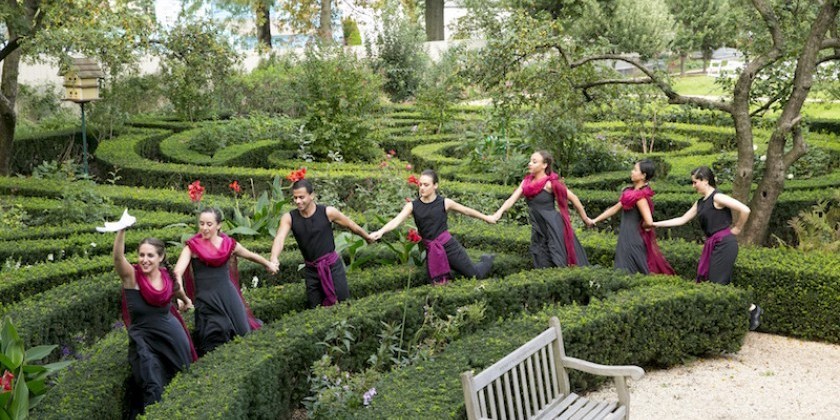 September 29, 2018
Companies: Academy for Performing Arts, Armada Dance Company, Bryce Dance Company, Buggé Ballet, Carolyn Dorfman Dance, Cranford High School, Contre-Tendance, Dance Visions NY, General Mischief Dance Theatre, Kaoru Ikeda/MoustacheCat Dance, The Kennedy Dancers Repertory Company, Luminarium Dance Company, The Moving Architects, Schoen Movement Company, Yamina Kalluri
Pictured above: General Mischief Dance Theatre
---
The first rule of Elmore Leonard's "10 Simple Rules for Writing" states: "never open with the weather." With all due respect, I'm opening with the weather. 
It was a perfect fall day where the sunbeams caressed but didn't scorch. The intensity of summer had faded, yet the siren call to celebrate one of the year's last warm days resounded irresistibly. This was good because, under a sky so turquoise it looked like an upside down swimming pool, Liberty Hall Dance Festival took place.
Bugge Ballet; Photo: Al Viciedo
Now in its second season, the event is the brainchild of Nicole Buggé, the artistic director of Buggé Ballet. It featured fifteen companies performing twice in site-specific locations over a three-hour period. Some folks mapped out their journey while others left it up to chance. Regardless, if you were there, you saw a variety of dance.
The afternoon, however, offered more than just watching dance. Festivalgoers could also participate in 18th Century Dance and Isadora Duncan classes while history buffs might tour the first floor of a Victorian mansion. If you chanced upon Carolyn Dorfman Dance's presentation in the Wagon Shed, you'd not only observe excerpts from Waves, a bodily expression of music; she'd even teach you short phrases from it.
Carolyn Dorfman Dance; Photo: AP Johnson/Narratography
The experiences unfolded throughout Liberty Hall Museum, a well-preserved historical site. Constructed in 1772, the mansion and grounds were home to New Jersey's first elected governor and Constitution signer, William Livingston. Although not large, the property furnished plenty of nooks and crannies to function as performing spaces.
A tangle of rose bushes provided the backdrop for pieces that ranged from the political to the abstract. Classical Indian dancer Yamini Kalluri stamped and gesticulated, the precision of her movements evident from across the lawn. Roses have thorns too as Armada Dance pointed out; one singer and three dancers strode down the garden's paths, their spines steely, their focus intense. To the forceful strains of cellist Zoe Keating, the sextet of Bryce Dance Company planked and leaped, the grass acting almost as a trampoline.
Contre Tendance; Photo: Kean University, Rose Arias
The front porch of a blue house proved to be even more versatile than a traditional stage. To an emotional recording of Thapelo Soweto Gospel Choir, performer Jazmine Dinkins of Contre-Tendance swooped her body like a swan as she balanced on top of a post. The four young women of Cranford High School created a painterly effect as their lemon-colored frocks wafted and whirled in response to their movement. The two whimsical dancers of Buggé Ballet cajoled the audience into blowing bubbles; after adorning themselves with hair bows, they frolicked hand-in-hand.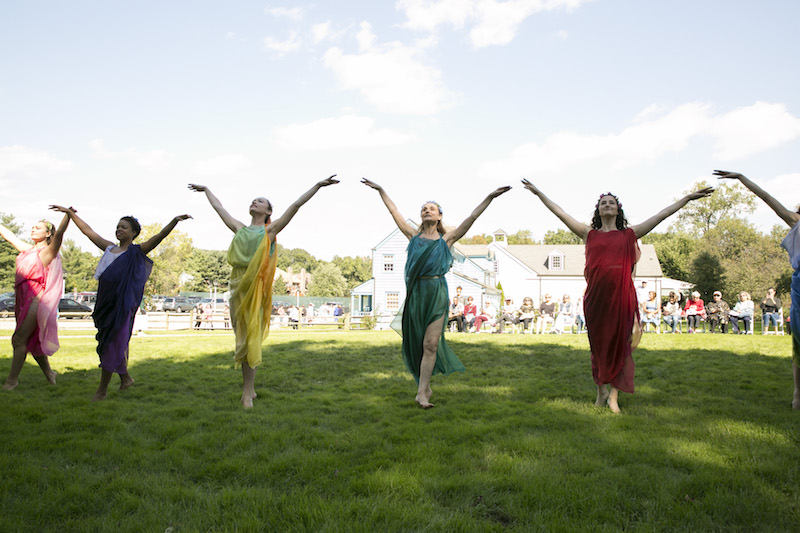 Dance Visions NY; Photo: Kean University, Rose Arias
The grassy square in front of the Ice House united the past with the present. In a swirl of vivid tunics and Strauss music, the six women of Dance Visions NY breathed life into Isadora Duncan's Roses from the South (recreation by Beth Jucovy) by planting it into a pastoral habitat. Luminarium Dance Company swept from antebellum to contemporary time periods as one sleeping women awakened to comingle with a female trio who might be long-dormant memories who've sprung to life. At Liberty Hall Dance Festival, where dance treads on history, this seemed like a logical possibility.   
---
The Dance Enthusiast Shares IMPRESSIONS/ our brand of review and Creates Conversation.
For more IMPRESSIONS, click here.
Share your #AudienceReview of performances for a chance to win a prize.