IMPRESSIONS: New York City Ballet's 2019 Spring Season — Week Four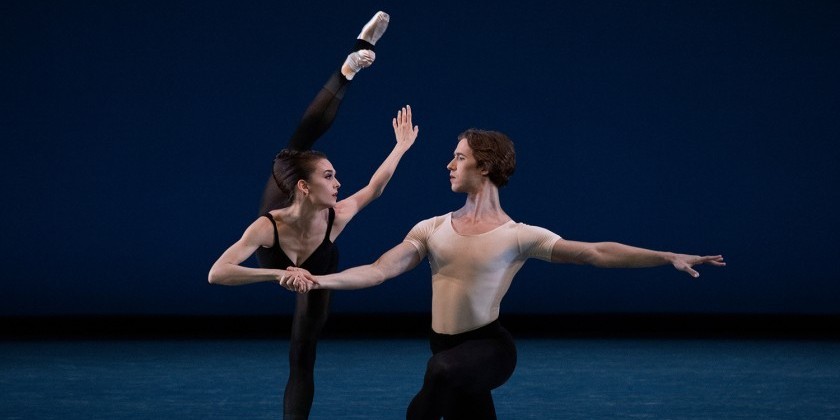 David H. Koch Theater at Lincoln Center
May 15, 7:30 p.m. (Conductor: Andrew Litton)
May 8, 7:30 p.m. (Conductor: Andrew Litton) from week 3
---
"A world drunk on wine and roses." According to Lincoln Kirstein Brahms-Schoenberg Quartet evokes "the apprehension and change permeating the sunset of the Austro-Hungarian monarchy." In 1966, Balanchine choreographed the work (for 55 dancers) for the large stage of, what was then known, as New York State Theater. The possibility of expansion from City Center to a new, bigger home might have inspired Balanchine to choose Schoenberg's orchestration of Brahms' Piano Quartet No.1 in G minor, Op. 25. 
One thing is clear: the work must have been dear to both Balanchine and Kirstein. Balanchine kept it in the repertoire during his lifetime, and Kirstein commissioned new sets by David Mitchell for a production in 1985, only two years after Balanchine's passing.
When Emily Kikta takes possession of the stage in the opening Allegro, the joy of freedom-through-ownership transpires across the footlights. The ballet features four movements and the different sections read as experiments on how to play with the space. The backdrop rendering of the gardens and castle of Schönbrunn gives a sense of being both in and outside. It also reflects the hierarchy of the Habsburg dynasty, bestowing a feeling of order — the castle firmly placed in the high center of the scrim. Hierarchy and order are also part of the casting in the work's first movement, which features a principal couple, one female soloist, and four men who maneuver eight women.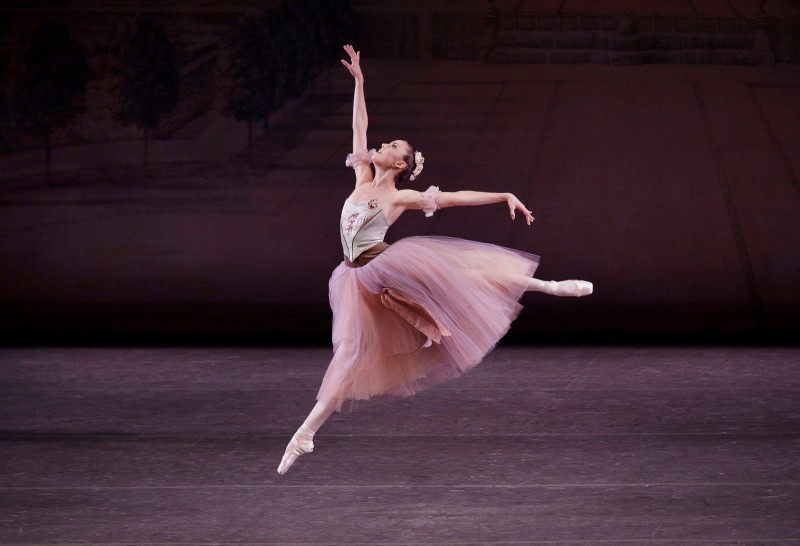 Emily Kikta in Brahms-Schoenberg Quartet; Photo by Paul Kolnik
In this "ballroom with open doors" Ashley Bouder understands to equally represent her royalty and romanticism. Her suitor, the tall Russell Janzen, provides her a much-needed wingspan. Bouder's focus which naturally shifts in to outward, here encompasses the upward hemispheres she tends to miss when being partnered by a shorter dancer.  While her ballon always impresses, it is her freedom of focus that elevates this performance. When she ever so slightly elongates one side of her neck to invite Janzen into her universe, it feels instinctual rather than rehearsed. Whatever the case may be, Bouder captures not only Janzen, but the audience as well.  
Schoenberg held Brahms in the highest regard and even wrote an essay titled "Brahms the Progressive" which he presented in 1933, four years before orchestrating the quartet. Brahms in his own time was certainly against any so-called musical progress by the then New German School, but if one analyzes Brahmsian structure and harmony, Brahms does emerge as the progressive Schoenberg declared him to be. 
Schoenberg's orchestration can sound bombastic, but upon repeated viewings of Balanchine's setting, I have come to appreciate it as its own creation. The most successful orchestration is the work's more tender centerpiece, the second movement, Intermezzo. Days after watching and listening, I am still swept up by the melody and rhapsodic fantasy filled with high lifts, swooping falls, and always-secure catches. It ignites my romantic heart.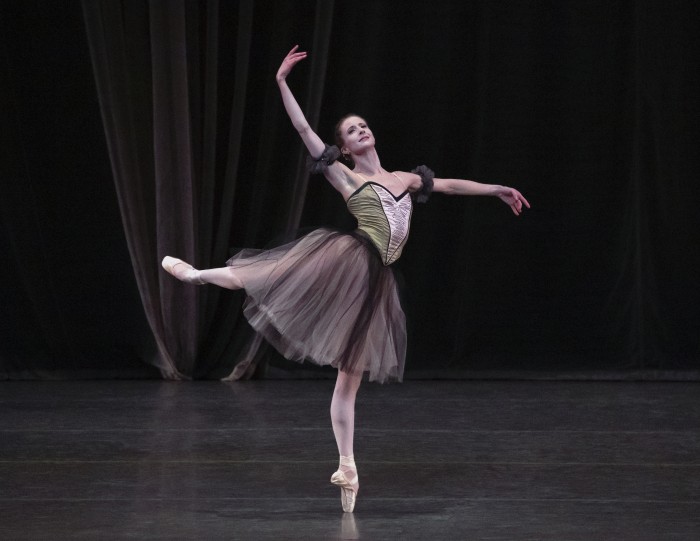 Sterling Hyltin in George Balanchine's Brahms-Schoenberg Quartet; Photo by Erin Baiano
A light fabric covers the scenic backdrop and the setting becomes intimate. Three female spirits whisk on stage and waft in between sections of the pas de deux to give Sterling Hyltin and Jared Angle time to breathe. (If you think more pedestrian, they could be chambermaids appearing to change imaginary sheets.)
Hyltin soars. Her jumps are light. The generous arch of her cambré creates the illusion of her upper body blossoming like a flower every time Angle catches her. He has always been an outstanding partner and it is heartening to see – now with his own dance abilities waning – that his finely tuned skills as a cavalier have not diminished. He holds Hyltin aloft and she stretches her arms to her sides. With her beautiful open back, she embraces the world and all the love it offers.
Is the Andante meant to be a dream? The backdrop reverts to the same indoor/outdoor setting of the Allegro, yet the movement suggests we are exploring the Vienna woods, a bit off-the-beaten-path from the castle. What is it that tells me that there should be a more fleeting quality to the movement? Erica Pereira and Anthony Huxley execute with precision, but somehow, I wish for a sense of wonderment and impulsiveness.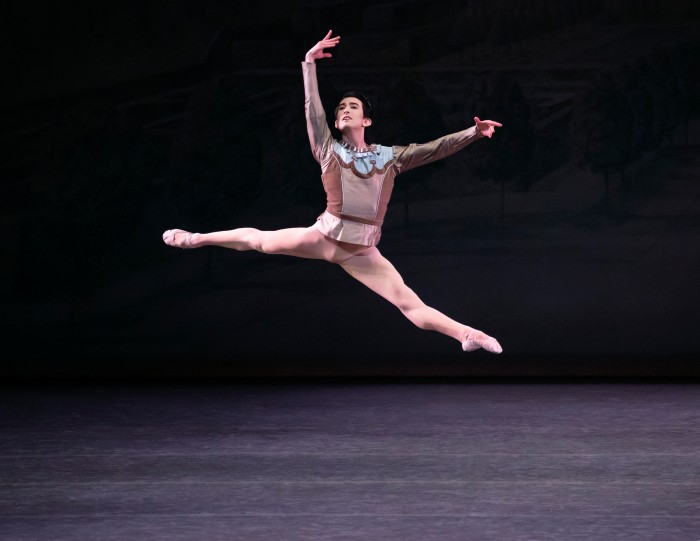 Anthony Huxley in George Balanchine's Brahms-Schoenberg Quartet; Photo by Erin Baiano
Huxley puts his arm around Pereira and she tilts her head on his shoulder while surrounded by three female demi-soloists and a female corps of twelve. After the couple briefly dance, he lifts the three ladies one after the other only to choose Pereira and remain with her, without even so much as a look at another again. After a series of varied lifts and promenades with backbends, Huxley lifts Pereira overhead and rushes off.
The corps (in pink tulle romantic tutus and green bodices) perform the equivalent of a ballet blanc, before Pereira returns to remind us that she is the queen of this garden party. Huxley, not to be left out, returns for a virtuosic solo.
In the pas de deux that follows, the corps, masterfully interspersed in evolving patterns, makes use of every inch the stage offers. While the group patterns tend to be symmetrical, I wished the dancers allowed themselves a more liberated exploration of their steps to take the viewer far away from the court. Pereira's swimming motions as she is supported in mid-air allude to a dream world.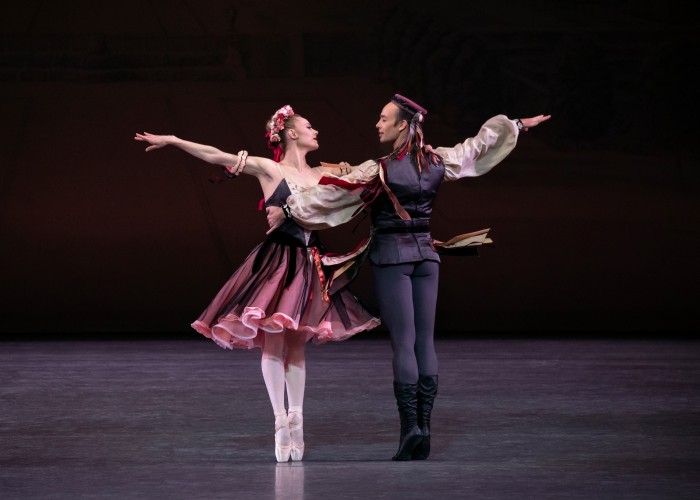 Sara Mearns and Tyler Angle in George Balanchine's Brahms-Schoenberg Quartet; Photo by Erin Baiano
The choreography offers the opportunity for magic, but the dancers have not yet grasped this… Otherworldy Allegra Kent created the part and Gelsey Kirkland took it on, so we know it must have been choreographed with the intent for enchantment. Currently it reads small-scaled and "correct." Whatever Balanchine had in mind, I hope these dancers can learn to cast their own spell.
I see the Andante as the remedy to Sylphide. Here an Austrian Effie longs to explore the magic of nature with her James. He does not need to run after an imaginary being, but instead can have his torte and eat it too. The interpretation on stage only hinted at my fantasy.
The closing Rondo alla Zingarese counters all the previous romantic notions with a wild dance that tests the stamina for its leading couple. Sara Mearns and Tyler Angle are up to the task. Supported by eight male/female couples these gypsies set fire to the stage.
The evening's other offering comes along employing the similar structure of four movements with the last one being very different from the rest. Yet in Tschaikovsky Suite No. 3, Balanchine celebrates classicism in the final TEMA CON VARIAZIONI (Theme and Variations), which he choreographed as a ballet on its own in 1947. After three less distinct romantic prequels (completed in 1970), we are back to hierarchy and order.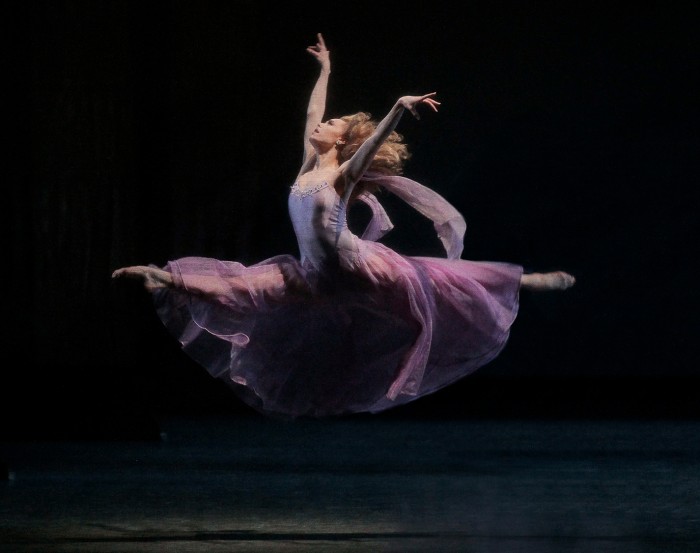 Sara Mearns in Tschaikovsky Suite No. 3; Photo Paul Kolnik
A few days earlier I had the chance to revisit Scotch Symphony, this time with Hyltin and Huxley as the leads, both giving their debuts in the roles. What a fine pair they make! And how musical they both are, in tune with the spirit of the ballet and each other.
Indiana Woodward and Harrison Ball came out as winners of one tiny timing mishap in Valse Fantaisie and so obviously enjoyed dancing with each other that one hopes to see them again soon. Sonatine received a detailed and heartfelt interpretation by Megan Fairchild and Taylor Stanley.
Joseph Gordon gave his debut in the second aria of Stravinsky Violin Concerto alongside Lauren Lovette. This looks like another promising onstage partnership.
Sara Mearns and Aarón Sanz breezed through the first aria almost too easily, making me wish for the clarity of every angle and the sweat that comes with hard work. Maybe it was the sound of Cyrus Beroukhim's violin that inspired the dancers to make this hard work look effortless.
---
The Dance Enthusiast Shares IMPRESSIONS/our brand of review and Creates Conversation.
For more IMPRESSIONS, click here.
Share your #AudienceReview of performances. Write one today!