IMPRESSIONS OF: New York City Ballet – Americana x Five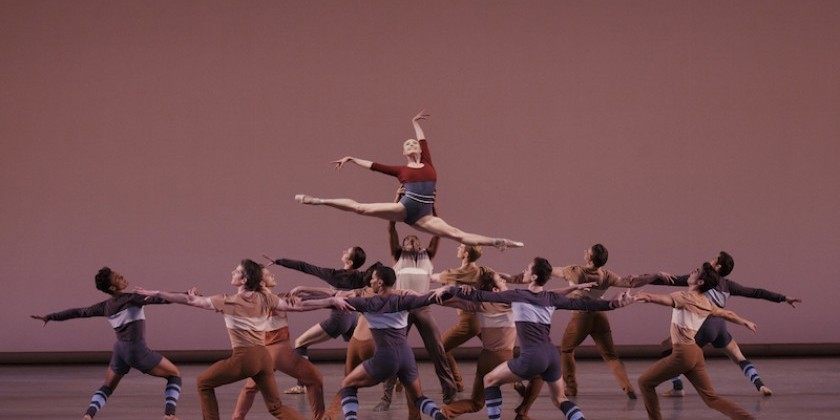 David H. Koch Theater, New York
October 2, 2015
---
New York City Ballet is well known for its distinctively "American" style of movement: fast, athletic, daring, and unmannered. Less recognized is the company's long-standing commitment to American music. The repertoire includes several works to scores by American composers, many of them commissions. NYCB's "Americana x Five" program puts American music in the spotlight, presenting a clutch of ballets with scores that range widely in both style and time. Though the results of this thematic programming were mixed, the high points were very high indeed.
Justin Peck took a gamble in choosing for his 'Rōdē,ō: Four Dance Episodes the Aaron Copland score that's indelibly linked with Agnes de Mille's beloved Rodeo of 1942. But the bet paid off, and his high-octane ballet, new in February, seems bound to become a classic in turn. (The work is a contender for the outstanding production award at this year's Bessies on October 19.) Peck has said that on a scale of one to ten, he rates Copland's Rodeo suite an eleven, "off the charts." It's clear he knows this music inside and out, and his abundant admiration for it yields a work in which dance and music feed off each other. Yes, Copland's electrifying score would make an impact in any ballet, but at the same time, the choreographer's sensitive, nuanced interpretation allows us to hear just how superlative this music is. 
Peck's ballet, like the music, is full of light and shadow, humor and folksiness. Though non-narrative, the dance nods to de Mille's work in fielding 15 men alongside a lone woman. The men aren't expressly cowboys, and she's not an aspiring cowgirl, but Copland's music evokes the West so pervasively that Peck can't resist a smattering of suggestive gestures: Three men lean their elbows on a trio of "fences" formed by other men; four guys dangle their legs over the stage's edge as though seated on the top rail of a corral. In the second movement, dancers hold Taylor Stanley aloft in a pose that suggests he is lying on the grass, looking at the vast bowl of sky that stretches over the wide-open prairie.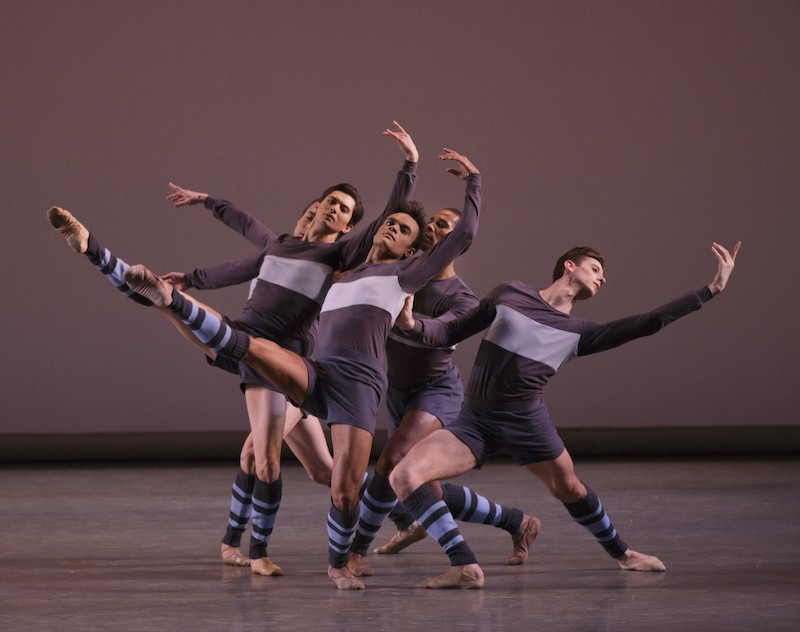 'Rōdē,ō, Photo by Paul Kolnik
The third movement is a pas de deux (here danced beautifully by Tiler Peck and Amar Ramasar), but the work's focus is less on love than on the community of men. When the curtain opens, they are dancer-athletes running across the stage in silence. On the music's emphatic opening note, Daniel Ulbricht leaps out of the crowd and into the air with the force of a gunshot.  Later, the compact dancer ends a virtuosic solo with a self-satisfied run—and promptly slams head-on against the chest of towering Russell Janzen in a moment of comic humiliation. This mode of joshing, affectionate one-upmanship typifies much of the opening section (as well as the fourth). When the music turns tender, though, the mood becomes contemplative. In a memorable passage, the dancers, suddenly silhouetted against the sunset sky, turn away from both the audience and one another, their gazes fixed on a place we can't see. In this momentary shift, we feel in an abstracted way the romance of the lone young cowboy with big dreams on the vast Western frontier.

My only reservation about 'Rōdē,ō is the work's second movement. Some reviewers have hailed it as the ballet's finest, and the choreographer has called it the work's "heart and soul." Some passages do have a tender fluidity that captures the atmosphere of the score. In others, though, a busy maneuvering of bodies jars against the music's grave poignancy. Copland titled this slow movement "Corral Nocturne," and the simple tune, with mournful harmonies for brass and woodwinds, suggests first a lullaby and then a series of farewells. Peck responds with a group adagio for five men, who wash sideways across the stage in a tumble of movement, falling to the floor or each other's arms, rising from the ground, lifting each other. Stanley gives a marvelous performance as the dreamer at the quintet's center, but the grappling that accompanies the group partnering creates knots of movement in what should be a silken thread.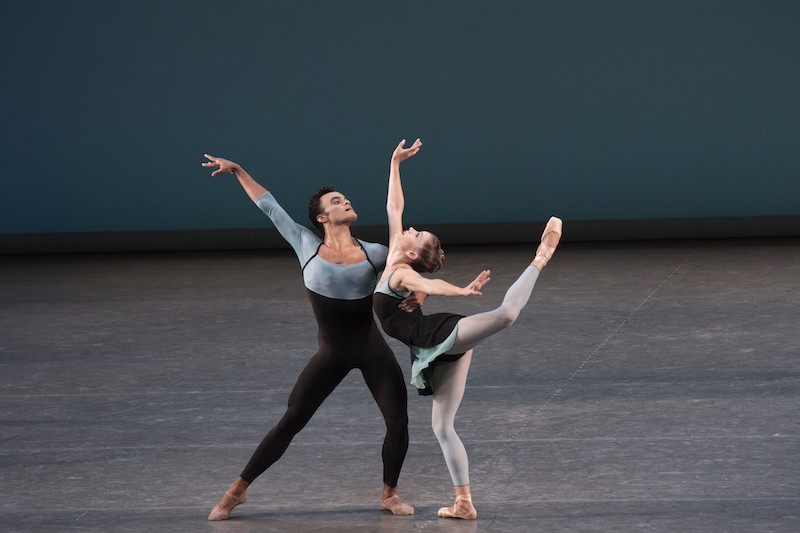 Taylor Stanley and Ashly Isaacs in Ash; Photo by Paul Kolnik
Stanley also made a strong impression as the male lead in Peter Martins's Ash (1991). Set to a rousing commissioned score by Michael Torke, Ash is one of Martins's best dances. Stanley danced opposite recently promoted soloist Ashly Isaacs, a strong technician whose dancing has a fine finish. Both were making their debuts in this work, last performed in 2002. For Isaacs, the occasion also marked her first time in the ballerina role of a ballet. Isaacs—and, to a lesser extent, the entire cast—brings out passages of playful wit in this work that I don't remember in previous performances. She almost seems to laugh as she shimmies her hips in a picky walk on pointe. Some of Ash's edges used to be too hard; they are now buoyantly crisp. The dancers consistently perform the ballet's high kicks, tilted pelvises, and fashion-modelly poses brightly instead of brassily.
Between Ash and 'Rōdē,ō came the evening's only two disappointments. I am mystified by the persistence of Richard Tanner's 1982 Sonatas and Interludes in NYCB's repertoire. Set to five of John Cage's so-called prepared piano pieces, this sinuous pas de deux feels aimless, and I can't manage to believe in its efforts to incorporate "primitive" dance shapes. Tiler Peck and Anthony Huxley, two supremely gifted dancers, did their best to give substance to this flimsy material. Meanwhile, Balanchine's infectiously exuberant Tarantella (1964), to music by Louis Moreau Gottschalk received an unusually sloppy performance from Megan Fairchild and Joaquin De Luz, both of whom have danced it much better in the past.
Sara Mearns and Tyler Angle in Slaughter on Tenth Avenue; Photo by Paul Kolnik
The program closed with Slaughter on Tenth Avenue, a comic-ballet-within-a-play that Balanchine choreographed for the Rodgers and Hart musical On Your Toes in 1936. This work paired wonderfully with Rōdē,ō, as Richard Rodgers's lush, jazz-inflected music conjures a vision of 1930s New York that's as idealized as is Copland's vision of a sublime rural West. Sara Mearns's sweetly sexy Striptease Girl has a heart of gold untarnished by her hard-knocks life, and Tyler Angle, as the Hoofer who falls in love with her, is wonderfully relaxed and innocent in his turn. David Prottas displays marvelous comic timing as the jealous Russian premier danseur who hires a gangster to kill the Hoofer (a plot that is foiled). I loved the arrogant little tug he gives to the rehearsal towel around his neck, like a sniff of contempt. The audience, already galvanized by the energy of Rōdē,ō, fell under the ballet's warm-hearted spell, erupting in laughter at several points. During the curtain calls, some spectators even booed the would-be hit man (Aaron Sanz). No dime-store gangster could ask for more.
---
Share Your Audience Review. Your Words Are Valuable to Dance.
Are you going to see this show, or have you seen it? Share "your" review here on The Dance Enthusiast. Your words are valuable. They help artists, educate audiences, and support the dance field in general. There is no need to be a professional critic. Just click through to our Audience Review Section and you will have the option to write free-form, or answer our helpful Enthusiast Review Questionnaire, or if you feel creative, even write a haiku review. So join the conversation.