IMPRESSIONS: New York City Ballet's George Balanchine and Merce Cunningham Program — David H. Koch Theater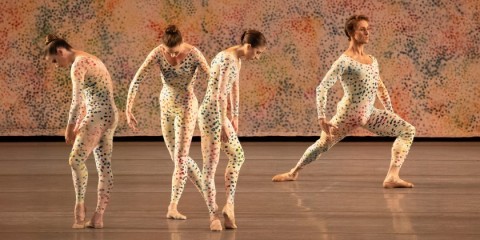 ---
Choreography: George Balanchine and Merce Cunningham
Performed by New York City Ballet Company with featured dancers Sterling Hyltin, Megan LeCrone, Erica Pereira, Preston Chamblee, Ask la Cour, Sara Adams, Adrian Danchig-Waring, Emilie Gerrity, Abi Stafford, Andrew Veyette, Lydia Wellington, Ashley Bouder, Russel Janzen, and Lauren King
Music: Peter Illyitch Tschaikovsky and Morton Feldman; Played live by the New York City Ballet Orchestra with featured pianist Elaine Chelton; Conducted by Andrews Sill
---
October 10, 2019
---
In a time when fashion dictates adding technology and special effects to works of dance, returning to the choreography of George Balanchine and Merce Cunningham reminds us how much can be accomplished simply with the body in space.
On Thursday night, the audience at Lincoln Center's Koch Theater remained silently rapt throughout New York City Ballet's performance of two classic Balanchine works — Serenade (1935) and Tschaikovsky Piano Concerto No. 2 (1941) presented with Cunningham's Summerspace (1958) — a revival in honor of the artist's centennial celebration. The intricate craft and symbolic metaphor in these timeless pieces draw us in and keep us coming back.
New York City Ballet in George Balanchine's Serenade; Photo by Paul Kolnik
Serenade begins with individuals isolated in place but joined through a shared physical language.  When five dancers emerge from a seated bow to sequentially clasp hands, their simple gesture resonates with symbolic depth. No need for digital enhancement. We see lines of women partnered by half as many men.  Each man stabilizes his partner following her pirouette just in time to support the next twirling tutu'ed gal some feet away. Watching in suspenseful anticipation, we admire the daring trust of the women and the men's quiet assurance. The basic ballet steps, performed in this section by the corps, poetically embody themes of risk, rescue, danger, safety, and love.
Canon becomes conversation. Proximity establishes relationship. An astonishing lift conveys rapture. Absorbed by the mesmerizing choreomusical architecture, we're ultimately moved by the expression of our shared humanity.
Adrian Danchig-Waring in Merce Cunningham's Summerspace; Photo by Erin Baiano
In Summerspace, Robert Rauschenberg's matching pointillistic backdrop and costumes camouflage the dancers in what-we-could-imagine as thick, colorful blankets of flowers from Monet's Giverny gardens. Morton Feldman's birdsong-like score delivers high treble-clef piano and flute skitters. Dancers sharply turn their heads. Spatial trajectories instantaneously link independent paths and speeds with unified murmurations. Arabesque arms pumped in alternation transform a typical classical stance into the beating wings of fleeting birds. The synthesis of each abstract element—music, set, costumes, and movement—evokes a glimpse into an avian world.
Flanking Cunningham's work between two Balanchine classics allows us to appreciate the similarities and differences of these two visionaries. While Balanchine pushed the elevation of limbs, Cunningham stretched the gait within locomotion and the width of a stance.
In Summerspace, Adrian Danchig-Waring bounds onstage in a grounded, panther-like walk. Another dancer (Lydia Wellington, I believe) repeatedly flings a leg around and up to the side, landing by slapping her foot down with such force that the sound resonates throughout the massive theater. While the ballets minimize the effects of gravity and exertion, Cunningham highlights effort.
Adrian Danchig-Waring and Emilie Gerrity in Merce Cunningham's Summerspace; Photo by Erin Baiano
As pointe shoes render running through space precarious, Ashley Bouder and Lauren King, featured ballerinas in Tschaikovsky Piano Concerto No. 2, mincingly scurry from one spot to another between bouts of terrifically difficult physical phrases. Balanchine sets virtuosic solos and pas de deux to ungrounded, expressive musical cadenzas (valiantly played on Thursday by pianist Elaine Chelton). He responds to spunky articulations in the third movement of the score with fun pony steps that make good use of pointe shoes' staccato.
His penchant for kaleidoscopic choreography (was he influenced by Busby Berkeley?) emerges here. Bouder's multiple fouetté turns part the sea, sending the surrounding dancers centrifugally away from her vortex. Through play with radial symmetry, center stage becomes a charged space.
Works of this magnitude of genius are typically 'dancer-proof,' but oh, how they can be elevated by a sublime performance or, conversely, muddled by a disjointed approach.  
Lauren King in George Balanchine's Tschaikovsky Piano Concerto No. 2; Photo by Erin Baiano
Russell Janzen, stepping in, last-minute, for Tyler Angle, compels. Performing with a humility, generosity, and authenticity, Janzen's dancing — even moments of stillness — tugs at our hearts. As he presides upstage center, it is the slow unfolding of his condor-like wingspan that takes our attention away from the action around him. King wears a pleasant but put-on dimply smile as she cavorts through her paces, and Bouder careens through her passages with the look of someone on a mission to survive. The corps varies between these two extremes as Janzen exists as an Everyman — presenting himself with an openness that invites us to believe.
---
---
The Dance Enthusiast Shares IMPRESSIONS/our brand of review, and creates conversation.
For more IMPRESSIONS, click here.
Share your #AudienceReview of performances. Write one today!
---
The Dance Enthusiast - News, Reviews, Interviews and an Open Invitation for YOU to join the Dance Conversation.