IMPRESSIONS: New York City Ballet's 2019 Spring Season — Week Two
4/30, 5/2 (gala), 5/4 (evening)
David H. Koch Theater
---
Beautiful ladies in gorgeous dresses and handsome gentlemen in tuxedos had to pass three protesters on their way to the festive New York City Ballet's spring season gala. Did the reinstatement of principal dancer Amar Ramasar prompt the demonstration?
The answer: "We are here silently protesting but rather not make any comments to the press."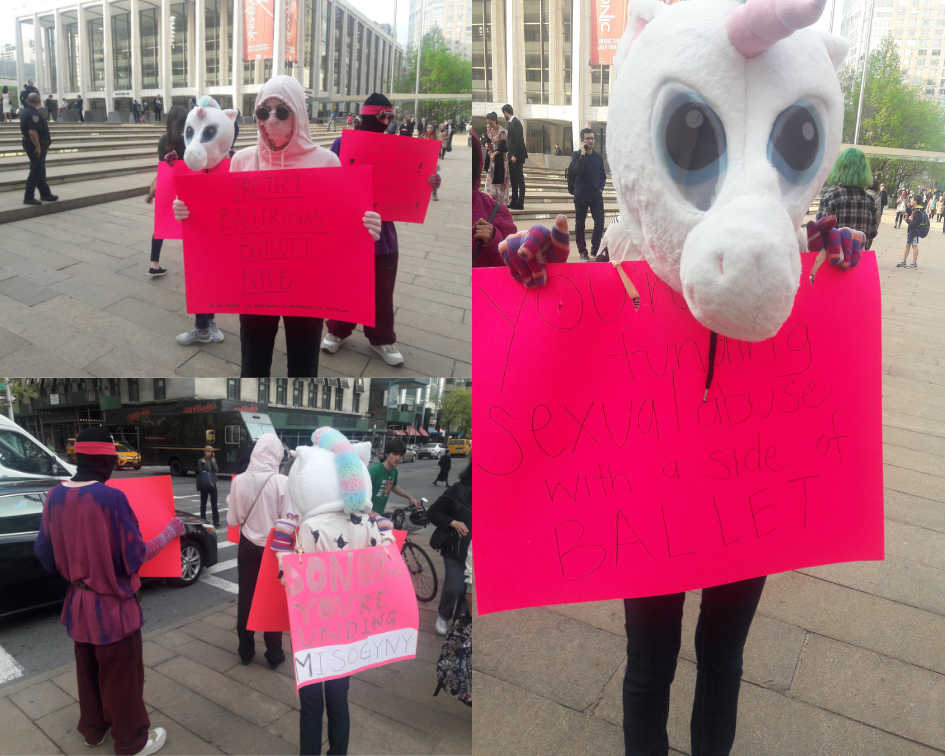 Protesters at the  New York City Ballet gala; Photo by Henning Rübsam
Once inside the theater, a joyous mood and elaborate decorations helped one forget any dissonance.
Newly appointed artistic director Jonathan Stafford and associate artistic director Wendy Whelan greet the audience from the stage, affirming their commitment to the Balanchine and Robbins canon while promising new endeavors. Not having been partners on stage — "he danced Tschaikovsky while I was doing Stravinsky," — Whelan expresses her excitement about the new directorial partnership. Goodwill emanates from the audience for this constellation to be a successful one as the curtain rises to a new commission by in-house choreographer Justin Peck.
Bright, an expansion of Peck's pas de deux for Sara Mearns and Russell Janzen "The Bright Motion," originally commissioned for and premiered in the Fall for Dance Festival in 2013, disproves Doris Humphrey's statement that "all dances are too long." The curtain comes down and ends this frothy, lovely sextet to inconsequential attempts of music by Mark Dancigers just minutes after it starts. Beautiful white flowing costumes with patches of soft colors (by designers Reid Bartelme and Harriet Jung) promise a sunny stroll for the central couple and members of their garden party, namely Sara Adams, Emilie Gerrity, Gilbert Bolden III, and Andrew Scordato.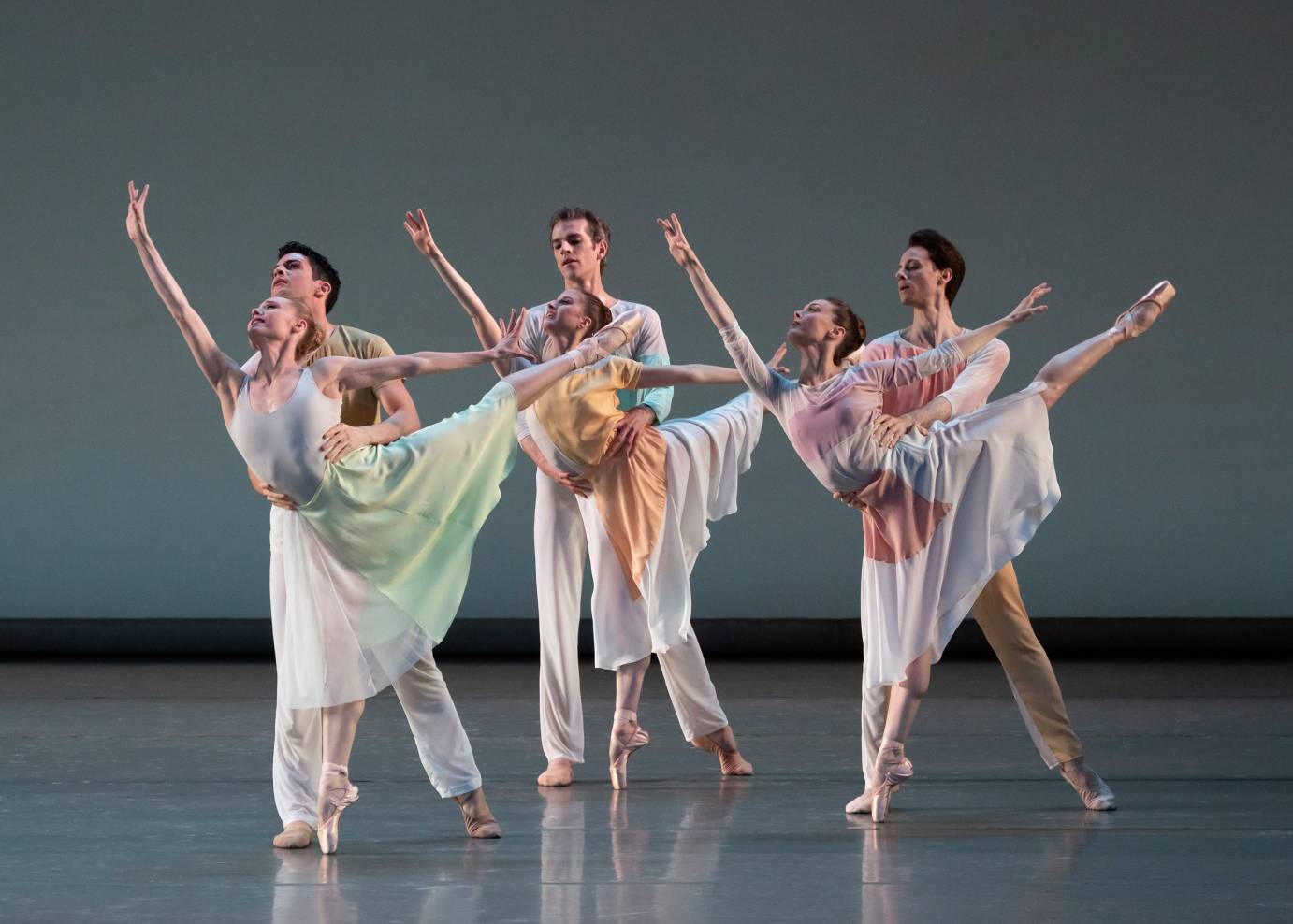 Justin Peck's Bright; Photo by Erin Baiano
The piece begins with all six dancers walking about before Mearns and Janzen emerge as the movement instigators. While Mearns' fourth position on point with her chest facing the sun is a striking image, all too familiar vocabulary follows.
If the work had been announced as a pièce d'occasion rather than a new entry to the repertoire, it would have made a perfect dancerly greeting to the evening's program. Bright (lighting by Brandon Stirling Baker) should indeed have opened the gala proceedings, but by programming it after the spoken introduction, the work seemed more slight than it was.
Sara Mearns and Russell Janzen in Justin Peck's Bright; Photo by Erin Baiano
Bartók Ballet attempts to be weightier and manages to be very much longer. The FLUX Quartet saws through the composer's thorny String Quartet No. 5 in choreographer Pam Tanowitz's first creation for the company. Used as incidental music, the sound does little to enhance the enjoyment of movement.
Two female dancers somewhat timidly shift their weight by putting one foot on point while the other treads the stage surface whole-soled. Is it a metaphor for the worlds of modern dance and ballet coming together? (Nijinska used the same step repeatedly with greater force in her ensemble work Les Noces.)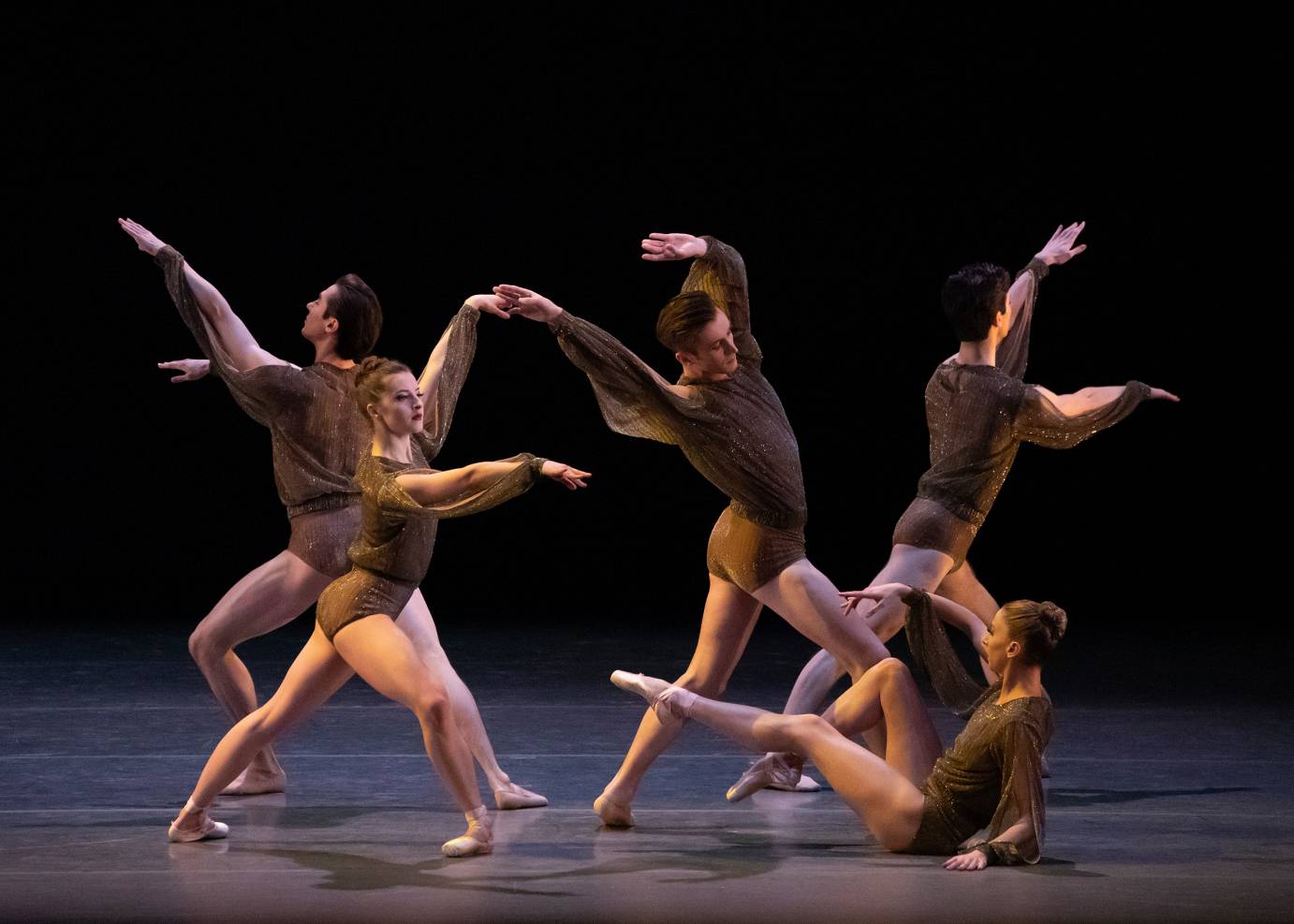 Pam Tanowitz's Bartók Ballet; Photo by Erin Baiano
Designers Bartelme and Jung's brown gossamer blouses worn over leotards twinkle in the lights (by Mark Stanley) and reflect the dichotomy of earnestness and glamour. Oddly restrained and often interesting steps take the dancers to a small circle in which they perform a constipated mixture of folk, mazurka, and court dance. When they break out of their ring, I see grasshoppers, but their wings are clipped. No current or wave ever washes across the stage, no generous sweep of motion refreshes this thirsty observant.
Stuck in a movement laboratory in which dancers tap their feet, slap their thighs and hold still before a sequence of second and fifth positions advances them to their next task, I become fascinated. As they struggle successfully in their efforts to tilt and twist, I taste the pudding. Some enter in glorious golden leotards and mix with others clad in the brown. Curiously many of the brown denizens transform to gold. Are two species intermingling or is one going to eradicate the other? The golden crowd eventually takes over, but allows a limited partnership of co-existence in which two brown-costumed dancers, a male and female, survive alongside the sunny intruders. Now I am hopeful for continued diversity on our planet!
Unfortunately, the experiment goes on far too long. It looks as though Tanowitz did not have time to congeal her series of research trials into one opus. The decisions to half-way lift up the backdrop earlier in the piece, then to lower the front curtain a bit, shortly before ending, didn't help matters.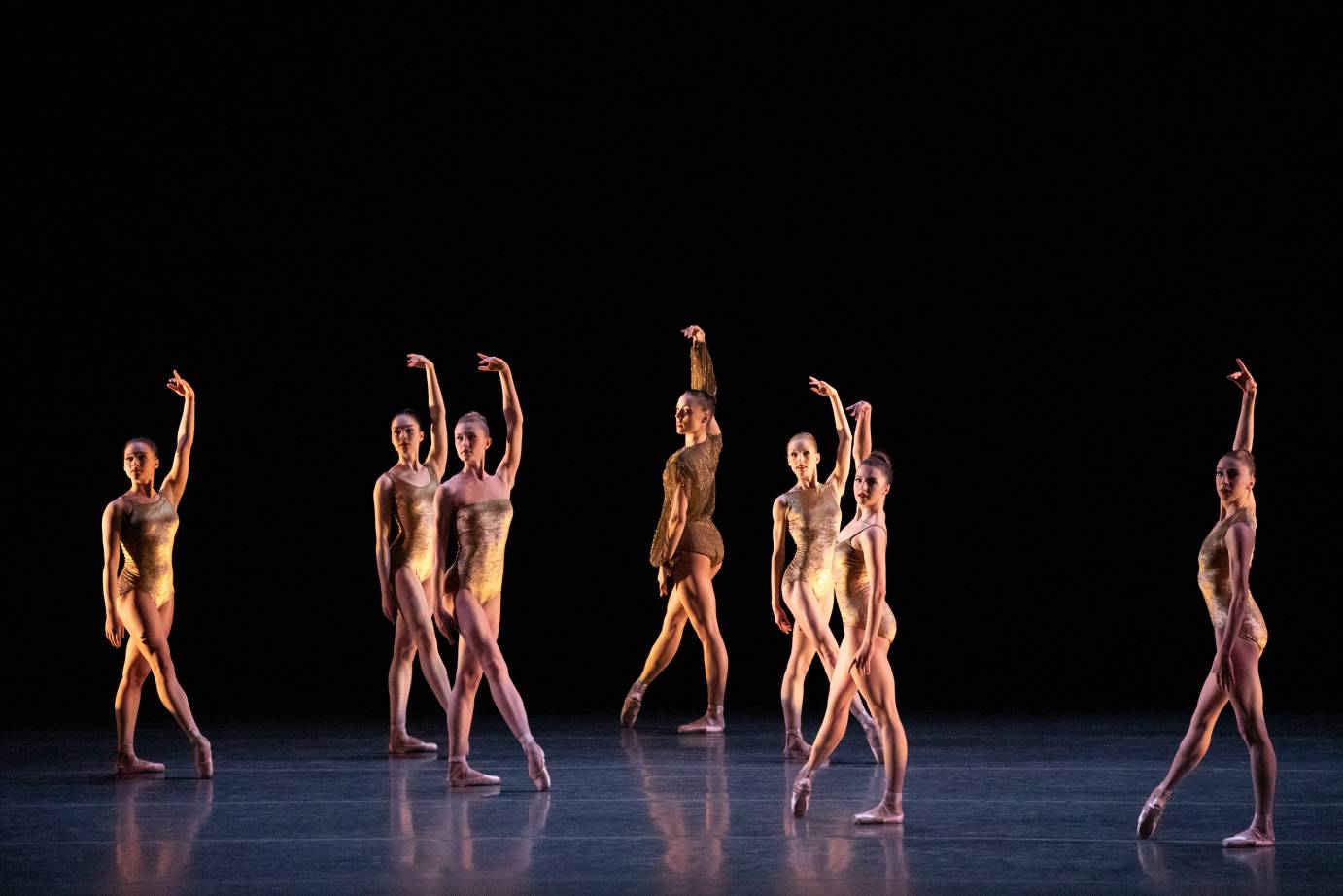 Pam Tanowitz's Bartók Ballet; Photo by Erin Baiano
It is the commitment the dancers bring to Bartok Ballet's material that keeps the dance alive, at least through the first two thirds of the choreography. Miriam Miller at one point slinks sexily along one side of the proscenium arch as Gretchen Smith and the fabulous Devin Alberda hold extensions for seemingly impossible amounts of time. At one point, dancers sit in a line facing upstage in a Graham Fourth Position, but otherwise much of the movement is derived from the Cunningham lexicon. Dynamic Daniel Applebaum gets to accelerate and is the only one who retraces his steps back through a golden gate that everyone has previously passed through.
The gala night ends with Balanchine's Tschaikovsky Suite No.3. How lovely to have Megan Fairchild back with a spring in her step after maternity leave. She lends the final section (Theme and Variations) joy and precision — the latter of which her partner Gonzalo Garcia and some of the corps lack. Teresa Reichlen and Adrian Danchig-Waring make a beautiful couple in the opening Elegy and Ashley Laracey exudes generosity in the waltz sequence. Conductor Andrew Litton assures that Tschaikovsky does not get old.
Megan Fairchild in Theme and Variations George Balanchine's Tschaikovsky Suite No. 3. Photo by Paul Kolnik
On Saturday night, the new works share the stage with Balanchine's Valse-Fantaisie to Glinka. Fluff for sure, but performed with brio by Erica Pereira and Daniel Ulbricht. And Garcia distinguishes himself with an extraordinary interpretation of A Suite of Dances. This long solo by Jerome Robbins often tests my patience, but Garcia lets the steps speak for themselves and the work blossoms under his fine execution. No cuteness or extraneous force gets in the way of the symbiotic relationship between dance and movements from Bach's Six Suites for Solo Cello performed by Ann Kim.
The hokey Western Symphony proves to be the perfect antidote to laboratory fare. Invigorated, energized, and juiced up, the dancers raise the roof in a fantastic performance. Yee-haw! Taylor Stanley in the opening Allegro section deserves special mention, and Reichlen and the spitfire Roman Mejia have everyone in stitches with their playfully over-the-top, take-no-prisoners Rondo before the company explodes in a breathtaking finale.
Ashley Bouder and Joseph Gordon in George Balanchine's Scotch Symphony; Photo by Paul Kolnik
Earlier in the week Mendelssohn's Scotch Symphony paired Ashley Bouder with Joseph Gordon. With choreography by Balanchine from 1952 and costumes by Karinska, the work sported the old scenery by Horace Armistead instead of Karin von Aroldingen's designs from the dance's previous 2009 revival. Bouder's athleticism and incredible facility lead her to comment (often with her eyebrows) on her movement rather than to fully inhabit it. It seems as if she is watching herself and judging her performance.
I applaud Bouder for her technical prowess and give her the highest marks, but she sabotages herself from experiencing and transmitting the poetry the work possesses. Gordon's spirit suits the highlands and takes me on the quest. But what happened to the men tossing the Sylph into his arms? The other dancers safely deliver Bouder into Gordon's embrace. It is early in the season and I assume the risk of injury is to be avoided.
Lauren Lovette and Gonzalo Garcia in George Balanchine's Sonatine; Photo by Paul Kolnik
Duo Concertant turns out as one big disconnect between violinist Arturo Delmoni and pianist Elaine Chelton. Delmoni's violin squeaks through the composition as if drunk from cheap wine imbibed in a Balkan tavern, and dancers Fairchild and Anthony Huxley simply find no remedy for the cacophonous disaster. Chelton, on her own, produces wonderful clarity and dreamy melodic line in Sonatine to Ravel. Lauren Lovette and Garcia do not allow themselves to quite match her fine sound.
All comes together in Stravinsky Violin Concerto. I discussed this Balanchine masterwork in previous reviews, but each time the dance and the music offer new worlds and great perspectives. If you would put the blueprints of the two pas de deux on top of one another, a continued line at the end of the two duets would emerge. Maria Kowrowski, now the company's senior ballerina, has aged with grace and brings more sculptural clarity to the role than in the past. Danching-Waring partners her with acuity and sensitivity while maintaining a tremendous expansiveness. Sterling Hyltin and Russell Janzen converse with the music through informed proprioception. And best of all: the music radiates the jazzy syncopations throughout the auditorium with a full and generous sound. Cyrus Beroukhim, the heavenly solo violinist, elicits cheers from a grateful and elated audience. 
---
The Dance Enthusiast Shares IMPRESSIONS/our brand of review and Creates Conversation.
For more IMPRESSIONS, click here.
Share your #AudienceReview of performances. Write one today!