IMPRESSIONS: "Odeon" by Ephrat Asherie Dance at the Joyce Theater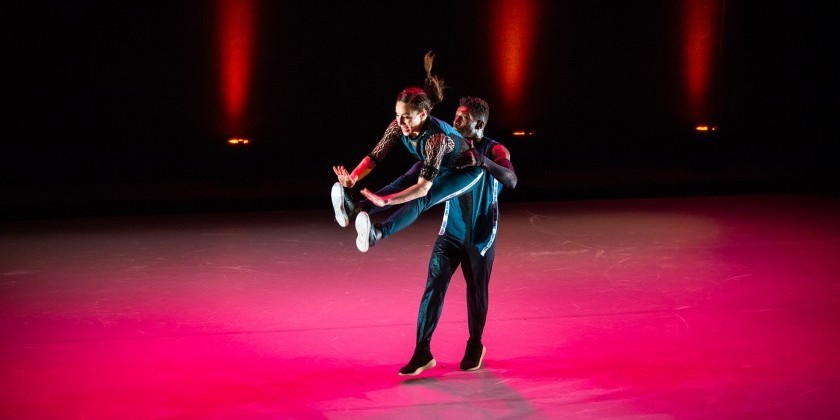 November 5, 2019
Choreographer/Artistic Director: Ephrat Asherie  // Composer: Ernesto Nazareth
Costume Designer: Mark Eric // Lighting Designer: Kathy Kaufmann
Dancers: Ephrat "Bounce" Asherie, Manon Bal, Tenna Marie Custer, Val "Ms. Vee" Ho, Linda "Lanaija" Madueme, Matthew "Megawatt" West, Omar Wiles
Musicians: Ehud Asherie (Musical Director), Eduardo Belo, Serio Krakowski, Ranjan Ramchandani
---
Ephrat Asherie brought her A game to the Joyce Theater with the resplendent evening-length Odeon. Seven dancers and four onstage musicians seamlessly interpreted nine selections from Ernesto Nazareth, the Brazilian composer and tango master. The bouncy Latin musical selections, such as a jazzy samba featuring piano and bass peppered with African percussion, laid the foundation for the performers' rhythmic exploration. 
Odeon unfolds as a series of vignettes, moving from group sequences with tight footwork and byzantine patterns to character-driven solos and duets. Asherie's brother, musical director and pianist Ehud Asherie, leads the quartet that resides on the corner of the stage.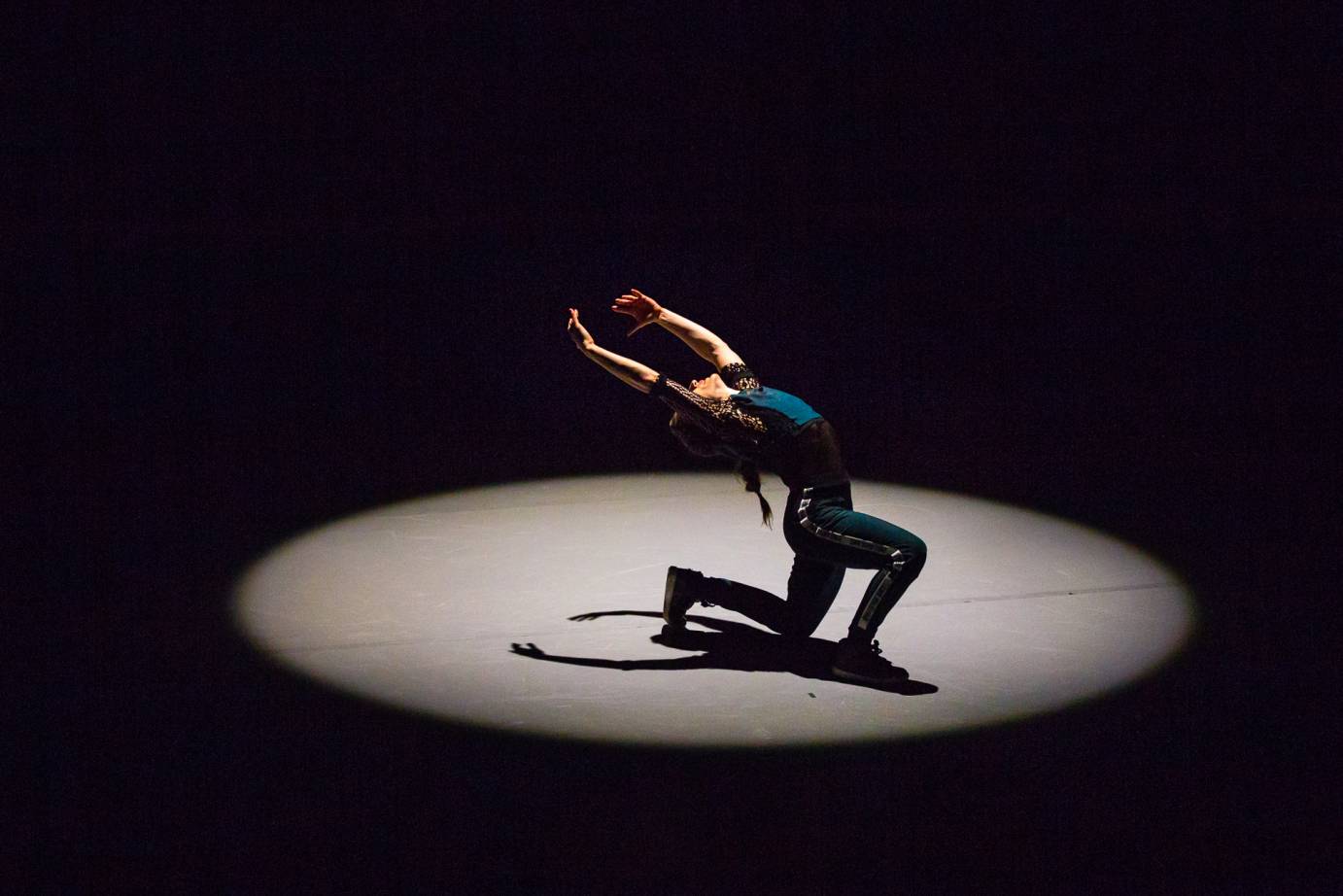 Ephrat Asherie; Photo by Robert Torres
Right from the beginning, the musicians take part in the choreography. In one scene, Sergio Krakowski chases and provokes the dancers with a wild quaking of his pandeiro, a Brazilian tambourine. In other moments, the dancers grab wood tone blocks and agogos with mallets to jam along with the band.
In the program notes, Asherie discusses the ideas behind Odeon, "The relationship between music and dance. Between dancers. Between movement and space. Between us and our elders, ancestors, and lineage. What do all these relationships bring out that we can't speak about easily as we can move about?"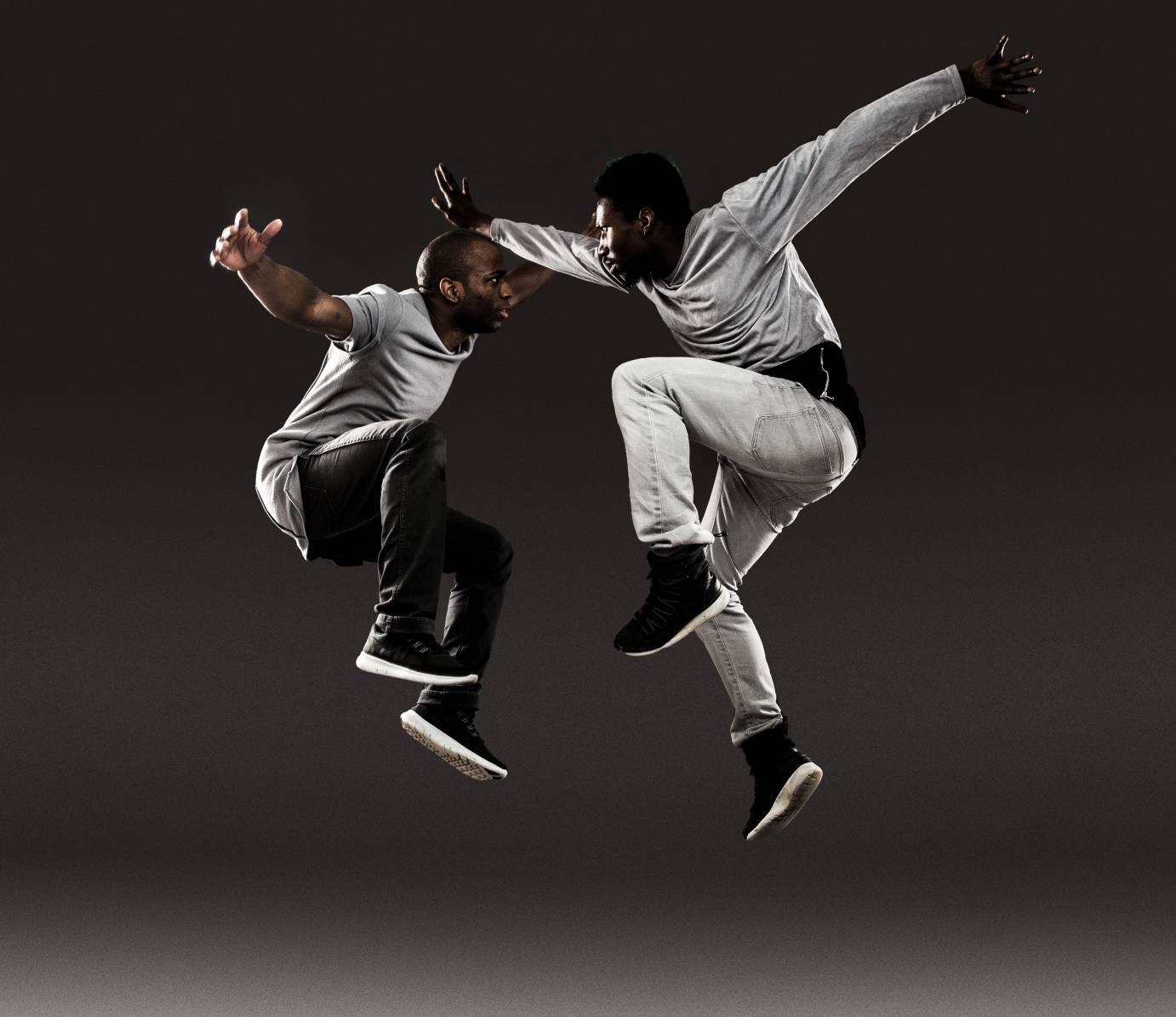 Matthew West and Omari Wiles; Photo by Matthew Murphy
The title both references a famous Nazareth composition and the second vignette in the performance.  An odeon is also a grouping of buildings from ancient Greece that housed concerts such as poetry readings, musical shows, and singing exercises. The performance echoes this metaphor. The stage becomes an odeon, bringing together artists in an intimate spiritual ritual
Asherie's company features diverse body types, ages, and cultural backgrounds. Dressed in similar iridescent, dark track clothing, each dancer plays a distinct character, much like the challengers at a hip-hop battle. Omari Wiles showcases his West African training with fluid arm gestures and rapid hip percolations. Val "Ms. Vee" Ho pops and locks in robotic and daring gymnastics. Manon Bal and Matthew "Megawatt" West demonstrate amazing theatricality, their heads and necks expressing a full conversation with the simplest of isolations.
Manon Bal and Matthew West; Photo by Christopher Duggan
Asherie's innovative choreography unifies these varied elements with polish. Although she references a plethora of styles and classic movements like the coffee grinder, the windmill, and the samba, she distills them into a new vocabulary. The masterful dancers excel in scenes with intricate popping footwork and dropping spins to the floor.
Asherie takes the bravura of her company's athleticism and further refines it. Angular elbow slices and waacking arm twists becomes ethereal when set to a slow adagio. The muted clothing and instrumental music tone down the hip-hop flavors and allow the audience to focus on the versatility and clarity of the movement. Reminiscent of Jean-Michel Basquiat, Asherie grabs the essence of the street and brings it under a new, highly organized light.
Ephrat Asherie; Photo by Robert Altman
Born in Israel and raised in Italy, Asherie draws from a fascinating range of influences culturally and choreographically. She studied ballet and modern before getting into hip-hop as a teenager in the '90s in New York City with mentor Richard Santiago aka "Break Easy." She has danced with prestigious hip-hop dance icons such as Rennie Harris and Doug Elkins, and she always pays homage to the underground b-girl and b-boy scene. Her lineage grounds her but does not stop her from creating a unique stamp on the genre.
By juxtaposing Afro-jazz music with break dancing and focusing on family and rhythm rather than politics, Odeon takes the audience somewhere new.
---
The Dance Enthusiast Shares IMPRESSIONS/our brand of review, and creates conversation.
For more IMPRESSIONS, click here.
Share your #AudienceReview of performances. Write one today!
---
The Dance Enthusiast - News, Reviews, Interviews and an Open Invitation for YOU to join the Dance Conversation.