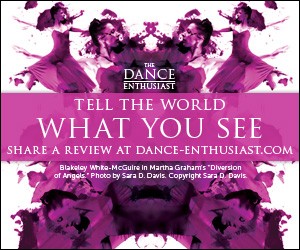 Related Features
Impressions of Olga Pericet's "Flamenco Sin Titulo"
Not to be Missed!
April 10, 2015
Theatre: Repertorio Espanol
Dancer/Choreographer: Olga Pericet
Singers: Ismael Fernandez, Jose Angel Carmona
Guitarist: Antonia Jimenez
For tickets through April 26th Visit  Productions Repertorio Espanol
---
Lightness of being can be unbearable to some, but for Olga Pericet and her vast following, it can be a springboard. Pericet plays delightfully on many fronts, twisting them subtly so that her audience is lifted to a plane where one can hear and see with a view unobstructed by past conceptions. Petite with the face of a porcelain doll, Pericet slammed a low-hanging lamp center stage, starting her four man show off with a bang. Dressed in a black sleeveless unitard and a white, wool bolero, she swirled around the confined stage of Repertorio Espanol with her arms and hands devouring the space, offsetting the classical steadiness of the Hector Villa Lobos study played by guitarist Antonia Jimenez.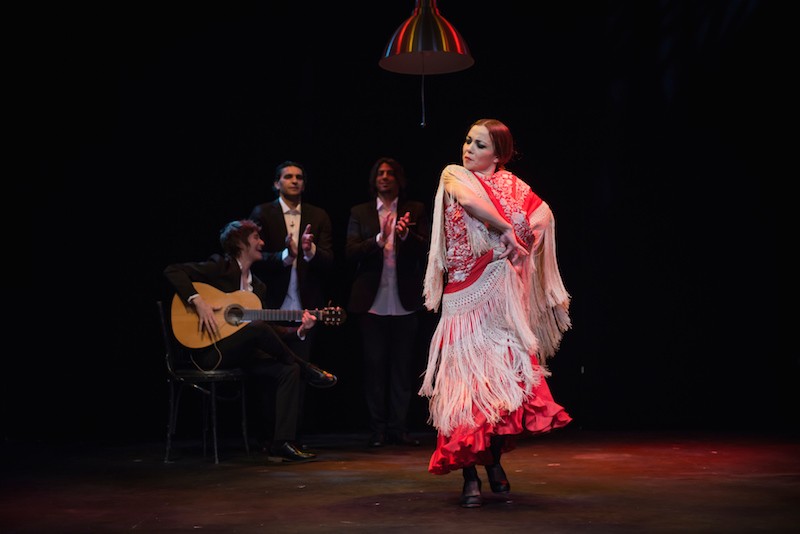 Photo: Michael Palma
Ismael Fernandez and Jose Angel Carmona entered singing a "Guajiras," standing like opposing magnets drawing Pericet whose neck buckled first at the sight of one and then near the other, as though to say, "I love you madly; but you, I love you just as much, if not more." She played castanets so minute that the sound was reminiscent of crickets on a silent night. 
Having established herself as a contemporary dancer with a style of her own, Pericet  next appeared in a long red dress, with a white and red shawl that she twirled, despite its heft, with the ease of a circus performer. With this "Cantiñas," she paid homage to the flamenco style of the early 20th century when such soloists as Argentinita wooed the world with their charm and grace, the "escobilla" (footwork) section started slowly, with teasing starts and stops, before building.
Photo: Michael Palma
"Granaina," a duet performed by Carmona and Jimenez, was a soothing palate cleanser before Pericet returned to perform to a recording of a 1557 Folia: "Para quien crie cabellos" with a white corset and skirt on top of her unitard. This brief bow to Baroque seemed an incomplete sentence, in comparison to the rest of the polished program which continued with a "Solea," "Taranto," and a whimsical "Malaguena," which Pericet categorized as a "Ensoñación," (daydream).
Photo: Michael Palma
Working within the Spanish dance tradition, Pericet has the savvy to scale the space, her dance and her musicians to suit her unique presence. The internationally renown singer Fernandez sang, for example, w
ith his no
rmal abandon reined-in, delivering a performance, perfectly balanced with Carmona and Jimenez, with unusual sweetness.
Not to be missed, Pericet performs at Repertorio Espanol (138 East 27th Street, New York, NY 10016) through April 26th.