IMPRESSIONS: "Oracle" by Periapsis Music and Dance at Kumble Theater at LIU Brooklyn
May 11, 2019
Kumble Theater at LIU Brooklyn
Choreographers: Annalee Traylor, Hannah Weber, Erin Dillon, Norbert De La Cruz III, Abdul Latiff, Sheena Annalise
Dancers: Rohan Bhargava, Demetria Charles, Erin Dillon, Elisabeth Jeffrey, Christopher Lafleche, Hannah Weber, Emily Wolf, Evita Zacharioglou
---
Carving out a niche in one of the most arts-saturated cities in the world is not an easy task. For Jonathan Howard Katz, Artistic Director of Periapsis Music and Dance, he approaches this challenge by examining what he, as a composer and musician, can provide to the dance community. As such, his company has a mission to cultivate new concert repertoire at the intersection of dance and music.
By encouraging collaboration among choreographers, dancers, and musicians, Periapsis Music and Dance serves as a creative laboratory for artists. The musicians perform onstage with the dancers, sometimes as part of the visual aesthetic and sometimes as fully involved partners. Oracle presents six dance makers, two of whom are the company's resident choreographers and performers, Erin Dillon and Hannah Weber, in works like Sheena Annalise's Every Fiber of Her Being, an intricate ballet fusing contemporary bodylines with classical pointe work.
Hannah Weber, Elisabeth Jeffrey, Erin Dillon in Annalee Traylor's conjuring MAEJHH; Photo by Andrew Fassbender for Rachel Neville Photography
Three female figures climb over and writhe with each other in Annalee Traylor's conjuring MAEJHH set to music by Hilary Purrington. With twitching hands, hunched backs, and twisting necks, Dillon, Weber, and Elisabeth Jeffrey cast an ominous spell. Dillon's shaking hands pull her into a contracted turn as Weber and Jeffrey pound their feet and throw their arms, to no avail. Abruptly, Dillon spins, head circling as she careens across the stage. The other witches back away from her in trepidation, their spell finally working.
In contrast to the dark, heavy chords of Purrington's score, eyespot features choreographer Abdul Latif's vocal percussion and Ron Wasserman's standing bass accompanying recorded music by Johannes Brahms. Like spinning disco balls, two men in glittering black unitards whirl on stage. The three dancers juxtapose speed with sustained grace, sometimes moving to Latif's rhythmic beatboxing, sometimes stretching like elastic bands to Wasserman's languid bass. Classical port de bras morph into intricate, rave-like arm motifs, and dazzling pirouettes unexpectedly end in a single, sailing rotation. The dancers embody the driving score in surprising phrasing choices and moments of satisfying stillness.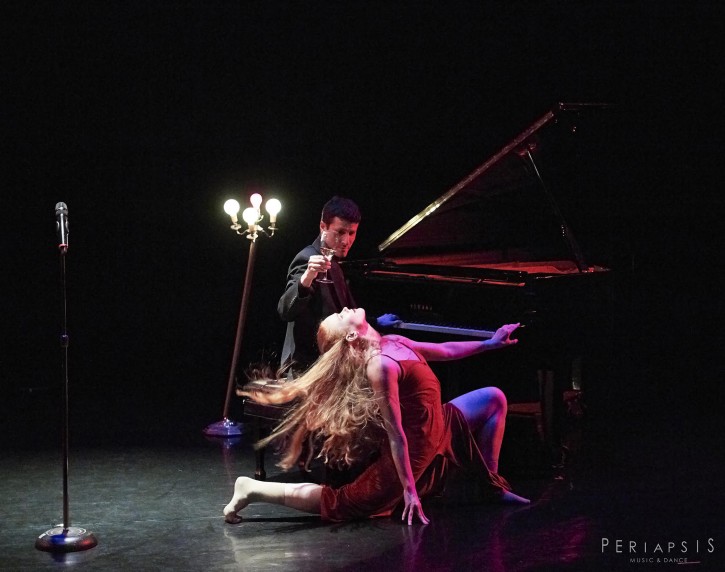 Jonathan Howard Katz and Erin Dillon in Hannah Weber's Elle ne m'aime pas; Photo by Andrew Fassbender for Rachel Neville Photography
The most theatrical piece is Weber's Elle ne m'aime pas to music by Katz. Dillon, in a sexy red dress, stands indifferently before a microphone. Wine glass in hand, she sings librettos from Carmen, Samson et Dalila, and Tosca. She sips, sings, and mimes signing autographs for adoring fans — a woman fantasizing about her glory days as her musical partner tries in vain to keep their show together. Katz moves from musical accompanist to dance partner and back again as he supports Dillon in a rag-doll duet. At one point, he pours wine into her mouth while playing the piano; at another, she falls asleep in his arms as he lowers her in a dip. Annoyed, he returns to his piano, determined to ignore her. When she puts her head on his shoulder, we see both a lover and an artistic partner.
Emily Wolf manages the juxtaposition between breathy weightiness and sharp angles in Dillon's Encaged. An extension of Katz's piano, Wolf's spine undulates in snake-like patterns as one leg pulls her torso into a deep spiral or arcing backbend. Specific gestures — opening and closing hands, fingers stretching and pointing — measure the space around her at the same time defining and destroying it.
Rohan Bhargava and Erin Dillon in Norbert De La Cruz's Oracle; Photo by Andrew Fassbender for Rachel Neville Photography
Norbert De La Cruz III's Oracle builds around a series of fleeting duets that meet and dissolve in symbiosis with a score by Harry Stafylakis. As the music climaxes, recedes, and crests again, dancers come together in soaring turns, flicking wrists, and reaching arms as they pass through moments of unison and contact. Themes of identity — how we find it and how we maintain it — pervade as the performers search for definite arrivals in times of confusion and chaos. During a meticulously detailed solo, Rohan Bhargava escalates from slow, meditative carving to quick spirals and a flurry of hand gestures that resolve in a casually circling ankle. As his movements intensify again, the group joins him in an accumulation of gestures: hands touching hips, arms stretching upwards, palms flexed and extended in stop signals. They search for distinction yet find only questions.
---
The Dance Enthusiast Shares IMPRESSIONS/our brand of review and Creates Conversation.
For more IMPRESSIONS, click here.
Share your #AudienceReview of performances. Write one today!