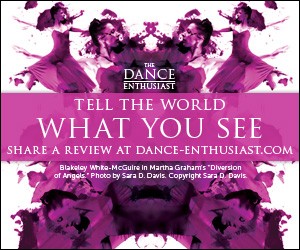 Related Features
Impressions from San Francisco of "POR-TRAI-TURE"
Vision, Construction, Performance: Lindsey Renee Derry
Video Design: Erin Malley
SF Conservatory of Dance, San Francisco
---
Berlin, Germany
July 2, 2014
Produced: KUNST-STOFF productions and Dock 11
This year will feature artists from San Francisco, Athens, and Berlin
Curated: Yannis Adoniou
---
In a showing of bravery, vulnerability, and honesty, Lindsey Renee Derry performs five solos in POR-TRAI-TURE. Working with choreographers José Navas, Iratxe Ansa, Sidra Bell, and Alex Ketley, Derry treats the audience to a series of chapters displaying agility and remarkable humanity.
The showing was indeed a treat for the San Francisco community, as it was a chance to see POR-TRAI-TURE before Derry takes the piece to a series of residencies in Greece, and the Stoffwechsel-Metabolism Festival in Berlin.
Observing someone through different lenses grants one a more complete understanding of that subject. Here we see Derry at ease, which is visible both through the clarity and control of her movement, as well as her comfort and confidence in shifting costume on stage. She takes a moment, in her own composition, Polystyrene, to gaze into eyes of each audience member, and in Sidra Bell's Discordance, she performs solely in fishnet stockings.
We experience Derry's playfulness in Alex Ketley's LRD-1, in which an infectious grin spreads across her face before she commences an amalgamation of gestural choreography. With immaculate precision, Derry, in salmon flannel and light denim pants, fervently moves to the electronic themes of Moderat.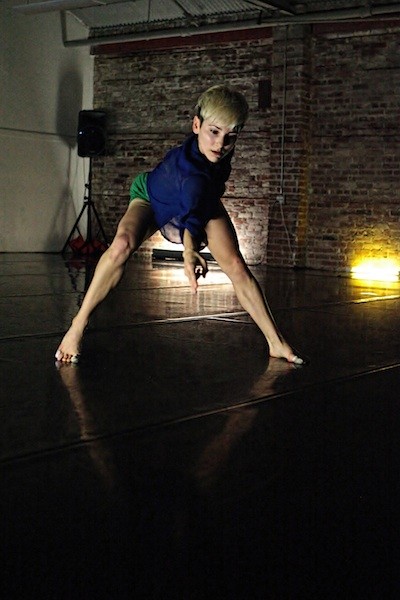 Dancer: Lindsey Renee Derry, Photo by: Yvonne M. Portra
 
A cozy arrangement within the studio only adds to the intimacy of the performance. Set inside the SF Conservatory of Dance, fifty people sit paces away from the dance space, which is illuminated by several long floor lights along the downstage and upstage lines.  
Separating each solo are numbered TRANS sections, composed of music, spoken text, video projections, costume and light changes -- variously colored bulbs in a stand are downstage and, at one point, hang upstage. These shifts certainly accentuate moods; the red lights in Discordance augment the sensuality of the piece, which also includes fishnet stockings and luxurious undulations through the spine.
In the third TRANS section, Derry's recorded voice punctures the stillness; she speaks about the nature of POR-TRAI-TURE, and how it revealed itself to her. She shares how her thoughts approaching a new work are empty, which increases her connection and sensitivity to the process. Akin to notes on a page's margin, the spoken word illuminates the personality that we come to know through the movement. Light electronic music accompanies this, and in the pauses, resounding booms validate each phrase.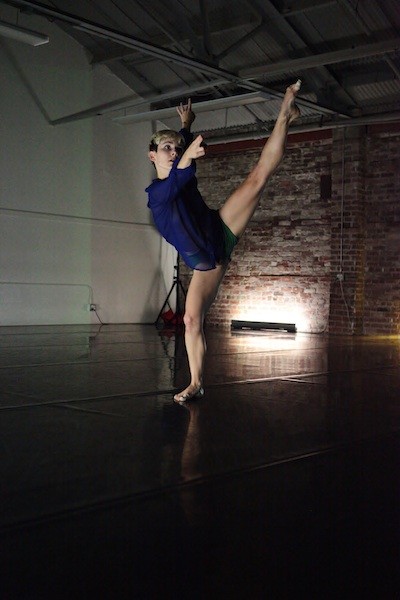 Dancer: Lindsey Renee Derry, Photo by: Yvonne M. Portra
Like a chameleon, Derry moves through each piece, from the logic and sculptural simplicity of José Navas' Movimiento 1 to the specificity and rawness of LRD-1. Her gaze is alluring, alert, and constant; it directs the attention of the audience, communicates directly with them, and convinces the imagination of the unreal. A moment in Polystyrene has Derry downstage right, peering over an imaginary precipice about to descend into flight. The moment is long enough to make us realize we are holding our breath in anticipation.