IMPRESSIONS: PROTOTYPE's "Cion: Requiem of Ravel's Boléro" by Vuyani Dance Theatre at the Joyce Theater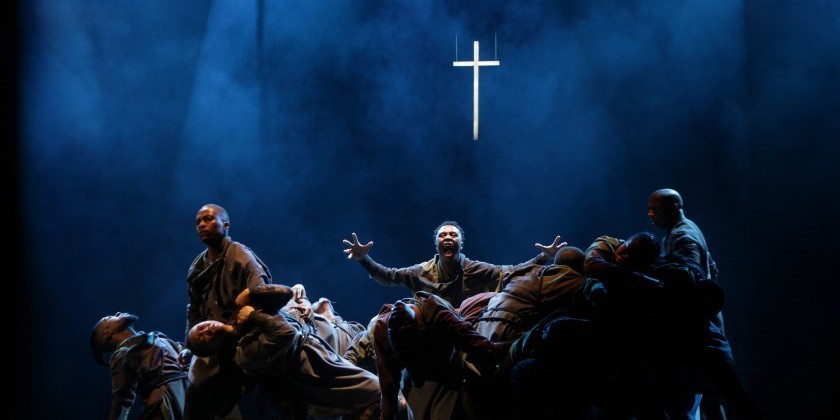 January 17, 2020
Conception and Choreography: Gregory Maqoma
Sound Design, Music Direction, and Arrangments: Nhlanhla Mahlangu
Lighting Design: Mannie Manim // Technical Director and Scenic Design: Oliver Hauser
Text: Zakes Mda // Costume Design: BLACKCOFFEE
---
It may be one of the most hummable pieces in the Western canon. Set in C major, ¾ time, and thumping with a relentless ostinato rhythm, Maurice Ravel's "Boléro" is an exercise in escalation and repetition. Starting with a snare drum that expands to a full orchestra, the dual-melody composition becomes thicker, louder, and more layered, like musical lasagna.
In Cion: Requiem of Ravel's Boléro, which made its U.S. premiere at the Joyce Theater as part of PROTOTYPE (an opera and theatre festival), the familiar phrases appear — by both voice and instrument. Their presence acts as a stratified funereal motif for the Black people who've been killed, enslaved, and torn asunder from their homes in the name of profit and power. Throughout history, these tragedies have accrued, and the grief has grown until it is almost boundless. Cion — a communal, movement-based requiem — feels like an opportunity for catharsis.
Vuyani Dance Theatre; photo by Siphosihle Mkhwanazi
Along with "Boléro," choreographer Gregory Maqoma of Vuyani Dance Theatre uses text and scenarios from South African author Zakes Mda's Ways of Dying and Cion. In the former, Mda introduces Toloki, a professional mourner in South Africa's transitional period. Toloki's adventures continue in the latter, where he stays with a family living in an Ohioan college town. There, he uncovers the tale of their ancestors, who were runaway slaves.
Music, dance, and text (in Zulu, Xhosa, and English)  meet onstage in a graveyard. Moving through a landscape of crosses — most upright, several akimbo — four singers and nine dancers commune, mourn, and, most of all, physically embody grief. Toloki (the mesmerizing Otto Andile Nhlapo) is our protagonist. He leads us through a centuries-long horror story of bondage and escape, agony and romance.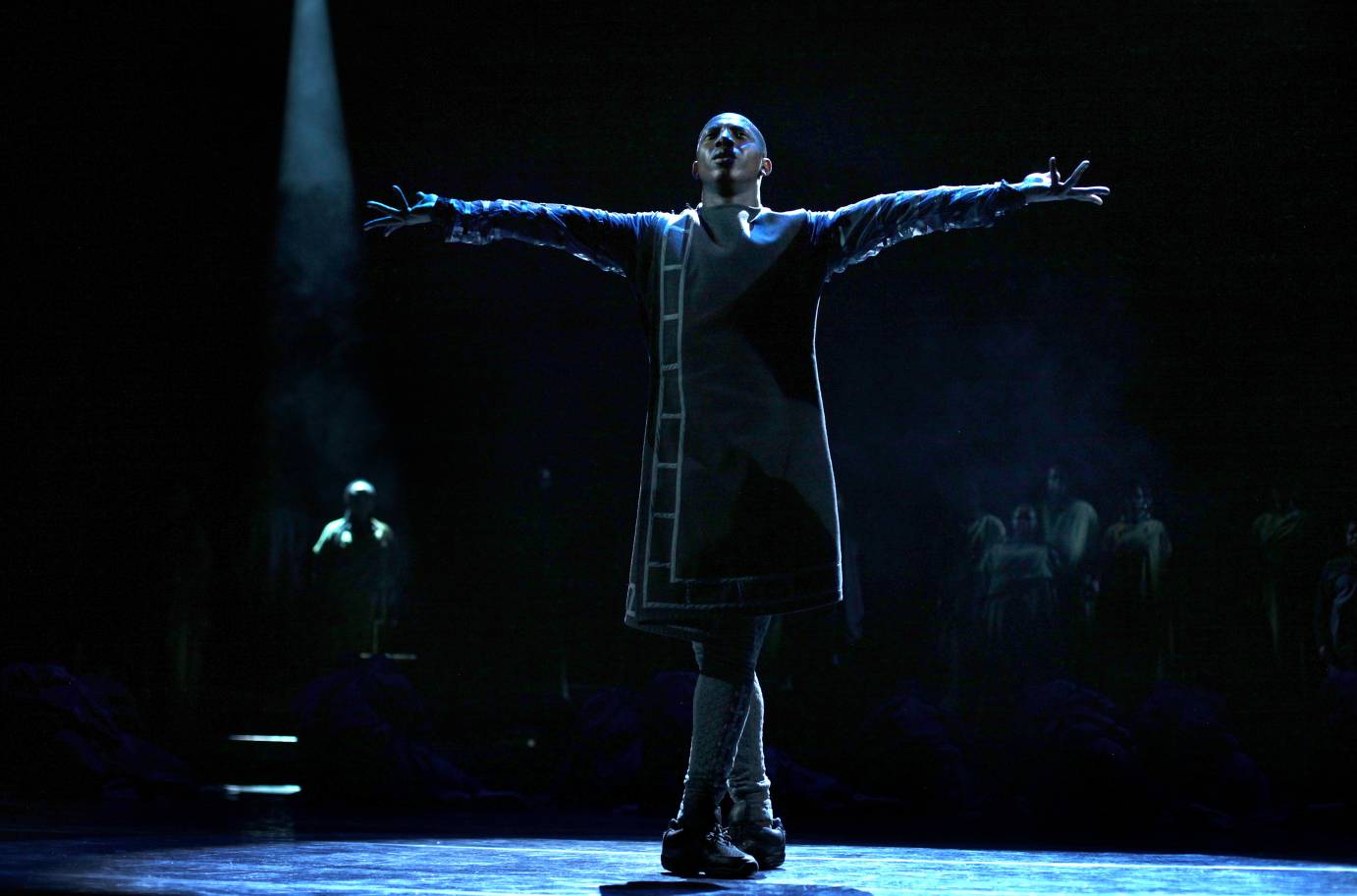 Vuyani Dance Theatre; photo by Siphosihle Mkhwanazi
The quartet of singers maintains a presence upstage, yet the music they produce swells and ripples throughout the theater. Employing call-and-response, they vocalize in the style of Isicathamiya — secular, a cappella, choral singing developed by migrant Zulu communities. Their exacting, multi-line phrases are dense but smooth. It's music you listen into, the harmonies blending with bittersweet urgency.
Against this sonic panorama, searing scenes of colonization, the trans-Atlantic slave trade, and Black Lives Matter unfold. A clump of undulating bodies suggests the roiling journey of a slave ship. A snarling group on all fours portrays the brutality that Black individuals have suffered at the hands of police officers. Cloth rectangles are rolled into cylinders with which the company then beats the stage in a display of backbreaking fieldwork.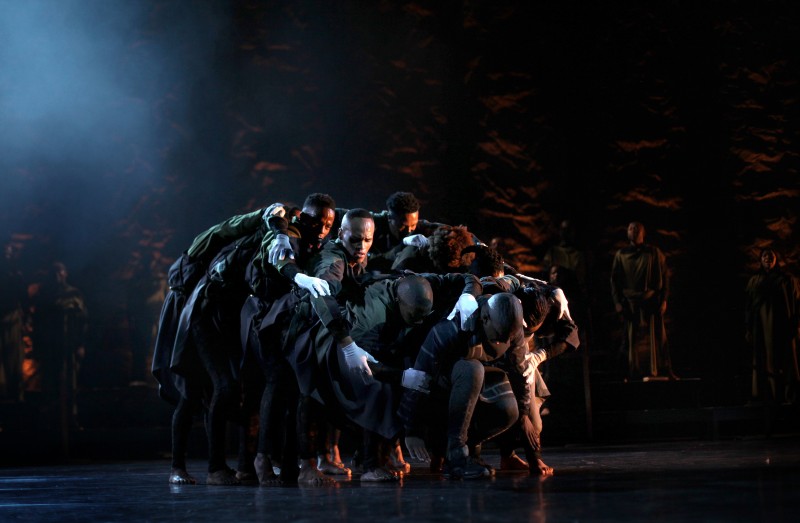 Vuyani Dance Theatre; photo by Siphosihle Mkhwanazi
The images become personal when a woman takes one of those cloths and circles it over her belly to convey pregnancy. She recites a monologue about the perils of bearing children in an environment where love almost certainly ends in pain. "Those who were weak enough to love to inspire themselves received special lessons on how to cease confusing love with ownership," she states.
Movement can be a language without borders, resonating through and drawing from disparate cultural, geographic, and linguistic environments. Maqoma blends African dance traditions with contemporary practices to craft a vigorous, vivacious vocabulary. Torsos swing in generous curves while limbs jerk and jut. As in hip-hop, bodies divide into hard-hitting impulses of pops and locks before resolving into elegant stances. Often, the stage seems too small to contain the performers' explosiveness.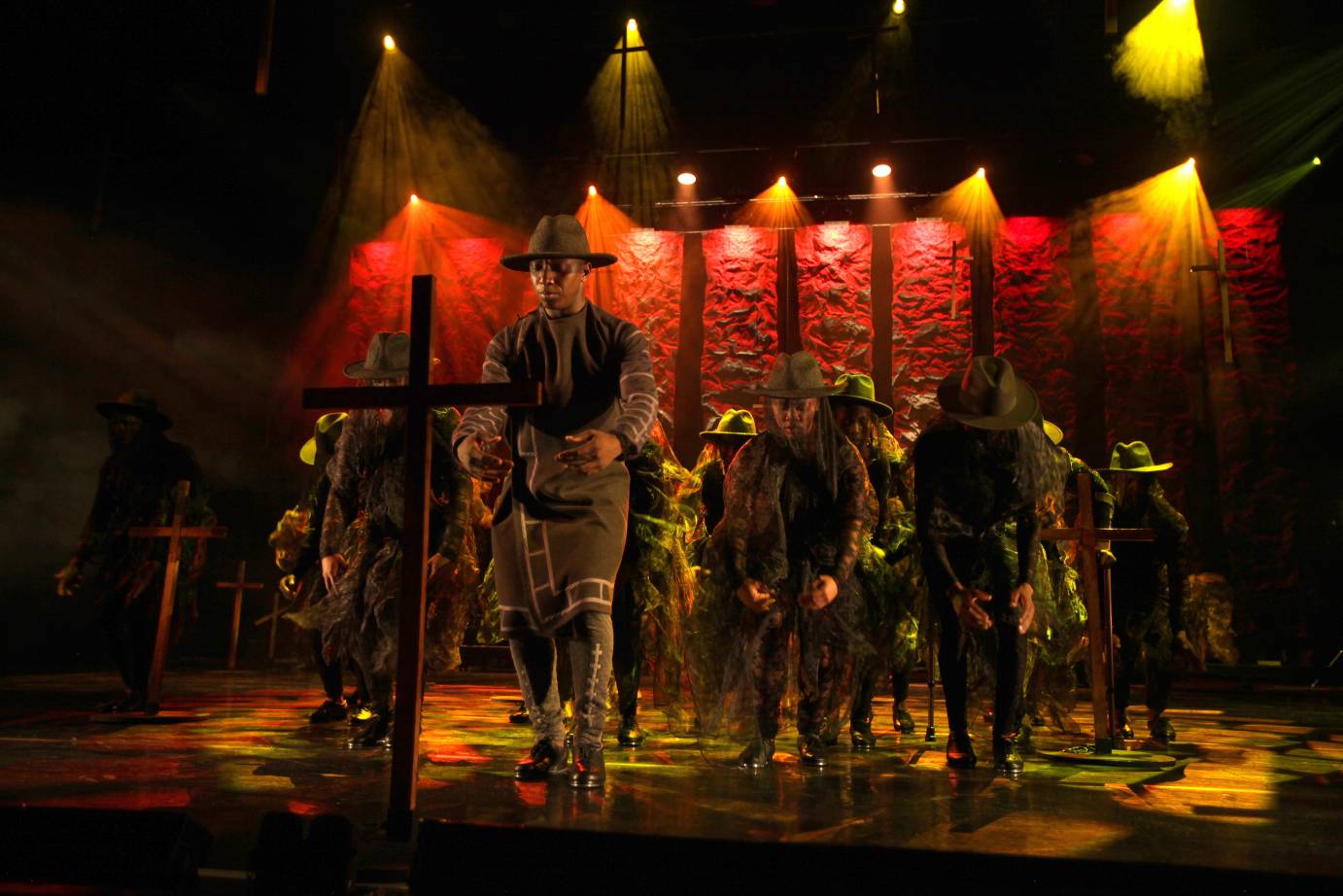 Vuyani Dance Theatre; photo by Siphosihle Mkhwanazi
The ending is a funeral march of sorts. Attired in black hats and billowing frocks, the cast enters one by one with a stomp and then a heel lift. They gather among the crosses, still beating this tattoo with their feet. It sounds as if they are calling us into their lament — both the ghosts and the living.
---
The Dance Enthusiast Shares IMPRESSIONS/our brand of review, and creates conversation.
For more IMPRESSIONS, click here.
Share your #AudienceReview of performances. Write one today!
---
The Dance Enthusiast - News, Reviews, Interviews and an Open Invitation for YOU to join the Dance Conversation.