Related Features
Contribute
Your support helps us cover dance in New York City and beyond! Donate now.
Impressions of: Paul Taylor Dance Company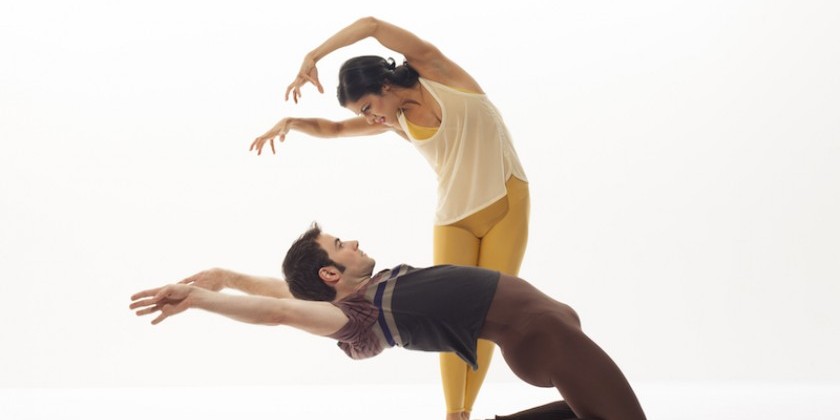 Performing in "Dante Variations," "American Dreamer" and "Arden Court"
Music: Gyorgy Ligeti, Stephen Foster, William Boyce
Choreography: Paul Taylor
Venue: David H. Koch Theatre, Lincoln Center
March 28, 2014
---
Fate and romance may have their bewildering complexities, but in the dances of Paul Taylor, these inevitables are springboards for form and frolic. Taylor's ease in coupling dark with light has sustained his company over the decades, not only his choreography but his audience appeal. Perhaps Taylor is a quintessentially American choreographer because of his thoughtful but unpretentious approach, his athletic, often pedestrian movement, and his eccentric sense of humor.

In Dante Variations, the dancers' lower halves are constricted, while their torsos, arms and heads are free to be flung, in an attempt to escape or release poisonous fumes. One young man's failure to win at least one of three blind sleepwalkers in his witty play off Stephen Foster's American Dreamer is capped by a mere shrug. Arden Court has an unbridled energy, with a giant single rose on the backdrop to underscore the sweetness through-out. These three dances, created over a span of 33 years and performed by hunky men and spritely short women, are accessible and joyous.
Oftentimes, Taylor throws in an unexpectedly dorky movement, such as a woman ducking under a man's leg, to get a giggle and keep his choreography from getting predictable. Taylor said in an interview in the New York Times  that he made the rose prominent in Arden Court because his mother loved roses and she was coming to a performance. But more interestingly in this interview, he revealed the hope that "this huge rose would make the dancers look like insects." Such an odd, novel idea might not be apparent to an audience, but we feel a rich imagination guiding all his dances.
Seeing his dances makes you appreciate certain core elements of modern dance training – the repetitive leaps, and strides across the floor with straight arms swinging. Small details are cast aside in favor of a broad stroke approach. In Beautiful Dreamer, Taylor plays off vaudevillian gestures, such as an earnest suitor yearning for a conquest with hands closed in a forward plea. Loners are set apart from a group, such as the opening and closing of Dante Variations.
 
Taylor himself, age 84, made his appearance for the bow. Everyone in the audience jumped to their feet to acknowledge his importance, his lifetime achievement in drawing a broad audience around the world to dance, to love its wholesome essence.
Follow Deirdre Towers on Twitter @SpiffMoves